National may have steadied the ship this past week with its tax attacks on Labour; Alex Tarrant reviews the polls, potential coalitions and what we've seen on the campaign trail the last few days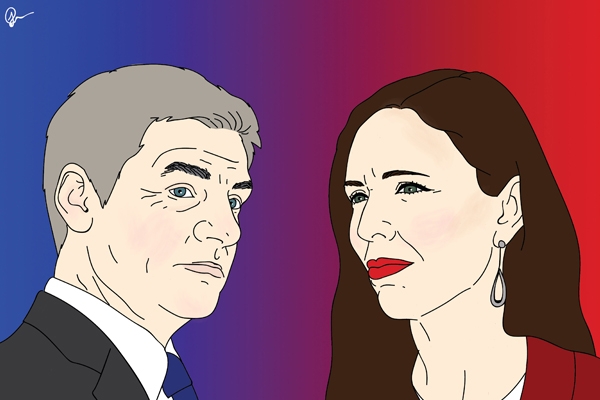 By Alex Tarrant
Are the attacks on Labour working for National?
Tuesday night's Newshub Reid Research poll threw another curve-ball into the campaign with nine days of campaigning to go.
National's reading of 47%, to Labour's 37% was certainly out of kilter with previous polls giving the momentum and relative strength to Labour – last week's 1 News Colmar Brunton had them above National at 43% to 39%.
The two main parties say that the real scenario is somewhere in-between – that they're neck and neck just over 40%. Radio NZ's poll of polls – which includes the two private UMR (Labour's pollsters) and Curia (National's pollsters) weighted in alongside the main public polls - has National just ahead on 41.3% to Labour's 40.5%.
That's the best reading we've got at the moment. But a key factor could give more credence to the Reid Research poll over the Colmar one; Reid's poll had an undecided contingent of just 3.9% to the earlier Colmar's 10%. This might worry Labour more than National.
National has stuck doggedly to a key attack line. You might call it an attax line. "Technology not taxes," was the latest instalment from Bill English and Nathan Guy earlier this week when at a horticulture farm in the Horowhenua.
The ability for National to keep wheeling out these lines is Labour's own fault. At risk of sounding like a broken record, I'll try keep explanation of this to a couple of pars:
Andrew Little promised a Tax Working Group to look at how to better ensure fairness of taxation across income, assets and wealth. Any recommendations that Labour decided it liked would be part of an Election 2020 policy manifesto. He also promised to extend National's bright line test (a capital gains tax on all residential property sales excluding family homes) from two to five years.
Jacinda Ardern took over and said she might instead implement recommendations before 2020, arguing there's a precedent here because that's what National did in 2009/10. The argument for doing this has centred on: 'If the group recommends something that will help fix the housing crisis, then I don't want to just sit on it until after 2020'.
As we've pointed out before, this isn't the best argument. Labour has already set out its stall in terms of housing affordability: Extension of the Bright Line Test for non-owner-occupied property, a ban on foreign buyers not resident here and KiwiBuild. That's quite enough for getting on with during a first term in government.
We know from my interview with Grant Robertson, published Tuesday, that changing tax settings for savings as a way of levelling up the playing field with property rather than a CGT or imputed rents, isn't high up on the agenda. So, the only thing this Working Group might be able to recommend is land tax on land not with a 'family home' on top of it.
Striving for revenue-neutrality, Labour would have to soften the blow of a land tax (even if not on the family land) by promising to reduce income tax by a relative amount to show this isn't just a revenue-grab. Yet Ardern is not out there ahead of the election telling people this is a possibility. Why not do so and at least try and get some of the detractors back on side whilst being able to argue that you're being 'even more transparent than before'?
At the same time, Bill English is trotting out his response to the accusation that, 'this is exactly what you did and we're being more transparent by at least saying we'll set up a working group'. He says that times were different then; National even cancelled its Election 2008 tax cut promise due to the Financial Crisis. In its place, it set up a Tax Working Group. Recommendations for changing the tax system were (presented as) revenue-neutral - it was then able to lower income tax and the company tax rates by raising GST.
The gap left by Labour has left National able to talk about inheritance and wealth taxes. What if grandma dies, mum and her sisters sell her house to pay for the grandkids' education, and Labour taxes the sale? That's Christmas come early for any campaign manager. Steven Joyce on Wednesday released National's latest campaign ad, dubbed "let's tax this." Ardern had to move to rule out an inheritance tax Tuesday morning.
It's a pretty simple message from Joyce: "New Zealand currently has a broad-based fair tax system. We simply don't need to impose a Capital Gains Tax, Land Tax, Regional Fuel Tax, extra Income Tax, Water Tax or an Inheritance Tax. We also don't need to bring farming into an ETS when no other farmers worldwide are included."
It's a campaign ad. It doesn't have to deal with the fact that Labour has said it wants the Working Group to first review tax settings before it takes on any agenda. It doesn't have to deal with what Labour has ruled in or out - it's merely saying we don't want these things - regardless of whether they're being offered up or not.
This puts Labour on the back foot in that it's having to be the respondent to all of this, making it look like they're creating policy (or exemptions) on the hoof in response to these attax: 'We would make exemptions for family homes and land under CGT and land taxes (and inheritance tax), we've promised not to raise income tax, regional fuel taxes would pay for new infrastructure, water royalties would help clean our rivers'.
That National's polling may have stopped dropping and might even be back on the way up, indicates Joyce's message is getting traction.
"Technology not taxes"
National is trying hard to grab the mantle over tax, linking it with everything from fresh water to regional development to small business. English is spending a lot of time in the provinces, shoring up the rural vote which might have been at risk of heading to New Zealand First. This week, Primary Industries spokesman Nathan Guy has featured prominently – taking over from Health spokesman Jonathan Coleman being the main person by English's side as National traversed health policy the previous couple of weeks.
On Monday, it was "technology not taxes," as Guy set out an argument that farmers and growers can take better care of waterways through use of better technology regarding water use and soil moisture levels.
On Tuesday, it was a plan for regional New Zealand: "working with regional communities to grow jobs and incomes and tackle challenges, rather than imposing new taxes which will stall the economy and punish hardworking New Zealanders." Joyce has already rolled out the 'plumbers selling their business will be whacked with a CGT' line.
Later this week we're expecting Guy and English to set out National's stall over agricultural policy as the final call to the rural vote to not even think about changing sides – whether to New Zealand First or Labour. This will give English the final week to focus on the urban and semi-urban votes with Nikki Kaye, Nicola Willis and Amy Adams behind him, all the while talking about tax vs a plan without new taxes.
If the tide did turn last week, or at least stop going out, then English still has the reaction to National's first home buyer deposit subsidy announcement on Sunday (and another housing announcement expected later today as well) to feed through fully into the polls. Whether these serve to enhance the perception that the housing affordability crisis is National's fault and could have been fixed sooner, versus the view that 'oh that's nice they're trying to do something about it', will be interesting to see from the next 1 News Colmar Brunton poll on Thursday.
Potential coalitions
From all indications, it's likely to show Labour and National neck and neck (although I should probably give up on picking poll results). Keep an eye out for whether the undecided vote drops from 10%, and whether Labour still has choices when it comes to coalition governments – the last Colmar poll showed combinations with NZ First, or the Greens+Maori were open for Labour, while National wouldn't have been able to form government with NZ First alone.
A lot has been written this week about which way Labour might opt to go, if it does have that choice. One report suggested senior Labour caucus members were warming to the NZF-only option. I believe some of the older caucus does lean this way – particularly those in favour of 'unconventional' monetary policy changes and such like (Grant Robertson's plan is quite conventional when compared to some of Labour's previous musings on using KiwiSaver for monetary policy purposes and targeting nominal GDP rather than the CPI).
But this contrasts with Ardern's stance and that of some of the younger urban faction, which believes a combination involving the Greens would be the easiest way to go. How can you argue generational change when you've got Winston Peters and perhaps Ron Mark standing behind you?
Could we see a post-election split within the Labour caucus over the choice? This would be rather ironic, given everyone's focussed on how long it will take Winston to make up his mind. Don't rule out that internal discussions within Labour could be the drag instead.
This opens the possibility that Ardern seeks to get everyone in the tent somehow – offers Peters a cushy job and finds something to distract Ron Mark and Tracy Martin with (Associate Defence and Associate Education, respectively?), while also keeping James Shaw, Julie-Anne Genter and Marama Davidson happy.
If Peters refuses, then 'ok, well that's your legacy opportunity gone, mate'. Watch him slouch back into the negotiation room. For all those most worried about the Peters effect on the currency and interest rates post-election (as opposed to the Labour effect or Greens effect), such a scenario (Labour having choice) would reduce risk as he'd be more likely to have to accept a title rather than a portfolio and any actions would most likely be cosmetic.
For Peters, it's paramount Labour doesn't have the Greens+Maori option, and that National has to turn to him rather than also having the Maori+ACT option. If the two major parties keep rising then he's got less influence over those phone calls on 24 September.
The Greens, too, are on a knife-edge. Theirs is an interesting situation. If they miss out – say by getting 4.9% - then each major could govern alone with just over 47%. There should be a percent or two of 'other' wasted vote – TOP, Conservatives, Mana and the stragglers – meaning about 46.5% could do it. Slightly lower for both majors and the Maori Party could be the alternative Kingmaker to Peters – something we've been talking about on this forum for a while now.
If the Greens miss out and the Maori Party can't get Labour over the line, then National might end up as the party with two choices (as it could have had last time except Key had ruled out working with Peters, something English hasn't done). Its two current support partners look like getting an electorate seat each (the Maori Party might get two), and there's still a slight chance each gets a list MP in as well.
All that this tells us is that it's neck-and-neck. The election is anyone's. A slight cough right now could change the direction any way. The polls appear to be cementing the view that we've got a drag race between the two majors, at the expense of the minor parties, but throwing open a realm of possibilities.
It also means that your vote will count, or that of your kids, neighbours etc. Enrol. Encourage them to enrol. Review the policies and party lists. Follow the coverage. This may well be the most talked-about election for a long, long time.