English defends campaign ads, looks to seniors & families; Ardern defends tax U-turn; Greens want landlords registered & maintenance bonds; Seymour touts positive poll; TOP says 5% in reach, gets qualified Eaqub support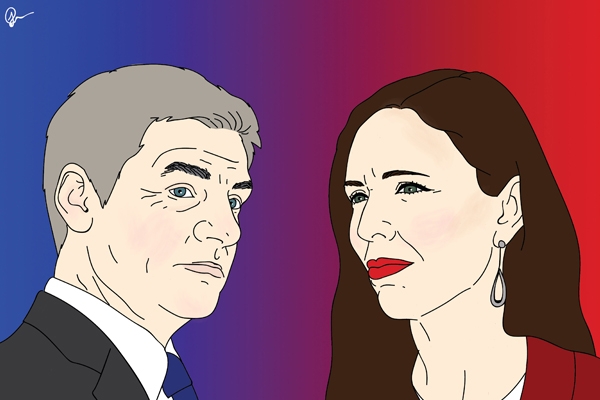 By Alex Tarrant
Bill English has been forced to defend National's campaign tactics while Jacinda Ardern was in the hot seat over Labour's tax U-turn, her Super stance and on free-trade during the leaders' final weekend TV interviews before Saturday's general election.
Meanwhile, the Green Party released a policy to reform rental laws, which includes requiring all landlords to be registered and a requirement for them to set aside "maintenance bonds" for "reasonable maintenance" on their properties in case it's required. The party is set to release its fully costed manifesto on Monday evening.
Winston Peters late on Friday released a policy to "clean up corporate New Zealand." He also issued a press release denouncing "malicious rumours" about the state of his health and issued a video attacking land sales to foreigners. Pike River re-entry was also in his sights.
David Seymour drew attention to the latest Horizon poll showing ACT on 1.4% - more than double most other polls. That would return ACT with two MPs, given Seymour wins the Epsom electorate. He noted that with 2%, a third MP would be brought in as well (it's about 2.1% that's needed).
Staying with the polls, Gareth Morgan's The Opportunities Party (TOP) issued a press release rallying against the reporting of the mainstream polls which only show TOP around 1.5%. Research done for them suggests a further 3% are "most likely" to vote TOP, while a further 11% of people were "considering" it, Morgan claimed, saying this meant it was likely the party would hit 5%.
TOP then sent out PR highlighting a tweet from 'Generation Rent' economist Shamubeel Eaqub that he'd like Gareth Morgan's lot to get over 5% (although not an endorsement, Eaqub says). Eaqub on Sunday morning wrote a Sunday Star Times article titled 'Why are you so afraid of tax', in which he bemoaned the fact that there was "little on tax policy in the upcoming election", and pointed out that New Zealand is not a heavily taxed country.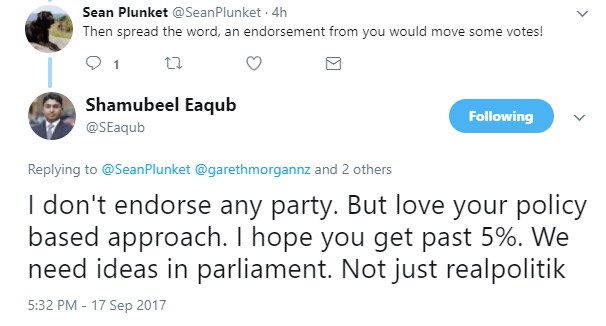 The Maori Party released its "plan for Auckland" on Saturday, which included an obligation for government and the Auckland Council to eliminate homelessness in the city by 2020, building extra state houses for people on low incomes, including 500 in South Auckland, and reinstating a Minister for Auckland Issues.
The biggest local story from the weekend which had a political link was Auckland Airport running low on plane fuel, after the (only) pipe servicing it – from Marsden Point – was severed by a digger on private land on Thursday. While English and Energy & Resources Minister Judith Collins were fronting the response, it emerged that the government had been warned something like this could happen back in 2012 – see Hamish Rutherford's piece here.
National campaigns for seniors, families, gets asked about scaremongering
National issued press releases aimed at pensioners and families over the weekend, each drawing together previous announcements into policy packages. You can view them through the links above. But Bill English wasn't given much of a chance to discuss them on TVNZ's Q&A, with host Corin Dann focussing on National's campaign tactics. Here's a taster:
CORIN It is just part of a concerted scare campaign, isn't it? You haven't been able to run on your record. You have run on a negative campaign. Add this to the $11.7 billion hole, which does not exist, and you're just out there to scare voters. Are you not proud of your record?

BILL I absolutely disagree. We are very proud of our record. We are running on our record. But more importantly, we are running on a plan for the next three years, the next five years to take advantage of the strength of the New Zealand economy. The Labour Party and the other parties have the obligation to answer the questions that New Zealanders are asking.

CORIN Correct me if I'm wrong, but the TV ads that you guys have been putting out over the last few days and changing have been, what, running on your record? It doesn't look like it to me. It is negative tax ads.

BILL Well, and that's because that's what's in the public's mind. The public want to know the answers to those questions about how many taxes and when. Labour keep changing their mind. It's absolutely legitimate. I mean, this is real. This is about cash in people's pockets, investment decisions, the decisions to employ another person, what people can take home at the end of the week. These are real things. It's not just some hypothetical argument.

CORIN Well, like a $11.7 billion hole? That's not hypothetical?

BILL Well, that's the best estimate.

CORIN Just a second here. I'll move on after this. But are you comfortable personally as a leader of integrity to be running lines like $11.7 billion holes, which no economist in this country will back? I have asked your office to tell me a name. They haven't come back to me on that one. Do you feel personally comfortable with that sort of attack politics?

BILL Yes, I do, because that's the estimate of this weird budget that Labour have put up. I mean, we have got surpluses, and they're saying they want to run up more debt and raise more tax. When you look at the spending, they are trying to tell us – and I'll repeat it again, and everyone agrees this is the case – they're trying to tell us there is big chunks of government over which there'll be no new policy for the next three years. No one believes that.
He was also asked about National's plans for cleaner waterways, given the attacks on Labour's water royalty policy. A comment about slaughtering the dairy herd and depopulating cities received some attention from the commentariat on Sunday:
CORIN Are you seriously going to suggest that the water quality in Canterbury is somehow OK? Are you going to tell me that Lake Elsmere is good? That it hasn't got seriously degraded over the last 10 years?

BILL No. Lake El—Well, it's degraded over the last 30 years. What I can tell you is the serious effort gone in in the Selwyn River catchment and Lake Elsmere catchment over really complex, challenging issues. I mean, there is one answer – slaughter the dairy herd. I suppose that would help. Then next thing they'll be talking about how to depopulate cities because they cause pollution. Well, that doesn't make sense. New Zealand can be a high-value—

CORIN But there's another way of putting that. It's called diversifying your economy – moving into things that perhaps don't have that pollution cost.

BILL And isn't it interesting? Our exports are diversifying more quickly and more broadly than they have for a long time -- a burgeoning IT industry. In fact, you're going to see a burgeoning agri-tech industry, because a lot of these solutions around the nitrate emissions and climate change – methane emissions -- are technology solutions which we're investing internationally with research to carry out.

Labour questioned over tax flip-flop
Jacinda Ardern spent Sunday afternoon at a campaign rally in Hamilton. The Waikato has been a focus for Labour of late, and for her opponents – the farmers' rally is to be held there this week. Ardern last week raised the case of her grandfather being asked to leave Waikato Hospital at 11:30pm when he lived an hour away – highlighting the hospital's own PR that it was full.
Earlier that morning, TVNZ's Dann questioned the Labour leader over her "captain's call" to rule out any Tax Working Group proposals coming into force during a first term of government.
CORIN What happened to that passion this week, to back down and flip-flop?

JACINDA I still absolutely maintain those two points that we do have to address the housing crisis, particularly after nine years of drift. And we do have to look at the fairness of our tax system.

CORIN But you're not willing to put your neck on the line, and it looks like, you know, you want to get elected, so you rolled over.

JACINDA No. I am still doing the work. I'm still utterly committed to doing the work. And in fact if you look at the timeline we've set out, I will, in office, do that work.

CORIN You panicked. You panicked in the face of polling.

JACINDA I will produce some outcomes from that. And I will, if suggested by that working group, legislate. The one thing I have heard, though - and I've had to listen, Corin, on the campaign trail – I put out my case, and the public put theirs, and the case they put back to me was okay, we understand you feel that sense of urgency; we do too, but we want certainty. And I knew I could find that balance between the two by moving by a matter of months the time that that legislation would come into force into the next tax year in 2021.

CORIN But you made it a leadership issue. You made it a captain's call.

JACINDA Yeah.

CORIN You put it out there and said, 'I'm going to make this my call. I'm strong enough to go to the electorate and say I'll do this if I need to.' And you've rolled back on that.

JACINDA And I will still be going to the electorate and saying, 'This is the thing that I've made the decision on. This is the thing we will legislate on.' But I also have to show leadership in listening to what people tell me. And the message came back loud and clear – we get your passion around this. We understand it, but we want to know. I have found a balance.

CORIN They do need passion now. Cos now those who might have been hoping that you would be the politician that might finally deal with New Zealand's issues with capital and taxing capital and fairness, and you're not.

JACINDA But I am still doing the work, Corin. And I will in government still make that decision, and if required legislate on that decision. The thing I've pushed out is the time it takes effect. Because that then means I can balance both the urgency I feel with the feedback that the public strongly gave me. And I had to listen to that, you know? And so in my mind, if it took just a matter of a few months to find that balance between the two, then that was the right thing to do.

CORIN What else will you flip-flop on?

Ardern's move to rule out increasing the Super age was also put to her, as was Labour's stance on free trade. Remember, Ardern in the Newshub debate said she'd retire before raising the age, which English attacked as a cop-out for her generation. Labour also wants to renegotiate a number of trade deals to allow for a clause banning foreign, non-resident property buyers from New Zealand's residential market.
CORIN You've had a chance to leave open an option, whereas John Key did it for a reason of trust, because he was worried people didn't trust him. You didn't have that same problem. And it seems extraordinary to completely rule that out.

JACINDA The problem we've had is this issue has bounced back and forth between both political parties. People needed certainty. I wanted to give that to them. I also want to demonstrate that we can plan for the next generation's future. They are the ones who've been sold down the river by not enough planning. I don't think it's fair that they be lumbered with the cost of not planning for retirement, not planning for environmental degradation, not planning for healthcare and education. It's time we actually said, 'You deserve what the rest have had.'

CORIN All right. Free trade – what happens if South Korea says to you, 'No, we're not going to renegotiate that free-trade deal?'

JACINDA Well, of course, if you ask me to give away my negotiating position right now, it's going to make it harder for me when I go into those talks.

CORIN No, here's the thing.

JACINDA If it looks like I don't care enough.

CORIN We are a country that needs to know whether you would be prepared to walk away from a hard-fought free-trade deal over your policy, which is to ban foreigners buying houses in New Zealand.

JACINDA And you're asking me to give away the terms of my negotiation. But, look, what I absolutely believe is that our friends and allies, given Korea negotiated that position for themselves in that agreement, will look kindly to us seeking the same position.

CORIN But nobody in the trade world accepts that they're not going to want something in return.
Greens target landlords
Green Party leader James Shaw has landlords in his sights. He announced the party's rental overhaul policy at a craft-beer bar in central Wellington. Interestingly, Shaw spoke about how the Greens had successfully worked with both Labour and National on the issue in the past.
The Green Party today announced a progressive plan to protect the rights of people who rent and ensure that every house in New Zealand is warm, dry and healthy.

The Green Party will:

· Ensure every house is warm, dry, and healthy with a mandatory rental warrant of fitness and by restoring Warm Up NZ insulation subsidies.

· Professionalise renting by requiring landlord registration and reciprocal maintenance bonds from landlords.

· Promote stable, secure tenancies through three year standard tenancies, rights of renewal and end no-cause evictions.

· Ensure fairer rents by ending letting fees and limiting rent increases to once a year based on a mutually agreed formula.

· Reform the Tenancy Tribunal from an adversarial to a solutions focussed model.

· Help landlords and tenants with free assistance, information, and advice through FlatMates – a national coordination office for tenancy issues.

"Home insulation is a classic Green win-win-win: good for people, good for the environment, and good for the economy," said Green Party leader James Shaw.

"Cold, damp houses in New Zealand contribute to more deaths every year than the road toll.

"The Green Party has a proven record working with Labour and National to get homes insulated, and in government we will finish the job we started.

"The revamped Warm Up NZ scheme will make up to $2,500 available per house to pay for better insulation, clean heating devices and other measures that will support a healthier home such as draught stops and better curtains.

"A Warrant of Fitness for rental homes and a requirement on landlords to set aside money for reasonable maintenance will put an end to cold, damp, mouldy rentals.

"Over half of the population is now renting and they deserve the same standards as people who own a home.

"People who rent should have security so they can put down roots and benefit from being able to participate in their community.

"Bringing in three year standard tenancies, guaranteeing rights of renewal, and ending no-cause evictions will make tenants feel more at ease where they are.

"Bringing balance to the rental market will help both landlords and tenants.

"The evidence from overseas is that landlord licensing has helped create better rental markets, led to a reduction of anti-social behaviour, and improved rental standards.

"FlatMates – a new tenancy coordination office will provide advice, assistance and information to both landlords and tenants so that everyone knows their rights and responsibilities.

"The Green Party is committed to reforming renting so that every house is a home," said Mr Shaw.
It's OK. Peters still has his health
Winston Peters on Sunday kept with one of the key issues he's been driving over the past few years – Pike River re-entry. This comes after Ardern had a well-publicised trip to the West Coast last week. Peters also believes Pike River is a weak-spot for the National Party.
NZ First can reveal that in late January, the Prime Minister received a proposal from Victoria University to re-enter Pike River mine using its robotic HADES underground mine disaster scout.

"Unmanned entry could easily have taken place by now, except this government does not want the public to learn the truth about what's in there," says New Zealand First Leader and Northland Member of Parliament for Northland Rt Hon Winston Peters.

"On 26 January, the Dean of Engineering at Victoria University, Professor Dale Carnegie, actually wrote to the Prime Minister offering its HADES explosion resistant mine disaster scout. A robot specifically developed for Pike River but all he got back was silence.

"Also, in one of those ironies you occasionally get in politics, money from fraud-hit Fuji Xerox helped to develop the HADES robot.

"What we now know is that the Prime Minister and Minister Nick Smith not only knew of this robot's existence in January, but Ministers Gerry Brownlee, Michael Woodhouse and Paul Goldsmith too.

"This puts the cover-up at the highest level of this government. It also means Mr English knew about HADES existence weeks before he met with Pike River families.
Peters also issued a policy to "clean up corporate New Zealand."
New Zealand First: Reforms for Workers and Businesses

Lift the minimum wage to $20 an hour over three years.
Set Minimum Redundancy provisions based on twice the normal contractual notice period up to a maximum of 13 weeks.
Amend the Companies Act so that wages and salary, including holiday pay, have equal priority with Secured Creditors.
Enable businesses to pay decent wages, by lowering company tax to 25% over three years and taxing export generated income at 20%.

New Zealand First: Large Company Corporate Reform

Amend the Companies Act to give shareholders, including cooperatives, a 'Say on Pay' for directors and CEO's.
Require mandatory remuneration reports and reporting of pay equity.
Ban 'golden hellos' (executive recruitment bonuses) and limit 'golden parachutes' (executive redundancy) to the same provisions as for workers.
Introduce regulations around 'share schemes' to require a 36-month minimum holding period after they cease employment in order to prevent short-term nest feathering.
Amend legislation, such as the Prudential Supervision Act 2010, to stop boards using loose and unreviewable "fit and proper person" tests to shut down potential candidates.
Introduce serious penalties for corporate fraud and tax evasion.
While also letting us know that he's still healthy enough to handle at least another term:
"I was approached by a senior journalist this afternoon, whose opening question was: How is your health?

"I made it very clear to him that if he, or any other party, thinks that spreading malicious rumours will not be met with the full force of the law available to me then he, and they, would be very mistaken.

"For the record, this has been a long campaign in which we have worked seven days a week and I am looking forward to enjoying political life after the election.

"PS: I was warned some time ago that this would be the next line of vicious attack."
South Auckland focus for Maori Party
The Maori Party also had a housing focus over the weekend, contained in its Auckland policy manifesto. This was released by Shane Taurima, who at number four on the list would need to win the Tamaki Makaurau seat or see his party poll above 2.9%.
Some features of the plan include:

Obliging Government and Auckland Council to set a target to eliminate homelessness by 2020.
Building houses that whānau on low incomes can afford to rent in areas of Auckland where there is severe housing deprivation – 500 of which will be in South Auckland.
Investing an additional $5 million into Whānau Ora in Auckland so we can support 5000 whānau facing challenging issues across housing, unemployment and family violence.
Providing free doctors' visits and prescriptions for under 18 year olds.
Creating 1,000 apprenticeships for rangatahi living in Auckland.
Introducing earn as they learn programmes for youth in Auckland
Providing free public transport for students and over 60 year olds.
Making Auckland a bilingual city.
Introducing a Iiving wage as well as an Auckland wage.
Setting up a $5 million fund for new start up Auckland-based small to medium size businesses with a focus on Māori and Pacific families.
Investing an additional $5 million into Marae Ora to restore Auckland marae and make them eco and digital friendly.
Reinstating the position of Minister for Auckland Issues.
TOP of the pops
Meanwhile, Gareth Morgan issued the following press release on Sunday about opinion polls. He said research done for TOP indicated it was good to hit 5% at least. TOP also touted a tweet from Shamubeel Eaqub that he wanted to see Morgan's party get over 5% (although not an endorsement, apparently).
How Published Polls Corrupt the Democratic Process

At TOP we commissioned a market research company to investigate voters attitudes towards our party.

Their polling indicates that 1.5% of New Zealanders are committed TOP voters, no matter what. This aligns well with the landline poll results.

It indicates a further 3% are "most likely" to vote TOP. This takes us to 4.5%. This result aligns well with our internal internet-based polling.

Finally, the market research indicates another 11% are "considering" voting TOP.

That isn't bad for a new party; an independent, market research-based finding that a possible maximum of 15.5% could vote for TOP. To make the 5% threshold we only need to convert 1 in 20 of those that are considering voting for us.

So – what is the biggest barrier to converting enough of this last 11% into a result at the ballot box? The wide promotion of published polls during the election campaign.

One of the key concerns of the uncommitted 14% of voters that are possible for TOP, is their fear of a wasted vote. It's here where the published polls become a self-fulfilling prophecy. A poll simply reflects a point in time who people would vote for, and so for TOP, those polls pick up the committed 1.5% vote. But – and this is where the widespread misinterpretation of poll numbers actually influences the election outcome – the public interpret that as how many votes TOP will get on the day. Which of course is wrong – it's how many are committed if the election were held today.

By being interpreted as how many votes TOP will get on election day, this number discourages those that believe TOP won't make 5%. Of course we have no idea how many of the uncommitted this is, but it is absolutely a negative influence.

Widely published and promoted polls rapidly become a self-fulfilling prophecy. They are particularly damaging to parties trying to break in, that have to overcome the 5% barrier in order to begin their build.

Furthermore, the polls are also being misused by Media companies to pre-judge the election outcome. TVNZ's ridiculous rules are applied to cut TOP out of minor leader's debates, youth debates and even playing mini golf with Tim Wilson on Seven Sharp.
ACT leader David Seymour was also following the polls: