Election 2017: We bring you the key updates from the night's coverage; Comments are back on - share your thoughts here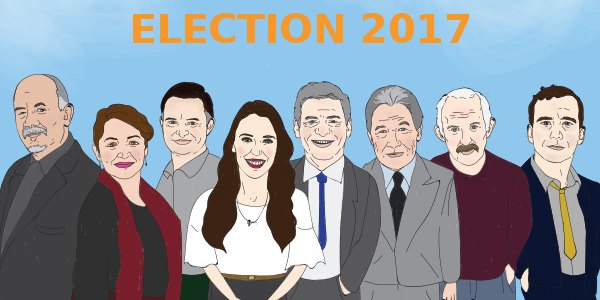 By Alex Tarrant
National has won 46% of the vote and is in pole position to negotiate with Kingmaker Winston Peters, although the Labour-Greens grouping still has a chance to form a government with New Zealand First.
With 99% of the votes counted, Labour had returned 35.8% and the Greens 5.8%. New Zealand First was sitting on 7.5%. 
The Maori Party is out of Parliament, ACT returned David Seymour through Epsom - although he looks to be out in the wilderness now - and TOP missed out on the 5% threshold.
National Party leader Bill English said discussions would take place with Peters in the next few days. He said talks would be conducted on a basis of respect with Peters. He noted how NZ First had a number of predictable policies, but that they'd also announced a lot of positions over the campaign.
Meanwhile, the Left's optimism was being held up by Green Party leader James Shaw on election night. He told supporters that New Zealanders had voted for change by giving the three Opposition parties a majority - counting Peters in the tent. 
Labour leader Jacinda Ardern acknowledged English's higher vote. Despite looking more dejected than Shaw, she wasn't admiting defeat, saying that under MMP, it was now up to others to decide the make up of the next government - ie. Peters.
Our coverage from the evening is below.
Election 2017:
11:35: English is looking pretty happy. Two arms in the air as he gets up on the stage.
He says voters have given National the responsibility to form a stable government. Notes they've got more than 10% above Labour and more seats than Labour and Greens combined.
Then what we've been waiting for: He notes neither National nor Labour can form a government on their own. English says he wants to acknowledge the performance of Winston Peters and New Zealand First. Says the voters of New Zealand have give NZF a role in forming the next government.
English says they'll have talks with Peters over the next few days. But he says there's no rush.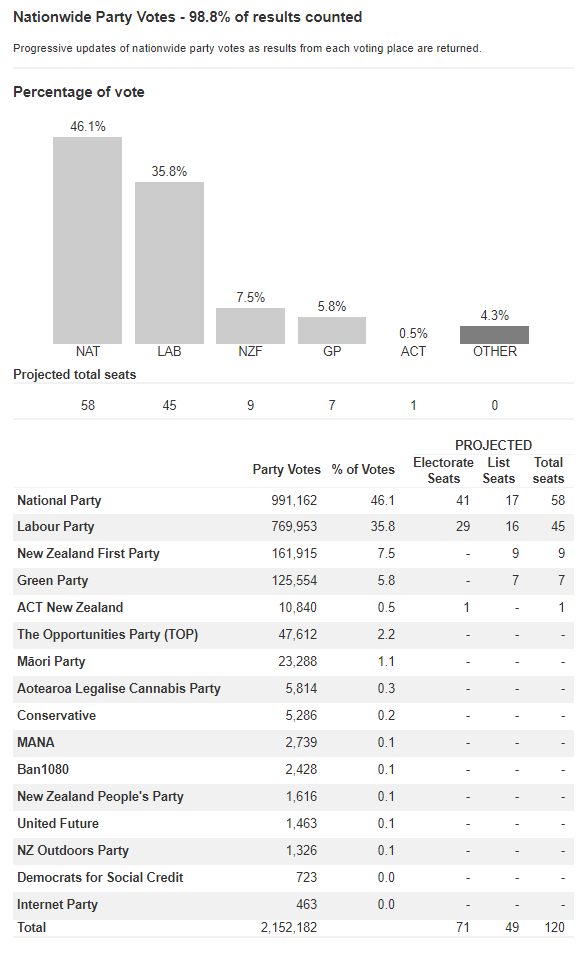 11:00pm: Ardern talking to Labour party faithfull. She says she's called Bill English to acknowledge National has won the largest party vote. But says the result isn't known tonight. MMP means others will decide the make up of the government. She can't predict what decisions other leaders will make. Says she'll work with any party who shares vision to change New Zealand.
Interestingly, she raises when she met the families of the Pike River men - was this partly a call out to Peters?
It sounds like she'll be sticking around regardless.
The crowd I'm watching with are calling this 'the Tinder result' - which way will Winston swipe?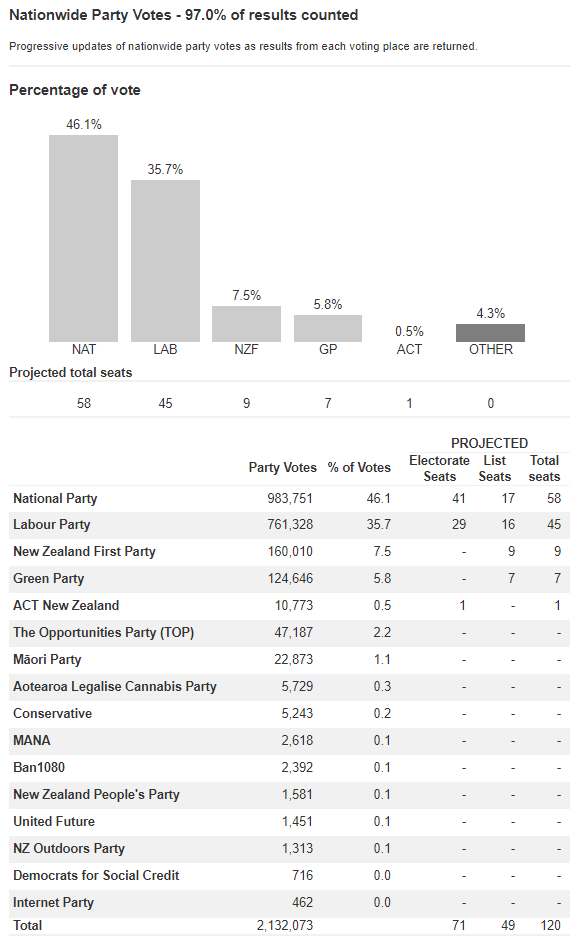 10:40pm: James Shaw is looking up. Addressing the Greens' campaign night, he says he's happy at the Greens' result. Says that the three Opposition parties command a majority together - and still will once the special and overseas votes come in. "New Zealanders have voted for change," he says.
He is going to speak with Jacinda Ardern tomorrow to sort things out. He also sends a message to Winston Peters: They agree on climate change and new railways everywhere, and finding ways to fix New Zealand's low productivity.
Shaw is being positive. Ardern when she left her house sounded defensive.
10:30pm: 90% of the vote is counted: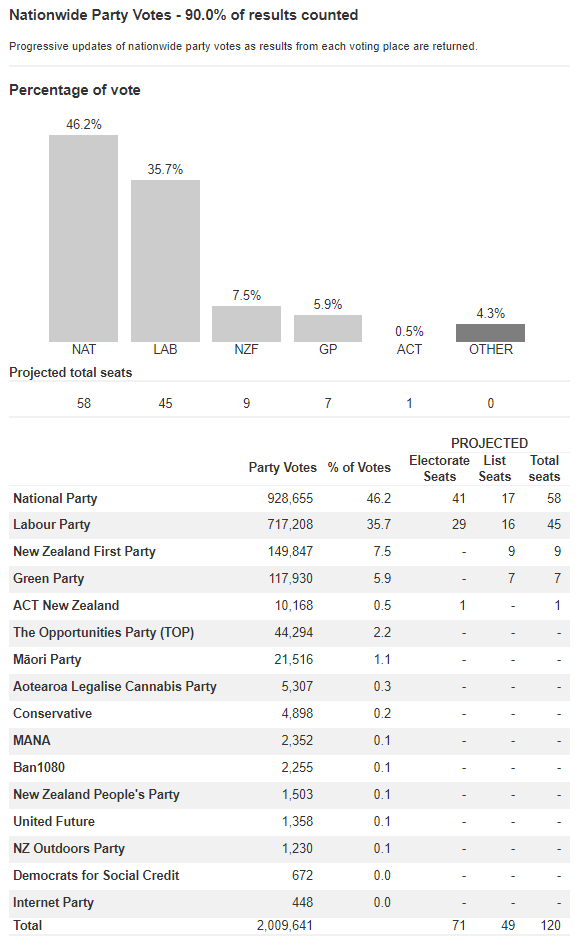 10:25pm: Te Ururoa Flavell looks shattered. The Maori Party are out - no electorate seats and a party vote just above 1%. He says the tide has turned and that the Maori Party is now at a crutch point.
Meanwhile, Peters is back behind in Northland.
10:10pm: Ardern says she hoped for better. When asked if she'll be PM, she replies that in an MMP environment it will be others who decide that. She hasn't spoken to Winston Peters tonight - and doesn't think that these conversations will happen for a while yet.
Here is the count at 85%: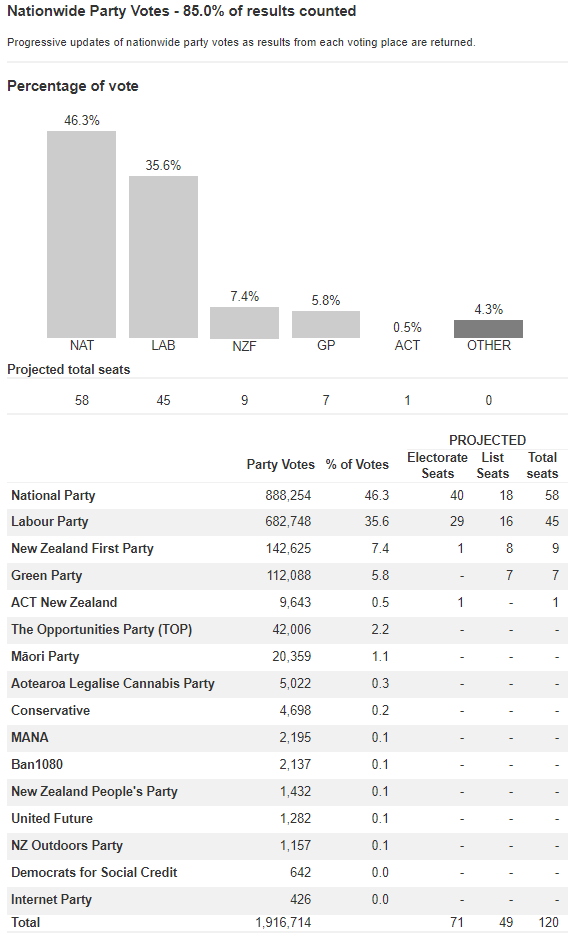 10:00pm: Winston Peters has just spoken in Russell before catching the ferry back to Paihia. He says that on current numbers it looks like NZ First will hold the "balance of political responsibility" when the results are all in. He says NZF will not rush its decision on who it might go with - not today nor tomorrow - and that he needs to talk to his caucus and board.
He says NZF doesn't hold all the cards, but that they do hold some. Says New Zealand First will make its decision based on the interests of all New Zealanders, not just the party. He says if the results don't change between now and 12 October, then the decision should be made by then. 
Then an interesting comment. He pleads with his caucus to not say anything out of line to the media - "don't make comments that will embarass the party."
"All roads lead to Russell."
Then suddenly, Peters has got ahead in Northland as well.
9:45pm: Labour is at risk of not being able to form a government with New Zealand First and the Greens. At 70% of the vote counted, Labour is on 45 seats, NZF at 9, and the Greens tracking at 7 seats - giving the required 61. However, that's been tracking down from earlier in the night: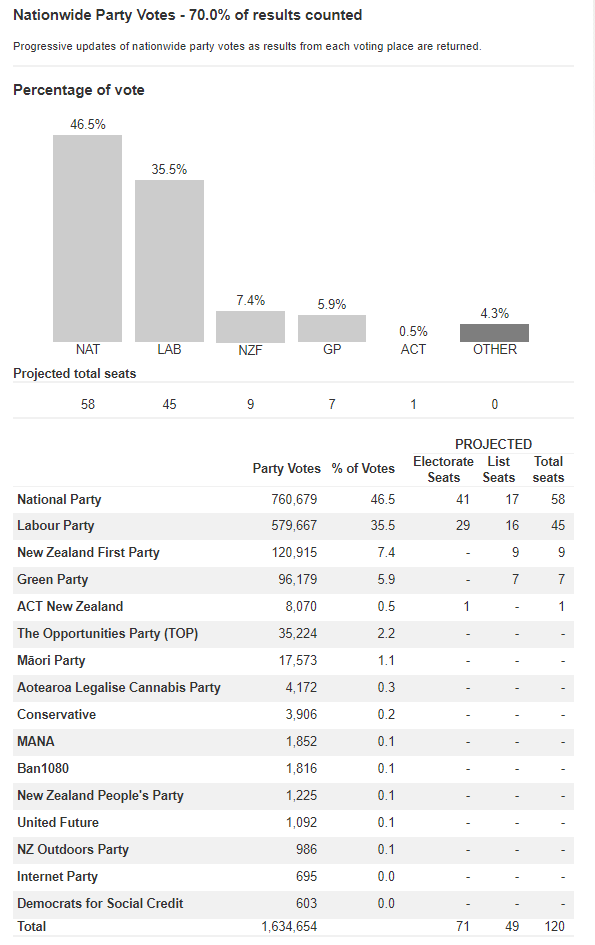 9:30pm: The results are really coming in now - we're at 60%. New Zealand First is Kingmaker, the Greens are tracking down, and the Maori Party is looking like missing out completely. ACT doesn't look like getting a second MP in on the coat-tails of David Seymour: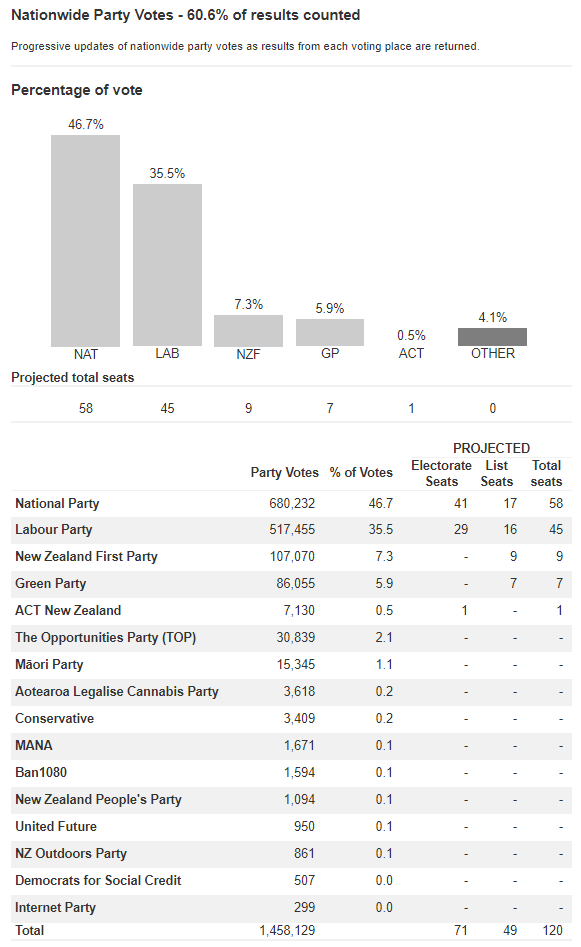 9:20: Keep an eye on the Greens.
They're tracking down as the votes come in. Below 6% now.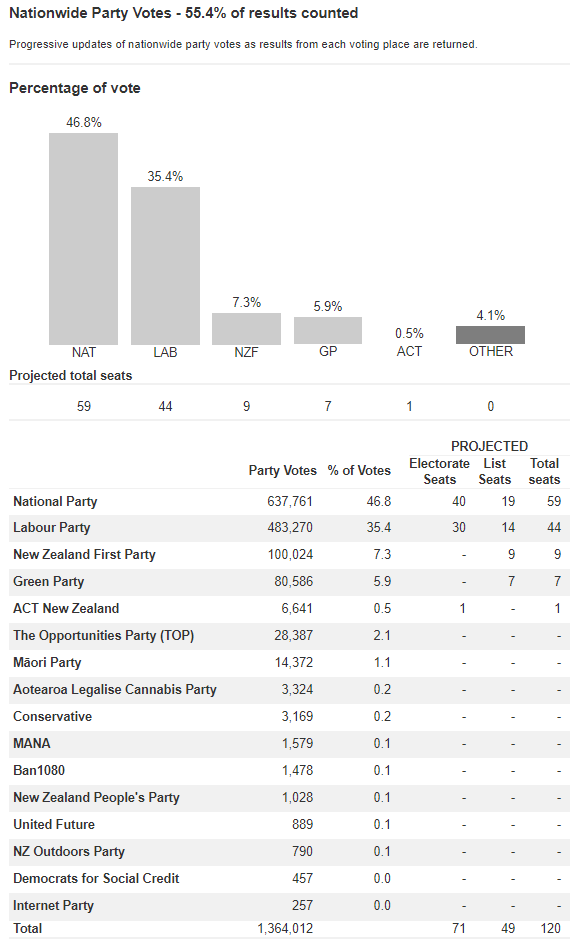 9:15pm: Jeanette Fitzsimons isn't looking too excited either. But she's looking at the silver linings - says everyone's talking about clean rivers, child poverty and climate change - at least...
At the moment a key number for Labour is whether New Zealand First ends up in front of the Greens - at the moment it looks like it. The thinking is Winston would be more likely to talk to Ardern if NZF is the second biggest party in a Lab-NZF-Greens bloc.
9:10pm: 45% counted.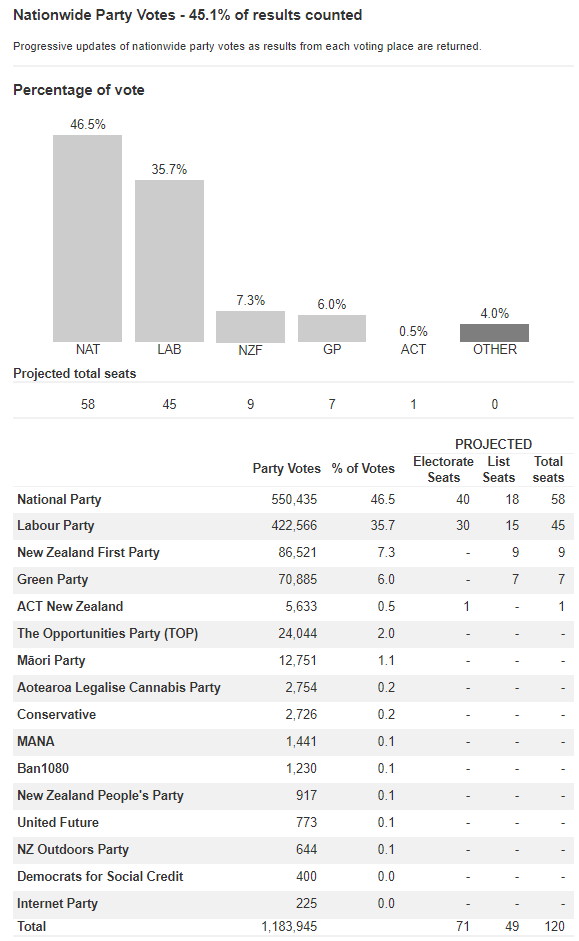 9:00pm: 40% of the vote.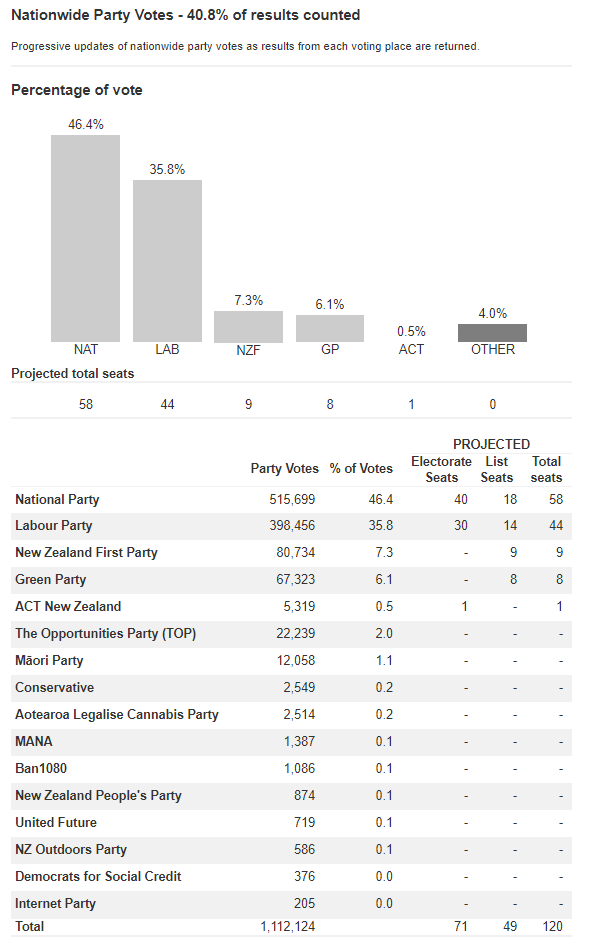 8:50pm: Here we are at 35% of the vote counted: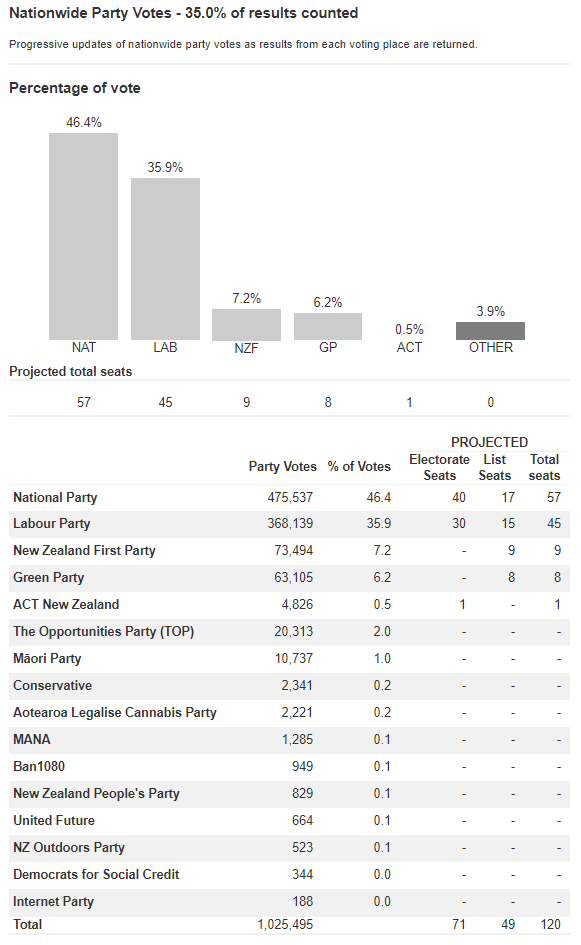 8:40pm: On current counts, the Maori Party is missing out - they're not ahead in any of the Maori seats. Michele Boag says if the Maori Party don't get in, then this will make it easier for NZ First to go with National.
Peter Dunne is talking about Bill English potentially calling the Greens, as a way to play off Winston Peters. Mike Williams says that's fanciful. I've been trying to get out of Bill English whether he'd check in with James Shaw after the result is known as an alternative to Winston - he's not been answering over the last few days whenever it's asked. Says it's the Greens who have ruled themselves out...
Here we are at 30% of the vote counted: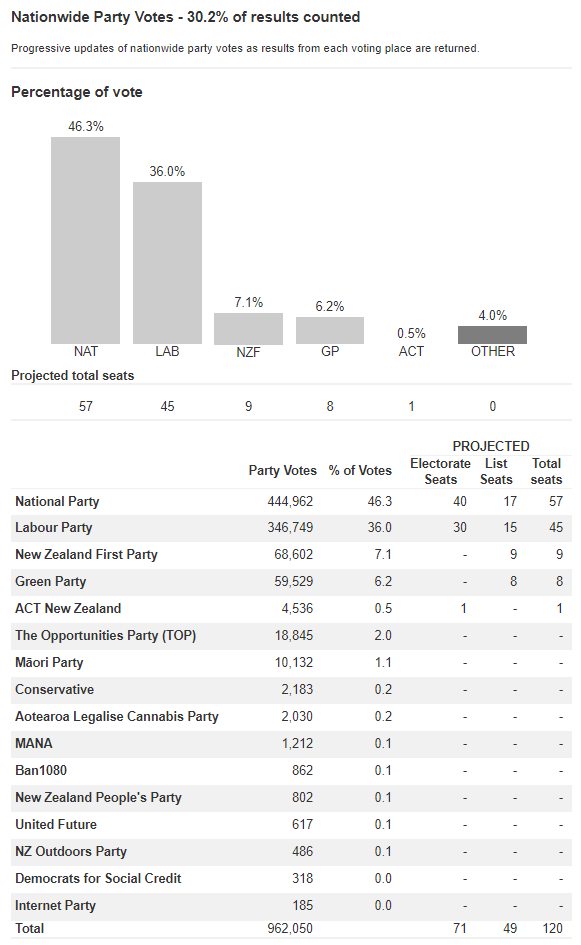 Here we are with 30% of the vote
8:32pm: Matt McCarten is not looking too happy on TVNZ. Phil Twyford has just been on, saying he would have hoped Labour was higher than the 36% they're at, but that it's still early days.
Earlier, New Zealand First's Shane Jones was on. He wasn't letting anything out in terms of who NZF might go with - they're in Kingmaker position at the moment.
8:25pm: 25% of the vote counted.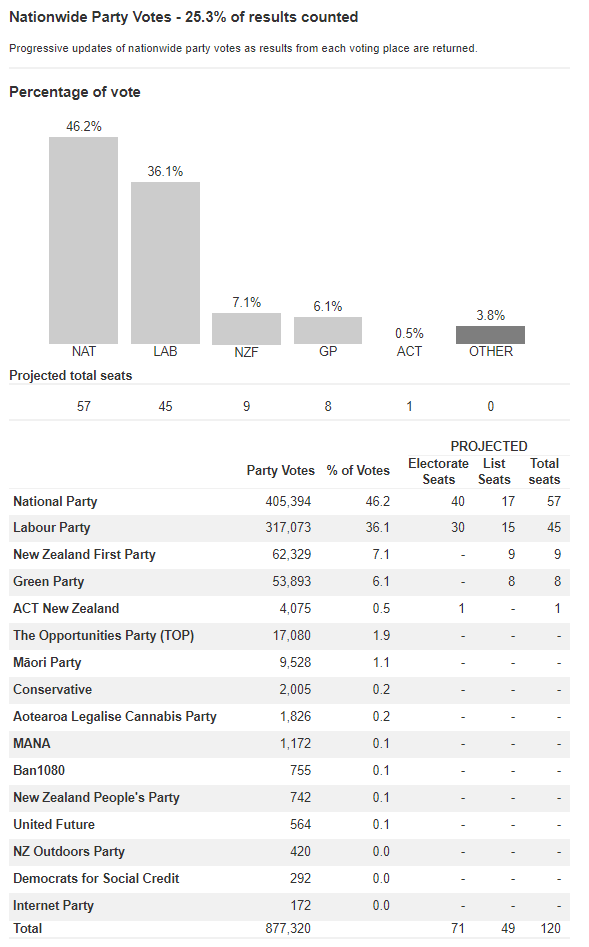 8:15pm: Gareth Morgan has just done the interview rounds. On Newshub he predicted a landslide for National, I'm told. I was watching TVNZ. He said he was relieved that the campaign was over. He had hoped for a higher vote than the 2% TOP is tracking for, but is happy that they've challenged the incumbents.
He then launches into one about home ownership. The main thing is that we have a generation of New Zealanders that are making their wealth out of property through a tax break, he says. These people - himself included - are screwing younger generations. Until we change this. we run the risk that the younger generations now will be worse off than their parents for the first time in New Zealand.
Morgan is asked whether he'll lead TOP after the election - he's not sure - although he says TOP will still exist, he says.
8:05pm: Here are some key electorates:
Winston Peters is behind in Northland, with 8% of that electorate's votes counted. If he does lose the seat, New Zealand First needs 5% - at the moment they're looking at above 7%.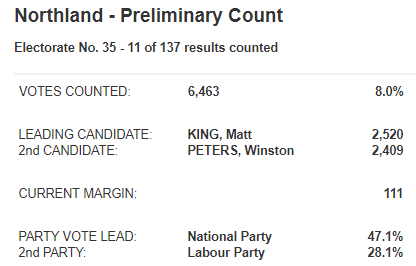 And in Epsom, David Seymour is up. This is one where there was talk of Labour and Greens voters ticking Paul Goldsmith...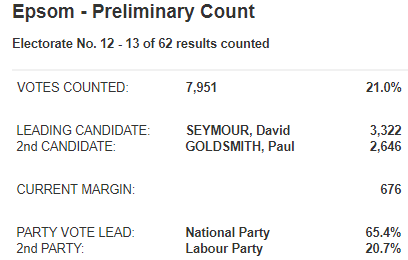 8:00pm: 20% of the vote counted: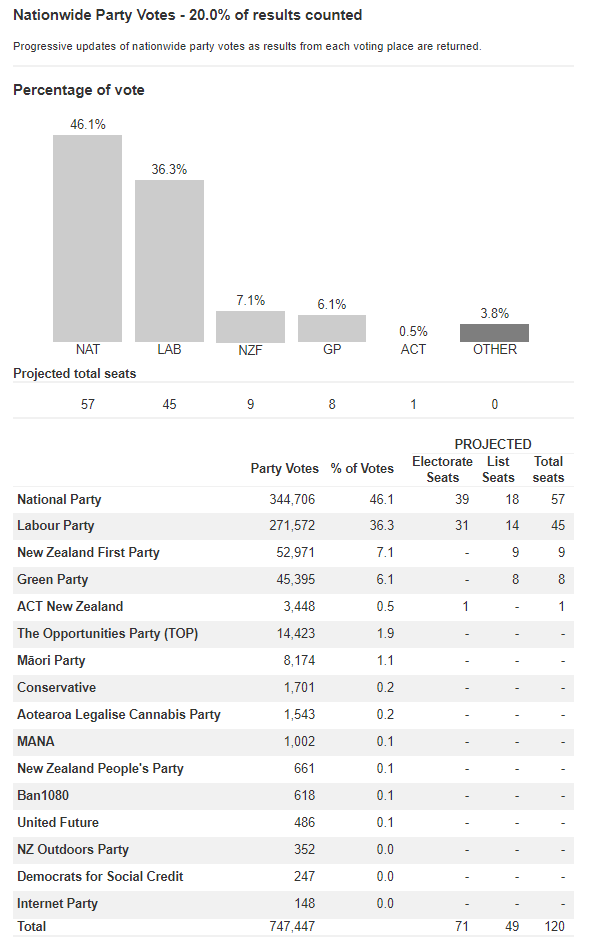 7:42pm: Here we are at 15% of the vote counted.
This is all happening very quickly. Steven Joyce is on the RNZ feed - saying he's naturally nervous and a little bit hesitant to put too much emphasis on the initial counts. He's asked about criticism that he's run a negative campaign with misinformation about Labour's policies, and "absolutely" refutes it.
No Maori Party electorate candidate is ahead at this point. This could be interesting if they don't win one...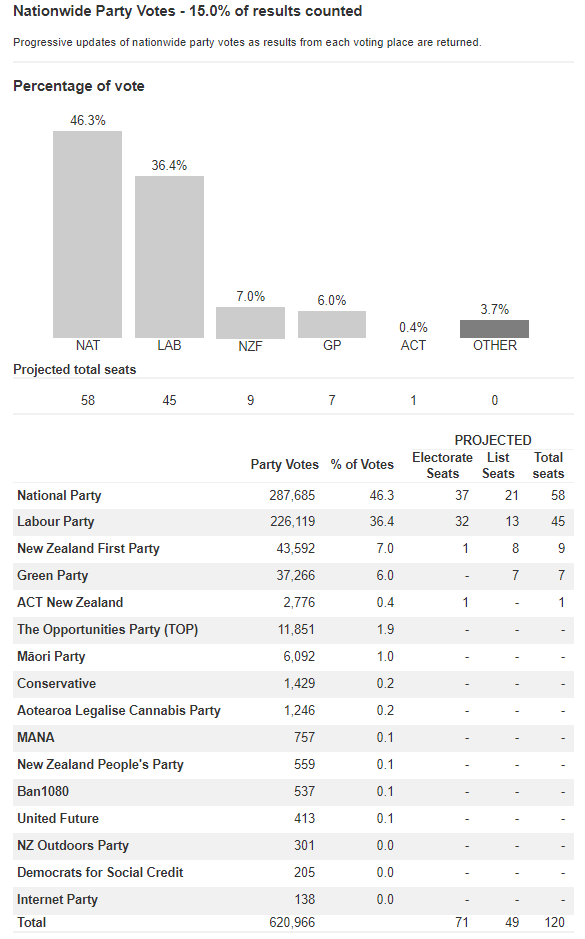 7:37pm: TVNZ's Corin Dann says his statistician says he doesn't reckon the early-rural rule will apply so much this time around.
7:30pm: Here we are at 10% of the vote counted:
We usually get rural booths in first, so National is always generally ahead this early. Interestingly though, Labour's Tamati Coffey is ahead of Te Ururoa Flavell in Waiariki early on. This is a huge seat for the Maori Party. If they lose this, then they're relying on Te Tai Hauauru to get back in.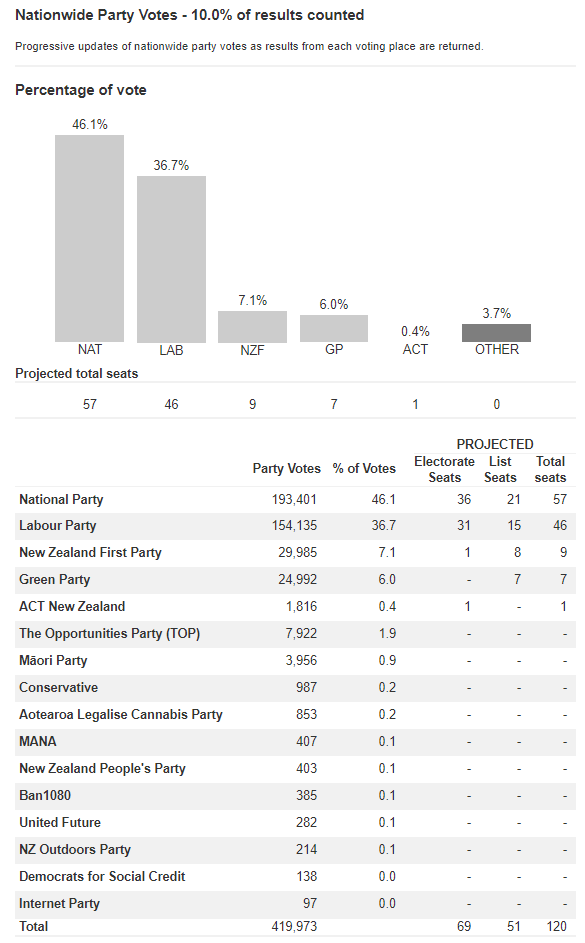 7:15pm: Winston Peters has just been on TVNZ. He says it's been an exhausting campaign, although he's had a nice day, he says. Asked whether he's confident, he's not taking anything for granted. Jessica Mutch asks him whether he'll keep us waiting if he is Kingmaker, he gets his usual bluster up. "I never did," he says. (No yaght this time around then?)
The writs aren't in until 12 October, he says, so there's no use allowing for any mistakes there, he says.
The other leaders are all keeping quiet until we know the result - Bill English has tweeted a video with him and a spagetti pizza.
7pm: Welcome. Well that was quite a campaign. It could go either way. Will it be National or Labour who come out on top? Will Winston Peters be Kingmaker? Can the Greens keep their heads above water? Will ACT and the Maori Party have any say in the next government? And how will Gareth Morgan's TOP go?
We're expecting a big clue before 8:30pm, as the advance voting stats come in - possibly as early as 7:30pm. This is for those who had already enrolled, then voted early - counting began at 9am. People who enrolled and voted at the same time will come in with the special votes, which come in with the overseas ballots on 7 October. The Electoral Commission is expecting results from 50% of voting places to be in by 10pm, and 100% by 11:30pm. However, we might know the outcome well before that, due to the numbers of early votes exceeding expectations.
Feel free to leave comments in the section below.