David Chaston with 10 more things you need to know about developments around and involving China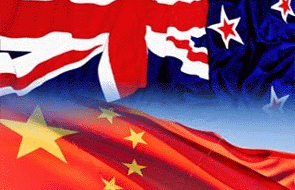 In a world in transition from being American-centric to one that may become China-centric, New Zealanders will need to stay up-to-date with news out of the Middle Kingdom as it influences us.
And 'influence' may be the key phrase here.
To stay on top of these issues, we are starting a weekly specialist 'Top 10', to curate China news that New Zealanders should know about. Please contact me if you have items that should be in this series. [ david.chaston@interest.co.nz ]
And to start,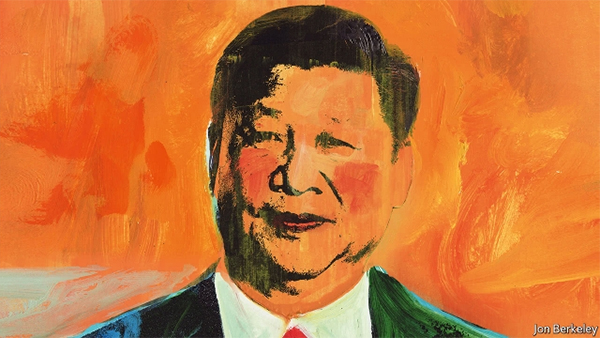 1. The world's most powerful man.
This week's edition of The Economist has an essay on President Xi Jinping. It is not very flattering and it warns us to be wary of his relatively sudden power-grab. It says we should not expect him to change China, or the world, for the better. It is not a long read and I recommend you do so.
Mr Xi may think that concentrating more or less unchecked power over 1.4bn Chinese in the hands of one man is, to borrow one of his favourite terms, the "new normal" of Chinese politics. But it is not normal; it is dangerous. No one should have that much power. One-man rule is ultimately a recipe for instability in China, as it has been in the past—think of Mao and his Cultural Revolution. It is also a recipe for arbitrary behaviour abroad, which is especially worrying at a time when Mr Trump's America is pulling back and creating a power vacuum. The world does not want an isolationist United States or a dictatorship in China. Alas, it may get both.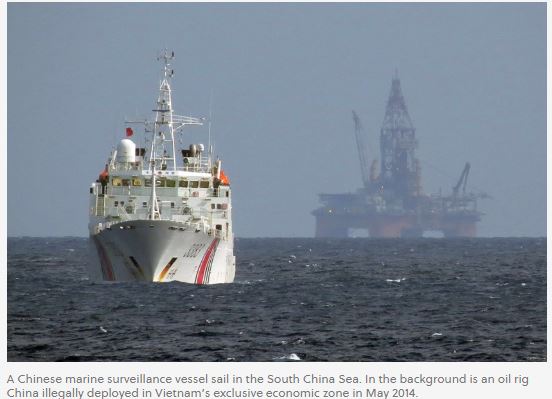 2. China's oil demand may not fall as alternatives rise.
China's oil demand in 2017 is far ahead of last year's pace. The numbers from China are interesting because there is much chatter about weakening Chinese demand, which seems to be based on huge growth in China's investments in clean technology.
But the oil demand data is also very impressive.
China's oil demand rose by 690,000 BPD in July, marking a 6 percent year-over-year (YOY) increase. China's total oil demand reached 11.67 million BPD in July. Year-to-date data indicates an average growth of 550,000 BPD, more than double the 210,000 BPD growth recorded during the same period in 2016.

China's gasoline demand was higher by around 0.10 million BPD YOY, driven by robust sports utility vehicle (SUV) sales, which were around 17 percent higher than one year ago. China's overall vehicle sales in July rose by 4 percent YOY, with total sales reaching 1.7 million units.
But it seems that the very fast growth in EVs and non-fossil-fuel strategies may not be mutually exclusive in China. Explosive growth in both seems possible given the huge transition that is just starting in China.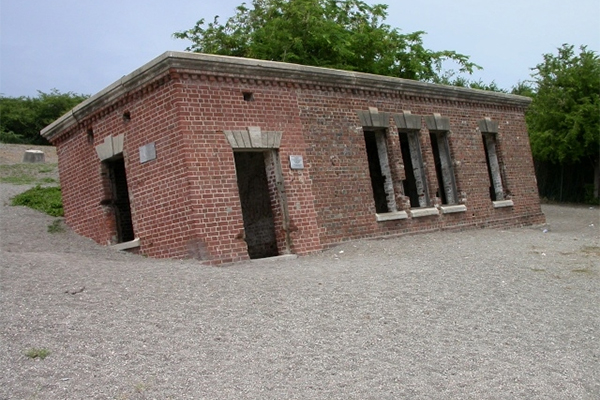 3. A large fund, but how well managed?
China has a gigantic sovereign wealth fund, second only in size to that of Norway which hit US$1 trillion in value recently. In August, the Chinese fund reached US$900 billion. (That compares with our own NZ one at NZ$35 billion).
The Chinese fund however, invests mainly in China, earning returns there of +14.4% last year (cf: NZSF +18.0%). Their offshore earnings were a paltry +5.5%. By investing at the behest of The Party, they are earning sub-optimal returns, and in fact bolstering and siphoning funds from an SOE sector that sometimes struggles to make any money (ie costs exceed revenues).
Their's is a very large fund, being built on quicksand.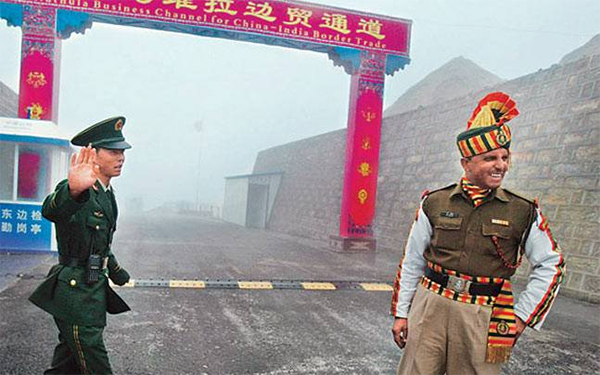 4. Why China is competing directly with India.
India is likely to become a serious competitor to China in the battle for a progressively larger share of the world's energy resources. It is a confrontation that China really wants to avoid and the settling of border disputes recently emphasises the conciliatory tone out of China recently.
But that does not make the energy competition issue go away. In fact, stress points from this will likely affect us all.
With both China and India having chosen the path of rapid industrialisation to exponentially increase employment opportunities for their teeming millions, a conflict between these two nations is likely to arise in the foreseeable future over the world's energy resources, which include Coal, Lignite, Natural Gas, Crude Oil & other Hydrocarbons, Nuclear, Solar, Wind, & Hydro Power.

India, the second most populous country in the world, is ranked fifth in the world in terms of primary energy consumption – behind the US, China, Russia & Japan. With a high GDP growth that has been hovering between 7 to 6 per cent, India, by 2030, is expected to vault to third place in this regard – behind only the United States & China.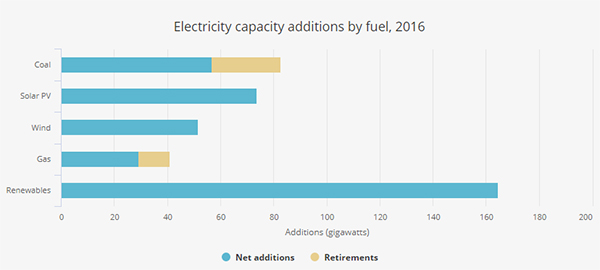 5. A winning strategy with solar.
One way China can avoid some stress points is to focus on renewable energy sources. That might seem a win-win with India, but China has a lot to gain out of it and has a huge lead. The IEA is reporting that renewables accounted for almost two-thirds of net new power capacity around the world in 2016, with almost 165 gigawatts (GW) coming online. This was boosted by a very strong solar PV market, largely as a result of booming solar PV deployment in China driven by sharp cost reductions and policy support.
Last year, new solar PV capacity around the world grew by +50%, reaching over 74 GW, with China accounting for almost half of this expansion. For the first time, solar PV additions rose faster than any other fuel, surpassing the net growth in coal.
China alone is responsible for over 40% of global renewable capacity growth, which is largely driven by concerns about air pollution and capacity targets that were outlined in the country's 13th five-year plan to 2020. In fact, China already surpassed its 2020 solar PV target, and the IEA expects it to exceed its wind target in 2019. China is also the world market leader in hydropower, bioenergy for electricity and heat, and electric vehicles.

Today, China represents half of global solar PV demand, while Chinese companies account for around 60% of total annual solar cell manufacturing capacity globally. As such, market and policy developments in China will have global implications for solar PV demand, supply, and prices. In the Renewables 2017 main case forecast, total solar PV capacity around the world reaches 740 GW by 2022 – more than the combined total power capacities of India and Japan today.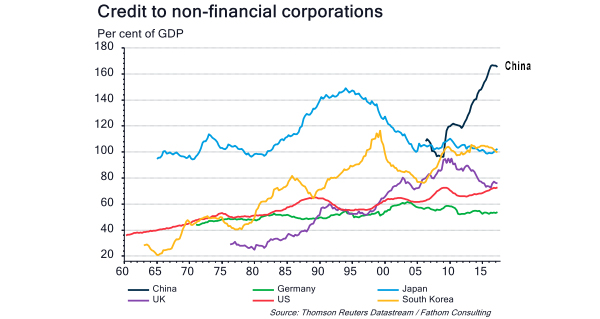 6. Back to the future.
Fathom Consulting monitors why and how China's economy grows (or otherwise) by tracking its economic activity, and that shows it growing faster than most would have expected, up +7.3% pa in August. But what they are seeing is a move away from reform, away from rebalancing an economy toward self-reliance based on a rising consumer sector. That means the adjustment, when it comes, will be just that much more painful - not only for them, but for us as well.
The pace of growth has almost tripled in the last two years. Unable to tolerate the slowdown associated with a rebalancing, which could threaten the position of President Xi Jinping, the Chinese authorities have recommitted to the model of export- and investment-led growth. This means more credit being channelled to unproductive industrial state-owned enterprises, of which one in three are operating at a loss. The state's preference for maintaining social stability, rather than allowing the forces of creative destruction to eliminate unprofitable firms, adds to China's long-run problems of total debt at 260% of GDP, non-performing loans at 30% of GDP and slowing productivity growth.
It has the look of public-policy settings by people who don't understand the risks of what they are doing. (There is a lot to be said for a system of checks-and-balances vs a one-party strongman system).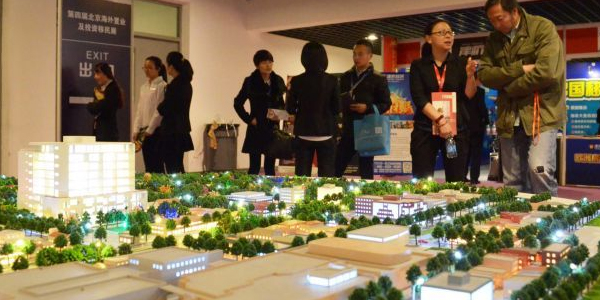 7. Not what it seems to casual observers - the trap of anecdotes.
Another group has taken a look at the influence of "Chinese buyers" in the Australian housing market - and found very little evidence this group is market moving. They start by analysing the investment flows from China to Australia - and find little of significance. They also looked at other influences in the pricing of their housing market and found high correlation with things like "low interest rates" and "strong population growth". If migrants had any influence, they found funds flows from the US, UK, Belgium, Hong Kong, Singapore, all much larger influences than from China.
According to the joint study by Cross Border Management (CBM) and BIS Oxford Economics, Chinese buyers accounted for less than 2% of all Australian real estate transactions, and contributed less than 1% ($122 out of $12,800) to the average quarterly housing price increase.
Respected analysts are still looking. Urban myth anecdotes can't be found in the data here either, it seems.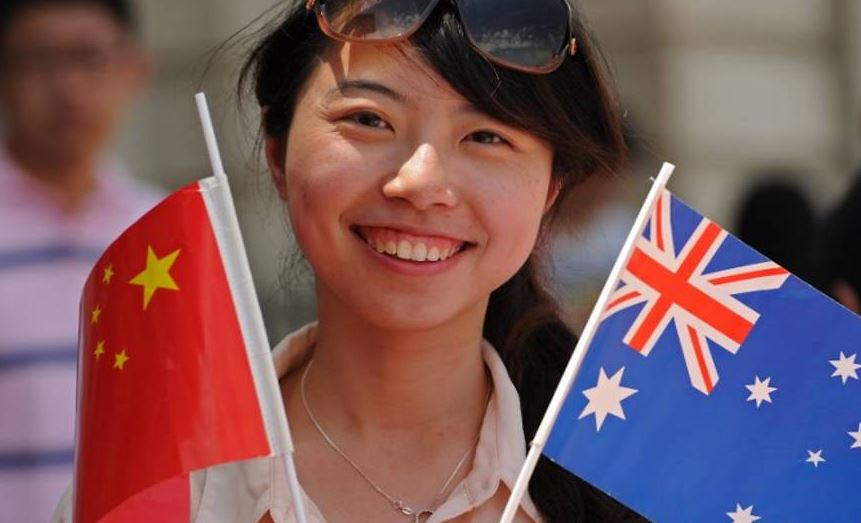 8. Building a fifth column.
It may not be housing where Chinese influence is distorting Australia. This from the Sydney Morning Herald:
One of Australia's biggest political donors, who rubbed shoulders with serving and former prime ministers, has been accused of engaging in clandestine activities to "advance the interests of the People's Republic of China".

The allegations involving Chau Chak Wing, an Australian citizen who has also donated $45 million to Australian universities, are detailed in a defamation case in the Federal Court.

...

The documents allege that the Chinese Communist Party uses "agents" to "learn about, influence and subvert" the policies of foreign governments, including Australia's.

"There are reasonable grounds to believe that [Mr Chau] … donated enormous sums of money to Australian political parties as bribes intended to influence politicians to advance the interests of the People's Republic of China, the Chinese government and the Chinese Communist Party," say the documents, authored by barrister Matt Collins, QC, and filed on Friday.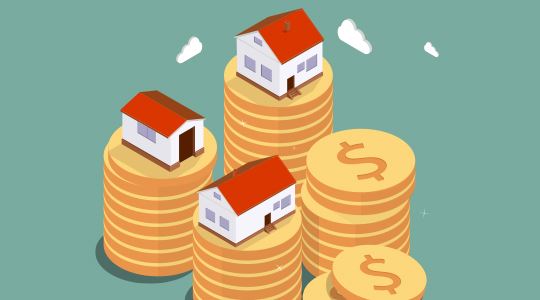 9. A clampdown on money laundering via real estate agents and jewellery shops.
China will extend its fight against money laundering and terrorist financing in non-financial sectors.
"Money laundering and terrorist financing activities are gradually spreading to some non-financial sectors," the People's Bank of China said in a statement, noting risks in sectors like real estate intermediary services and jewellery sales.
The PBOC has already started monitoring and analysis in some of these sectors and will work with relevant government departments on anti-money laundering rules for non-financial industries.
By 2020, China should be able to effectively prevent and control money laundering, terrorist financing and tax evasion by improving laws and regulations and coordinating the work of different government departments, it said.
The PBOC also dismissed concerns over strengthened government supervision of abnormal cross-border capital flow, saying that the monitoring will not disrupt normal and legal use of cross-border capital. The monitoring work will be carried out backstage and does not require further information from citizens and enterprises, said the central bank.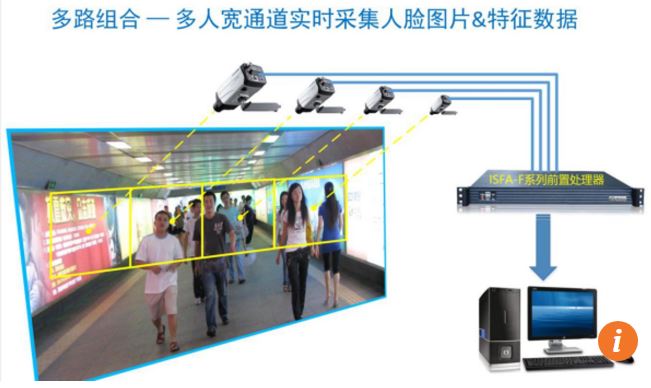 10. No escape.
Western readers of a certain age can be forgiven having an immediate thought-association with a book by George Orwell. But by 2024 everyone in China will be subject to omnipresent government surveillance, right down to automatic facial recognition. It will do away with identity cards and make the apprehension of rule-breakers instantaneous. This is how you control 1.3 billion people, and weed out those thought to be a risk.
The project, launched by the Ministry of Public Security in 2015, is under development in conjunction with a security company based in Shanghai.

The system can be connected to surveillance camera networks and will use cloud facilities to connect with data storage and processing centres distributed across the country, according to people familiar with the project...

The 1.3 billion-person facial recognition system is being developed by Isvision, a security company based in Shanghai..

The system developed by Isvision will use an algorithm developed by SeetaTech, a start-up established by several researchers from the Institute of Computing Technology at the Chinese Academy of Sciences in Beijing.
---
We are aiming to produce this review weekly. If you have items you think should be included, please contact us (the details are above).