This time last year, Andrew Little was on the verge of making the most important political decision of his career – what has changed since? He sits down with political reporter Jason Walls for a beer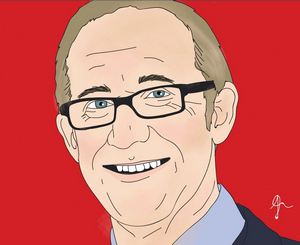 By Jason Walls
At first glance, Andrew Little is a Labour Party man through and through.  
A student union leader turned workers union leader, turned Labour MP then leader. He is the poster-boy for the New Zealand Labour Party.
Despite his left-leaning work life, he has a secret – something he has kept quiet for 53 years.
"In my confessional moments," he tells me, beer in hand in Wellington's iconic Backbencher pub, "I do have to say my first act of political activism was when I was 10 years old, delivering leaflets for the National Party in 1975 in New Plymouth."
It is a revelation that shook me to my core and the jury is still out as to whether it will cost him his political career.
I hurry to take down notes as he explains his father was a "staunch National Party supporter and activist," between sips of his Pilsner.
No doubt this will be a big hit to his political credibility. I can already hear the critics: "another flip-flop by a senior Labour MP," they'll say.
But Little is a man who has learned to deal with the heat and I have a sneaking suspicion he will survive this scandal. After all, he has been through much worse.
A year ago, Little was in a much different situation than he is now.
Looking down the barrel of a devastating election loss he as leader would surely be blamed for in the years to come, he had to make a decision.
The polls were bad, the members were not happy and things were looking very bleak for Labour.  
On August 1 last year he stood down as the Party's leader, anointing his deputy Jacinda Ardern to take the reins.
"It is about judgment – it is about making the right judgement at the right time," he says.
After Ardern's first press conference as leader, everything changed. Labour rocketed in the polls and it suddenly became a much more interesting fight.
This new, charismatic young leader had captured the hearts of so many across the country and, indeed, the world.
She would go on to lead her party into Government.
Little is sure he made the right call. Although thrilled to be a part of the Government, there is a slight air of disappointment surrounding the man who led Labour for almost three years.
"There was a huge sense of personal disappointment for me that I couldn't pull it off," he tells me.
The Andrew Little risotto, or the Grant Robertson steak?
He's now a Minister of the Crown, one of the Prime Minister's closest confidants and one of the most well-respected Ministers this Government has.
He juggles a significant workload. Between Justice, Treaty Settlements, GCSB, NZSIS and Pike River Mine re-entry, he has a lot on his plate – so much so I was surprised he could fit me in at such short notice.
We meet as Parliament goes into the dinner break at 6pm on a Tuesday night.
"Are you eating? I'm starving," he says.
"Sure," I say, picking up a menu. The Backbencher names its food after sitting MPs – the David Seymour chicken sandwich wrap, the David Parker sausage etc.
I was eying up the Judith Collins Cheeseburger but figured I would try and earn a few brownie points while I had Little at the table.
"I'll have the Andrew Little wild risotto," I said to the waiter, glancing over to see what his reaction would be.
He didn't flinch and ordered the Grant Robertson scotch fillet.
A much better option and a wasted attempt at brown-nosing on my behalf.
"Ahh, are you trying to win a bit more money from the Finance Minister come Budget day next year?" I quip.
He laughs, "something like that."
As we waited for the food, I was curious to hear more about his time in opposition, especially as leader.
After National won the election in 2008, Labour went through a string of leaders. First Phil Goff, then David Shearer who was succeeded by David Cunliffe. Little took over in 2014 and was in the top spot for almost three years.
Being the leader of the Opposition is often referred to as the worst job in politics. You must be negative, constantly.
It must be exhausting, but I'm sure it has some perks.
"Did you have fun in the job?" I ask.
"At one level, yes. If you don't you would go crazy," he says.
A new look, for a new man?
But being in opposition is also all about getting ready to be the Government. That comes in the form of looking the part as well.
Midway through last year, Little did away with his glasses, got a new suit and transformed into a seemingly new person.
"Andrew Little's election-year makeover," the headlines read. But everything was not as it seemed.
"I got a new suit – that became news," he says, adding that his "switch" to contact lenses was not a switch at all. "When I was younger I used to wear contacts; they are quite handy."
This wouldn't be the last time he made headlines for changing his look.
A few months ago, he grew out a beard. Not particularly noteworthy in and of itself, but a popular Facebook poll – asking participants if he should keep it or shave – sparked a fierce debate.
"The people have spoken and it's #TeamBeard by a landslide," he posted after the results were in.
Despite the increased workload of being a minister, Little seems much more relaxed now than he ever was in opposition.
Before I could ask a follow up about the beard, our food was brought over. I looked over with envy at his plate of roasted vegetables, side of golden potatoes with a giant, steaming steak.
As he gets stuck in, I am presented with my pile of rice and a very leafy salad. Full of regret, I soldiered on with the interview.  
In July last year, Little revealed he had thought about stepping down from the top job.
"People would say 'yeah, that's where it all started,'" he says. But the truth is, he had been mulling the decision for weeks.
Labour had been hovering at the 30% mark for the better part of 18 months – "we just couldn't lift it."
Then came the decline. On July 30, Labour fell to 24% – its lowest point in 22 years.
"I had already made the judgement some months before that if that decline started and showed no sign of turning around, I would have to rethink my position," he tells me.
"The fall in the polls was so quick and so deep. That was the point where I had to say this is not going to turn around for me."
Two days later, he resigned as leader and Ardern took over.
The explosion before 'Jacindamania'
She was always in his mind as a replacement. "When she became deputy in March last year, I had confidence then."
He says they had spoken about Little stepping down the week before he publicly made the call – "she was advising against it."
After persuasion from some of her colleagues, she changed her mind.
"She was up for it and I had confidence that she could do it… she translated really well in a way I clearly didn't."
Just hours after Little resigned, Ardern gave her first press conference as leader. It has since come to be known as the "relentlessly positive press conference."
Little was not among the MPs flanking the new leader on the stage. Nor was he watching with the rest of the staff on TV.
"I was packing up my office, I was going home."
He took a few days out and went to Sydney with his wife to "come to terms with it."
In hindsight, Little has been praised for his decision to step down when he did. As he himself admits, "if I stayed on, I don't think [the result] would have been the same."
He finishes the last of his steak and takes a big gulp of beer, before wiping his mouth with the back of his hand and looking over at my plate.
I'm still going, slowly.
Andrew Little is a man whose whole life and every decision he has made has led him up to the moment he's in right now – a Cabinet Minister for the Labour Party.
"This is what I have been wanting to do for a long, long time."
There is a danger that history will view him simply as the man who came before the explosion of "Jacindamania" – as the boring plate of rice and not the scotch fillet.
But Little's decision a year ago has done more to shape this country than most politicians could ever dream of doing in their careers.
"It is about judgment – it is about making the right judgement at the right time."
Want to see more? Check out Jason's other 'Politicians at the Pub' interviews here: 
Green Party co-leader James Shaw
ACT Leader David Seymour
NZ First's Shane Jones