Auckland Chamber of Commerce CEO Michael Barnett says the City of Sails has to make some tough decisions over moving the Ports of Auckland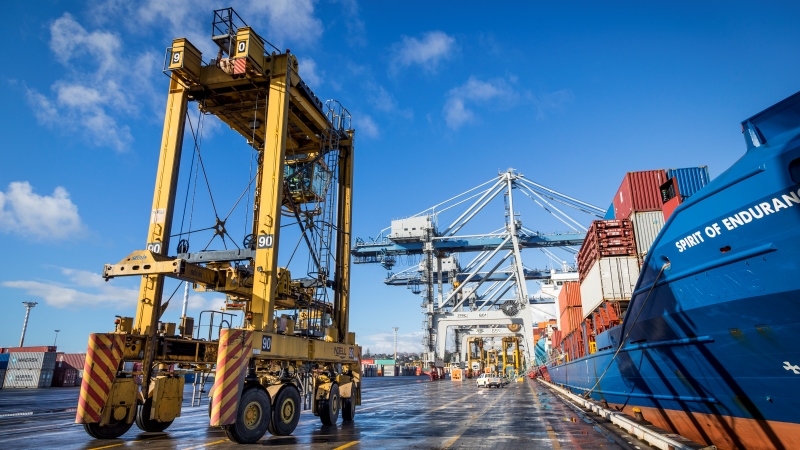 Auckland Chamber of Commerce chief executive Michael Barnett says the SuperCity needs to decide what it's going to do about the Ports of Auckland and it can't afford to put off making some tough decisions.
His comments follow the release last week of the Upper North Island Supply Chain Strategy working group's interim report.
The Government established the working group last year to look at the development and delivery of freight and logistics in the Upper North Island. It has also been tasked with investigating the feasibility of relocating the Ports of Auckland to Northport in Whangarei.
The Chamber of Commerce made a submission to the working group earlier this year. Barnett says looking at the latest report makes for interesting reading.
"I think some obvious things come out of it," he says. "If Northport is going to grow it's going to take a significant investment in rail. The second point is that while everyone has accepted that at some point the Ports of Auckland is going to have to move we can't sit back and say these are our long term options. We are going to have to focus in on what's required."
In 2016 the Auckland Council formed a working group to look at the long term options for the Ports of Auckland. The resulting Port Future Study said that the port would face problems going forward due to its location and states:
"Capacity will constrain the port's ability to meet future freight and cruise [ship] demands, which may limit economic growth in the long term. Tension between, and competition for, limited resources for the CBD and POAL will lead to sub-optimal outcomes for one or both."
The report identified two potential locations for a new port at either the Manukau Harbour, or the Firth of Thames, which it said should be investigated.
But Barnett says shifting the Ports of Auckland to the Firth of Thames would be problematic.
"You've got a community there and how are they going to respond to the transport and freight movements and the effect it would have on their pristine environment?"
And he says building a new port would come with massive costs. While shifting the port to Manukau Harbour would also create problems. The Manukau Bar, which is a mass of moving sand, would have to be regularly dredged to make way for commercial shipping.
"At some point we've got to stop saying 'we could do this' and focus on what we are actually going to do."
He says the ongoing problems with the location of the Ports of Auckland isn't going to disappear and now is the time to act.
"The Auckland Council owns the [Ports of Auckland] company and they get a significant dividend from it. They would have to put the rates up to pay for it. So it's not just a case of saying 'we not going to have a port in Auckland'."
He says 85% of freight imported through the Ports of Auckland goes to a destination within 35 kilometres of it. Barnett says if it was moved to Whangarei there would be added costs.
"Everyone should be aware of the consequences, such as higher costs for importers and consumers."
Meanwhile Associate Transport Minister Shane Jones says he is expecting to receive a report soon from consultants Deloitte and Aecom looking at the cost of upgrading the Northland rail network. This would include looking at the cost of upgrading the rail line north of Auckland and installing a 20km spur, or secondary line, to Northport at Marsden Point.
The New Zealand First MP has previously stated his commitment to seeing the Ports of Auckland's operation shifted to Northport. But before that can happen the rail network north of Auckland would need to be upgraded to handle the massive amounts of freight that would be involved. In March Jones said it would costly.  
"There wouldn't be any change out of $500 million to put in the spur and upgrade the northern rail line. And the task of rehabilitating the country's rail network to the point of making it a real alternative to road based freight will take more than one budget. However, with the Provincial Growth Fund (PGF) we've always planned to use a big chunk of that for the rail network."