Sino demand for NZ forestry products highlights dilemma faced by timber processors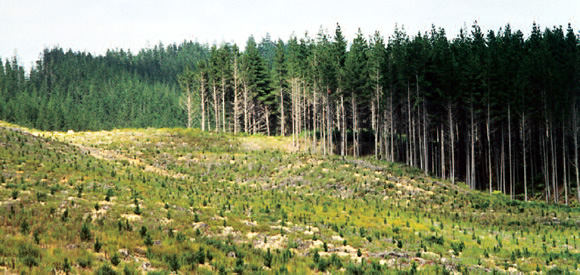 China's insatiable demand for New Zealand forestry products continues to grow, but where are things heading for the country's forestry industry and how much of the processing is being done here?
Forestry is a major employer in regional New Zealand and contributes around $6.4 billion a year to our economy in export earnings. According to Te Uru Rākau (Forestry New Zealand) wood products are now the country's third largest export earner – behind dairy and meat.
Something the Minister of Forestry Shane Jones is more than aware of. Earlier this week he announced he'd signed a new agreement with Zhang Jianlong from the Chinese National Forestry and Grasslands Administration which he expects to pave the way for greater trade and co-operation between the New Zealand forestry sector and China.
"Much of this growth has come from increased Chinese demand for New Zealand forestry products, supporting both continued high prices and record export volumes," Jones says.
"A number of Chinese companies choose to use wood sourced from New Zealand for their manufacturing, and I'm keen to see how we can grow the relationship further, especially for our respective wood processing industries."
A report released last year by the Forestry Owners Association titled: Facts and Figures 2017/18: New Zealand Plantation Forest Industry says New Zealand is now the second largest log exporter in the world to China after Russia. In the year ending December 2017 we exported $2.8 billion in forestry products to the country. Logs and poles made up $2.3 billion of the exports, while wood pulp came second on $275 million, and sawn timber/sleepers came third on $149 million.
But despite such strong results it's not all plain sailing in the industry. Of the 33 million tonnes of logs that are produced every year, 20 million tonnes ($3.3 billion) are being shipped overseas as raw logs. And only 13 million tonnes is being processed here in New Zealand into finished timber and/or products.
Wood Processors and Manufacturers Association of NZ (WPMA) chief executive John Tanner says the amount of raw logs being shipped out of the country every day is a problem for the local wood processing industry.
"The issue we've had for a while is the very high prices for raw logs and they have been like that for four or five years now. That stimulates the demand for them and the domestic processors here then have to pay those high international prices."
But Tanner says he doesn't think the issues in the industry have been caused by the level of overseas ownership of so much of the country's forests.
"I don't think it's a characteristic of the owners, but of the log buyers who are buying logs for processing," Tanner says.
And Tanner says the agreement the Government has signed with China is a step in the right direction.
"In the industry we've been arguing for more logs to be processed locally and I think the agreement signals this government's intent on doing just that," he says.
He says the question that needs to be answered is how can the two countries work together to ensure there is more primary processing, such as milling, done here and more secondary processing done in China.
"One thing we would be interested in is attracting more investment from China in wood processing here," Tanner says.
The level of overseas investment in our forestry industry remains high, even if it hasn't translated into more processing in New Zealand.
In February the Overseas Investment Office (OIO) approved Japanese-owned Oji Fibre Solutions' (NZ) proposal to buy a 188 ha forest at Te Kuiti from Australian company PF Olsen Tisa. It was the first streamlined forestry deal by the Overseas Investment Office (OIO).
For fast-track approval overseas buyers must agree to plant new trees in line with the Government's goal of planting 1 billion trees by 2028.  
While in January the OIO also gave approval for Australian forestry company OneFortyOne and Nelson Forests to buy approximately 2411 ha of land at Manuka Island Forest, in Marlborough for $46 million from a US investment group.
The company had also been given OIO's approval in September last year to purchase Nelson Forests, which owns more than 25,000 ha of forestry land and around 51,000 ha in Crown Forestry Licences.