Higher freight costs take the shine of export log prices. Domestic supply is abundant, China demand stable, India prices under pressure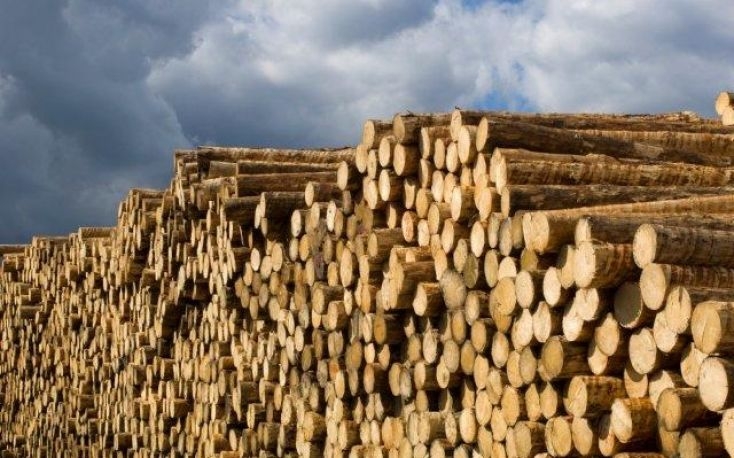 At Wharf Gate (AWG) prices for logs delivered to ports around New Zealand decreased on average -NZ$5 per JASm3 in March from the highest February prices. This decrease in AWG prices is due to increased ocean freight costs for export log cargo.
Most CFR log prices in China were flat to a modest increase of +US$1 per JASm3. 'A' grade export now sells for up to US$143 per JASm3 in China and US$155 per JASm3 in India.
The domestic market for logs has continued the very stable start to 2019. There has been some capacity taken out of the pruned market with the closure of the Waverley sawmill, but other mills producing clear sawn timber are already at capacity.
Due to the drop in the AWG sale prices for export sawlogs the PF Olsen Log Price Index decreased -$3 in March to $134. The index is currently $6 above the two-year average, $9 above the three-year average, and $17 higher than the five-year average.
Domestic Log Market
Log Supply and Pricing
Prices for domestic log sales in March are mostly unchanged from February as most supply is locked in for the quarter. The settled weather around the country has caused log supply to increase with some mills and in particular those buying pruned logs, reporting an abundance of log supply.
Sawn Timber Domestic Demand
Most mills continue to report that 2019 sales levels are above 2018 levels. The continued fine settled weather in New Zealand is the likely cause of this solid demand. There was also a reduction in demand in 2018 as business was unsettled after the outcome of the New Zealand general election. But as usually happens, business realises there isn't actually much change and gets on with their activities.
Sawn Timber Export Demand
The Australian market remains slow with reduced housing starts, and the Asian demand is increasing after the aforementioned Chinese holiday.  
The European clearwood market remains strong with some New Zealand supply about to be reduced after the closure of the Waverley sawmill.
The stable markets led to a less interesting market report, but the stability is good for the New Zealand forest industry.  
Export Log Markets
China
Total softwood log stocks increased across China during the Lunar New Year holiday period to just over 4.1 million m3. Daily uplift from the ports has steadily increased since this holiday period with current estimates between 60-70,000 m3 per day. The rate of offtake over the next month will likely determine the market direction for the next three to six months. Over 2018 the total softwood log market remained balanced with the number of days inventory supply in the 40-50 range. Log exporters expect a similar balanced position to be sustained through 2019.
The China log market is currently sitting at a sensitive point. Based on current CFR log prices and the China retail prices the log buyers cannot make a profit from New Zealand radiata logs. This does make Chinese log buyers quite discerning in log quality to ensure they are getting the quality of the grade they purchase.
It is unlikely alternative supply can increase dramatically in the short term, so the New Zealand log exporters expect further modest CFR price increases over the short term. Any pressure from competition will likely come initially in the lower grades as this volume can easily be replaced in construction markets with Uruguayan or other lower-cost logs.
While the US has delayed indefinitely an increase in tariffs on China goods, there is still a lot of negotiation to occur before a deal is concluded and tariffs lifted by either side. Once a deal is agreed, it is expected an easing of tariffs will be stepped rather than a complete removal. This means the sentiment about log supply from the US hasn't changed.
Due to favourable pricing relative to New Zealand logs, Southern Yellow Pine (SYP) volumes have recovered overall slightly since Q4 2018. The current volume is approximately 50,000 JAS m3 per month which is still less than half of the Q1 2018 monthly volume. There was a recent reduction in supply due to snowstorm events. The current returns are supressed due to trade tariffs, but log volumes close to port and low-cost freight due to an imbalance in the container trade are keeping this business viable. Should the New Zealand radiata price hold, or slightly increase, the SYP price may improve slightly, underwriting some volume growth.
Log Supply to China from Uruguay was adversely affected in 2018 by increases in ocean freight costs. Uruguay is now able to provide some positive market return for forest owners as the freight market dropped around 10 USD per JAS m3 for Q1 2019. Due to the increasing price for NZ radiata, logs from Uruguay can now sell for a slightly higher CFR price, improving the viability of exports and increasing available volume. South American exporters now have a much-improved understanding and management of quality control after earlier significant issues. They have also improved stowage for ship loading. South America led by Uruguay, currently export about seven vessels per month with the potential to increase more if New Zealand radiata logs maintain the current price level. Brazil is also starting to export in bulk with several vessels shipped in 2018 and a regular program expected in 2019. It will be interesting to see how these markets cope with expected ocean freight increases.
Courtesy: Pacific Forest Products (PFP)
India
Movement of log stocks off Kandla Port has increased and the older stock has now been sold. The CFR price for New Zealand 'A' grade pine logs are in the US$155 per JASm3 range and forecast to increase marginally.
The lumber prices remain around Rs491 per CFT but the strengthening of Indian Rupee to 70-71 range with the USD has provided some bottom-line respite to sawmillers.
There is currently a strong demand for the cheaper 3m short length logs to reduce the average basket price.
The much-welcomed decision of the Indian government to reduce the GST to 2% on finished apartments and houses is likely to give a boost to the construction sector. Log sellers expect the effect on demand to occur shortly after the general elections in May 2019. Over this election period the market for NZ pine logs will not be significantly affected, however, the hardwood log trade is expected to slow down.
The recent removal of several Indian banks (Corporation Bank, Dena Bank, Allahabad) from the regulator watch list, the Prompt Corrective Action (PCA), should marginally improve funding and LC issues for sawmillers and log importers.
There is a market move by the Kandla Timber Association (Pine Cell) to make a concerted effort to increase the NZ pine sawn timber to Rs501 per CFT.
New Zealand pine continues to face competition from the following global trade aggressively targeting the Indian market.
Southern Yellow Pine CFR 120 USD for 10" (25cm) small end diameter (SED) and above. (NZ A grade logs have a 30cm SED).

South Africa Pine CFR 125 USD per metric tonne for pruned logs with a 30cm SED.

Kiln dried (KD) pine sawn timber from the Ukraine and Eastern Europe at 220 USD per m3.

There have been some arrivals of taeda and ellioti pine sawn timber from Brazil recently.
Due to the Kandla prices remaining low (around Rs491 per CFT) they are able to sufficiently service the Bangalore and Hyderabad markets (Rs 511/- per CFT) covering the cartage costs. Sawmills importing logs via Tuticorin Port have reduced production by approximately 30% while they wait for prices to increase. The demand for New Zealand logs and vessel shipments from New Zealand to Tuticorin are likely to remain subdued for the next few months.
Exchange rates
Over the last month the NZD has continued to trade within the 0.672 and 0.690 range against the USD. This means there has been little effect on AWG prices offered by log exporters.
NZD:USD
The Chinese Yuan (CNY) appreciated slightly against the USD through February.
CNY:USD
Ocean Freight
Exporters have different freights costs relative to last month as there were some cheaper spot vessels available last month. Freight costs seem to have bottomed out and there has been steady increases over the last month. Freight demand is expected to increase with the usual increased activity after the Chinese Lunar New Year which will increase vessel daily charge rates.
Ocean Freight from NZ to Kandla is in range of 34 to 37 USD per JASm3.
Vessel congestion at the North Island load ports remains an issue particularly in Gisborne and Tauranga, where there is regularly two to three vessels parked at anchorage waiting for a berth. This congestion is due to a number of factors – increased log volumes requiring more vessels, port labour shortages, and in Tauranga fumigating logs for vessels can at times tie up a berth.
Singapore Bunker Price (IFO380) (red line) versus Brent Oil Price (grey line)
Source: Ship & Bunker
The Baltic Dry Index (BDI) is a composite of three sub-indices, each covering a different carrier size: Capesize (40%), Panamax (30%), and Supramax (30%). It displays an index of the daily USD hire rates across 20 ocean shipping routes. Whilst most of the NZ log trade is shipped in handy size vessels, this segment is strongly influenced by the BDI.
The graph of the BDI over the last year below shows the recent bottoming-out then increase in the BDI.
Source: TradingEconomics.com
PF Olsen Log Price Index - March 2019
Due to the drop in the AWG sale prices for export sawlogs the PF Olsen Log Price Index decreased -$3 in March to $134. The index is currently $6 above the two-year average, $9 above the three-year average, and $17 higher than the five-year average.
Basis of Index: This Index is based on prices in the table below weighted in proportions that represent a broad average of log grades produced from a typical pruned forest with an approximate mix of 40% domestic and 60% export supply.
Indicative Average Current Log Prices – March 2019
Log Grade
$/tonne at mill
$/JAS m3 at wharf
 

Mar-19

Feb-19

Dec-18

Nov-18

Mar-10

Feb-19

Dec-18

Nov-18

 
 
 
 
 
 
 
 
 
Pruned (P40)
175-195
175-195
175-195
170-195
185-190
185-192
178-186
186-192
Structural (S30)
130
130
130
130
 
 
 
 
Structural (S20)
115
115
115
115
 
 
 
 
Export A
 
 
 
 
151
156
142
147
Export K
 
 
 
 
143
148
135
139
Export KI
 
 
 
 
136
141
127
132
Export KIS
 
 
 
 
129
134
122
124
Pulp
50
50
50
50
 
 
 
 
Note: Actual prices will vary according to regional supply/demand balances, varying cost structures and grade variation. These prices should be used as a guide only..
A longer series of these prices is available here.
---
This article is reproduced from PF Olsen's Wood Matters, with permission.