Chris Trotter argues that although democratic socialism is Labour's official ideology, New Zealand politics lacks traditional left-wing champions like Bernie Sanders & Alexandria Ocasio-Cortez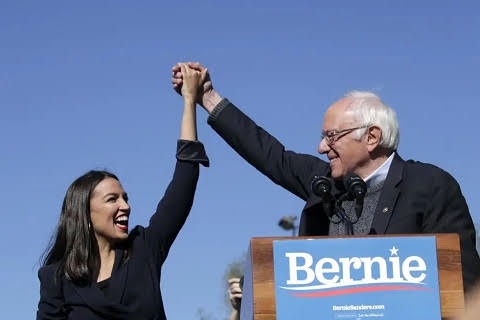 By Chris Trotter*

On a sunny Saturday afternoon in Queens, thousands of young New Yorkers celebrated Bernie Sanders return to the campaign trail. His "Bernie's Back" rally, the first since the 78-year-old senator's recent heart attack, included two powerful personal endorsements. To loud cheers, Michael Moore, the left-wing documentary film-maker, threw his weight behind the self-described "democratic-socialist" contender for the Democratic Party's presidential nomination. What made them roar, however, was the endorsement speech of the 30-year-old congresswoman from the Bronx – Alexandria Ocasio-Cortez.
 Watching all this from New Zealand is thoroughly disconcerting. New Zealand progressives are in the historically rare position of finding themselves outflanked on the left by, of all people, the Americans! Sure, in Nicky Hager we have a left-wing journalist considerably more effective, in raw political terms, than Michael Moore. But that is where it stops. Where is our equivalent of Bernie Sanders? Where is our AOC? Winston Peters and Jacinda Ardern may resemble this duo on our television screens – but only with the sound turned way down!
 There is no one in our Parliament; no one in our largest progressive party; remotely like Bernie Sanders. According to the party's constitution, Democratic Socialism is Labour's official ideology, but when was the last time any significant player within its ranks loudly sang its praises? Even Labour's erstwhile "left-wing" standard-bearer, David Cunliffe, only dared use the word "socialism" ironically. With his departure, Labour is without a single champion for the principles upon which the party was founded in 1916.
 That is as unusual as it is unhealthy. Rogernomics may have thrown Labour into ideological confusion and organisational turmoil, but through it all the figure of Jim Anderton remained as the bulwark of traditional Labour values. Helen Clark may not have been prepared to "go down in a hail of bullets with Jim Anderton", but up until the party split in 1989, around half of the party remained at his side, with roughly a third of the membership following him out and into the genuinely democratic-socialist NewLabour.
 Therein lies most of the explanation for Labour's ideological vacuity. Its left-wing broke away, leaving behind a party whose most avid ideologues were all on the Right. With the coming of MMP, however, even they were lost – to ACT and the United New Zealand Party. Eventually, this intellectually inert Labour Party was able to attach itself to the "Third Way" doctrines of Bill Clinton and Tony Blair. These provided them with the ex post facto justification they needed for their consistent unwillingness to challenge the fundamental reforms of Roger Douglas and Ruth Richardson.
 This gaping hole where Labour's left-wing principles and policies should have been was fortuitously masked by the wave of prosperity that surged across the Western world from the early 1990s – and only ended with the onset of the Global Financial Crisis in 2008. The glittering array of technological wonders which both fuelled and reflected that prosperity allowed "Centre-Left' leaders like Clinton, Blair, Schroeder and Clark to present themselves and their parties as the bearers and exemplars of a new, twenty-first century version of progressivism. More importantly, it allowed them to paint their traditional socialist rivals as throwbacks to a bygone age. In Blairspeak: as "dinosaurs" who just didn't "get it".
 That this is still the attitude of Labour's leading politicians and advisers goes to the heart of the Coalition Government's current difficulties. So long as Late Capitalism continued to come up with the shiny toys and ever-rising property values persuasive of its triumph over the now defunct Soviet Union, Labour had no need to do anything more than keep the prosperity machine ticking-over. Proof of its progressive chops now lay in transacting the still unfinished business of social liberalism: paid paternity leave; civil unions; anti-smacking legislation.
 The GFC put an end to all that. Not suddenly and viciously, by way of austerity measures – as happened in the UK and the US. Here in New Zealand the consequences of the catastrophic failure of the neoliberal model were far from sudden. They appeared, instead, like rising damp; slow and easy to ignore at first, but growing steadily worse until its effects became inescapable. Labour could see the rot, but was at a loss to know how to get rid of it. Such energy as remained in Labour's ranks, following the departure of Helen Clark, Heather Simpson and Michael Cullen, was devoted almost entirely to thwarting every attempt to reinvigorate the party's democratic-socialist principles and policies. It remained an article of faith among Labour's new leaders that anyone promoting such solutions still didn't "get it".
 Labour's ideological paralysis should have been mana from heaven for the Greens. But here, too, the urge to come across as a party that "gets it" proved stronger than the desire to become the party that can fix it. The departure of Sue Bradford and the rise of James Shaw reflected this shift away from the Green Party's transformative mission. And, as happened with Labour – only more so – the Greens' refusal to confront economic liberalism has been compensated for by the ever-more-fervent embrace of "woke" social liberalism.
 Hence Golriz Ghahraman. The similarities between this thirty-something and America's AOC are disappointingly few. Tellingly, her desire for radical change appears to fade away at about the point it runs into the gritty business of specifying which parts of the neoliberal edifice her party is most committed to deconstructing. An anti-colonialist, pro-immigrant regulator of free speech, Ghahraman may be. A democratic-socialist she ain't.
This lack of a traditional left-wing champion in New Zealand politics could prove electorally fatal for Jacinda Ardern's government. In sharp contrast to the US, where the strong presence of left-wing political champions like Sanders and AOC has empowered less radical progressives like Elizabeth Warren to embrace policies well outside the Democratic Party's comfort-zone; the gravitational pull in New Zealand is all coming from the opposite direction. We, too, have a septuagenarian political figure who is happy to stand alongside a charismatic young female political leader. What we don't have, is what she so desperately needs. A mentor willing to stay the course proudly: not at his prime-minister's right hand; but at her left.
---
*Chris Trotter has been writing and commenting professionally about New Zealand politics for more than 30 years. His work may be found at http://bowalleyroad.blogspot.com. He writes a fortnightly column for interest.co.nz.