Massey University's Alison Brook on whether we are ready to leave lockdown, the chances of an Aussie summer holiday, wage subsidies and zombie companies, exports will be the key and celebrity backlash in the Age of Covid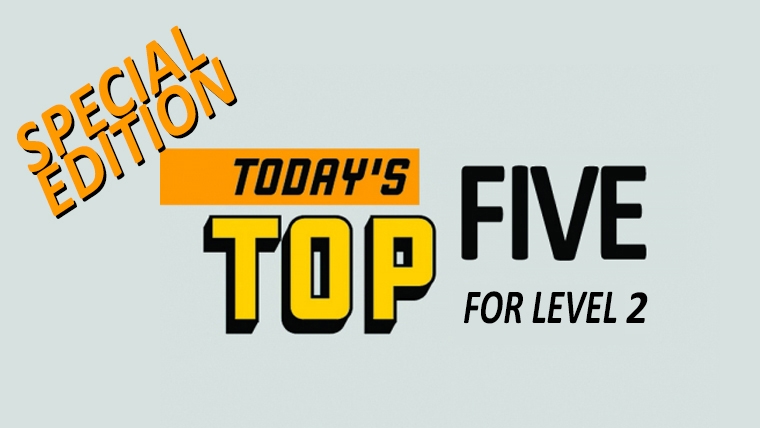 Today's Top 5 is a guest post from Alison Brook of the Massey University GDP Live team.
As always, we welcome your additions in the comments below or via email to david.chaston@interest.co.nz.
And if you're interested in contributing the occasional Top 10 yourself, contact gareth.vaughan@interest.co.nz.
1. How ready are we for exiting lockdown?
Bhaskar Chakravorti writes in The Conversation that a country's ability to successfully exit from lockdown will depend on two factors: digital preparedness (being able to shift much of its economy online) and being ready and able to manage any future outbreaks. The author ranks New Zealand well on both fronts. Let's hope he is right. The IMD World Digital Competitiveness Ranking from last year placed NZ a modest 18th out of 63 countries, slipping from 15th in 2015. We did well in terms of e-participation, the ease of starting a business and inflows of foreign students, but comparatively poorly in terms of high tech exports and use of robots.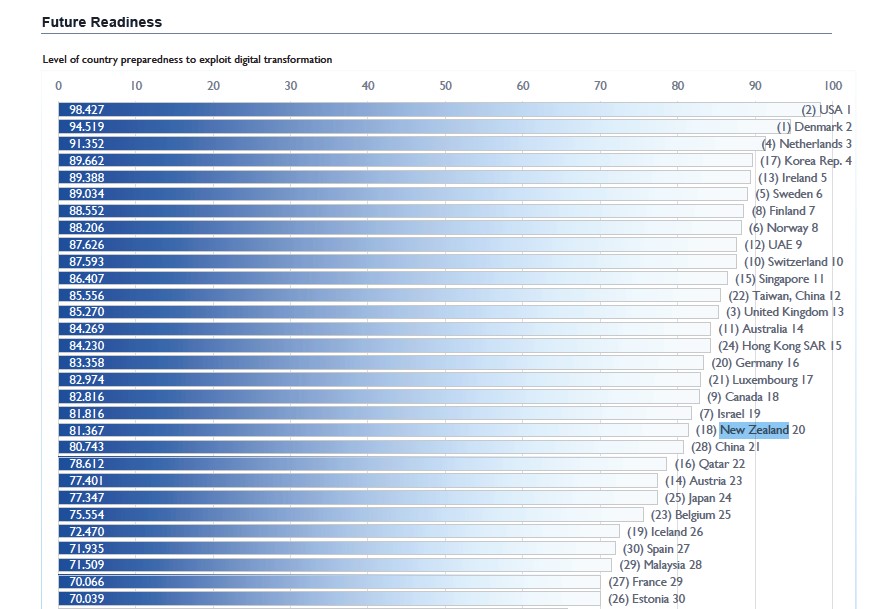 Source: IMD World Digital Competitiveness Ranking
From The Conversation:
Around the world, not everyone has affordable, reliable internet service; or the jobs, devices and digital apps that would let them work productively from home; or ways to make payments and get public services online. In some countries – though not all – workers who can't do their jobs remotely can reduce their in-person contact by using digital transactions, whether it is for carry-out food, e-commerce or receiving bailout checks and unemployment benefits.

Countries such as Germany, New Zealand and South Korea are strong in both disease-fighting and digital-economy preparedness. Their economic activity isn't as dependent on in-person interactions, and authorities can respond quickly if loosened rules result in a spike in cases. In contrast, the U.S., Italy and Japan face different challenges before they can safely lift lockdowns.
2. We could know as soon as the end of the month whether we can plan an Aussie summer holiday.
With our borders effectively closed to foreign tourists for at least 18 months a "trans-Tasman travel bubble" is starting to look like the best way to save our ailing tourism industry. The advantages for New Zealand are particularly clear. Last year New Zealand had 3.88 million overseas visitor arrivals, almost 40% of whom were Australians. Our Aussie cousins also made up around 24% of New Zealand's international visitor spend.

9 News Australia reports:
Nine.com.au has learned a special working group has been established, and will advise the Australian and New Zealand governments on issues such as border controls, inflight protocol and track and tracing."

"A source familiar with a new working group set up to advise the two governments how to safely open a Trans-Tasman bubble told nine.com.au a key report could be ready by the end of May.

The 'Trans-Tasman Safe Border Group' is made up of about 20 experts in health, airline, airport and border representatives from each country.

The group will recommend how to safely process travellers at the border, without the need for a 14-day compulsory quarantine or self-isolation period.
3. Australia rethinks JobKeeper Wage.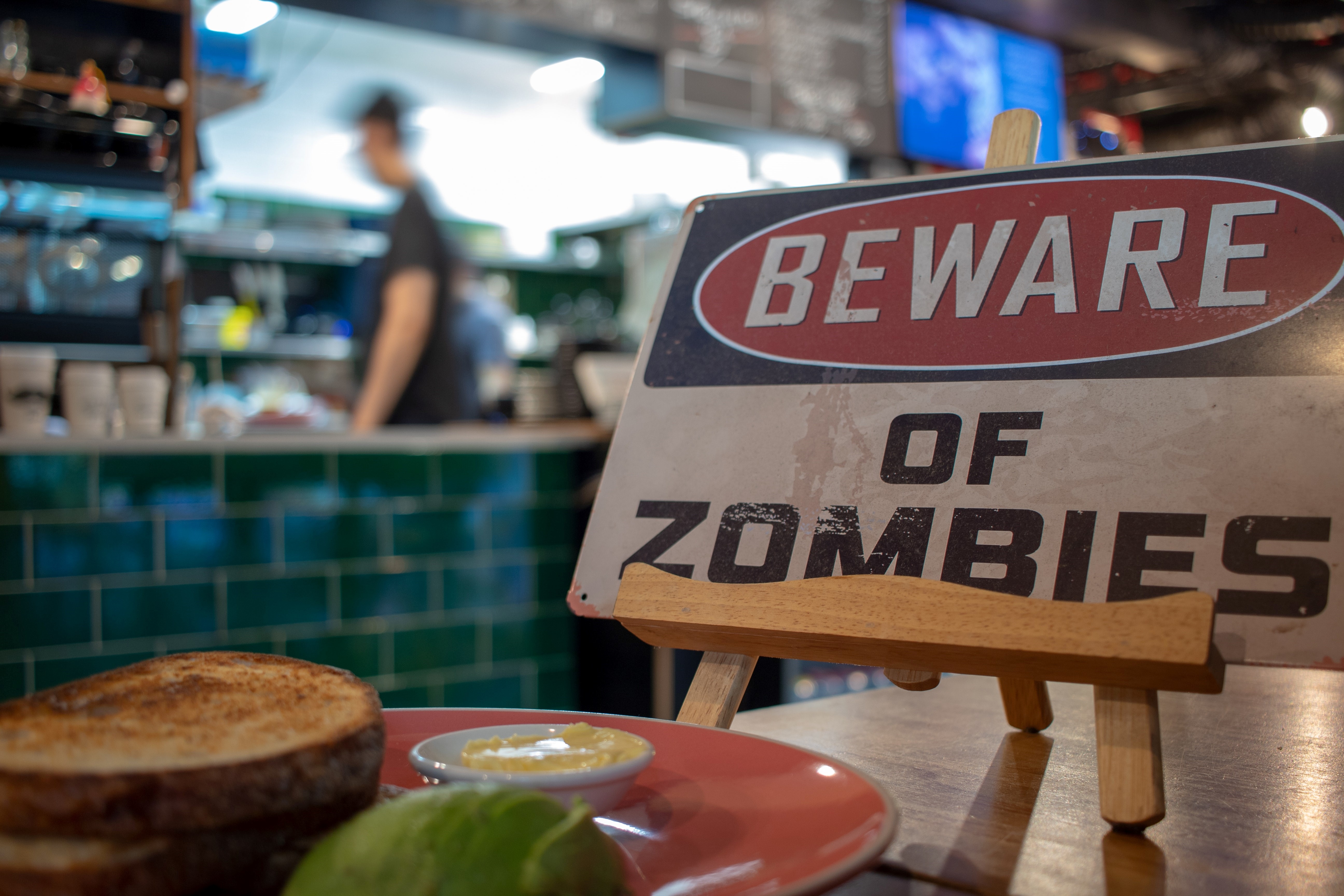 Photo by Chris Hall on Unsplash
Australia is rethinking its JobKeeper wage – the most expensive wage subsidy in its history – amid concerns that it is propping up zombie firms that will disappear as soon as the subsidy ends.
Wage subsidies were put in place in a number of countries to retain the connection between workers and their employers, and to enable businesses to quickly restart once the pandemic restrictions ease. The dangers of continuing to pay wage subsidies after restrictions begin to ease was flagged a month ago by the OECD. Zombie companies have been on the rise since the Global Financial Crisis. They have been able to stagger on, due in part to very low interest rates. Zombie firms pose a major drag on economies and mean they are less resilient to shocks – much like the one we have just experienced.
News.com.au reports:
"The current JobKeeper scheme is legislated to end on September 27, but new options under examination include: reducing the $1500 subsidy, targeting it at smaller businesses, or limiting it to particular industries that are hardest hit by COVID restrictions."

"The Prime Minister has outlined a three-stage plan for businesses to end hibernation but with thousands of cafes and restaurants set to reopen by June, there are real questions over whether all businesses need the $1500 a fortnight until September 27."

[Deloitte's Chris Richardson] warns JobKeeper is creating "Zombie firms" that will disappear as soon as the wage subsidy is removed, forcing workers onto the dole.

"One pandemic is enough for a lifetime and there is a risk that JobKeeper, as a measure designed to preserve jobs, could eventually create 'zombie firms' that neither fully recover but don't go bankrupt. This would slow the broader recovery,'' he said.
4. Exports not "buy local" will be the key to economic recovery.
Photo by Kelsey Knight on Unsplash
Michael Reddell of The SSANSE (Small States and the New Security Environment) Project at the University of Canterbury makes a strong case in The Spinoff for NZ to double down on boosting foreign trade if we are to improve our persistently low productivity performance. Despite being labelled a "rockstar economy" a few years ago, New Zealand's productivity growth has been dismal, which means we have actually been getting poorer for decades. Now that we will add high unemployment to the mix, we can't afford not to look outwards, and to address some of the long-standing structural issues in the country.
As Reddell describes it:
Turning inward is simply not a sensible option for New Zealand – perhaps not for any country, but particularly not for small, remote New Zealand with such a poor productivity and trade record. Domestic demand isn't unimportant, but much of the focus – whether in getting back to full employment quickly or building a more prosperous New Zealand in the medium to long term – simply has to be outwards, improving the competitiveness of operating businesses from New Zealand and taking on world markets. And it needs to be private sector oriented, not state-led.

The business of government should be getting the policy settings right and then letting business get on with it. For now, that means an aggressively easier monetary policy – interest and exchange rate adjustment more akin to what we usually see in severe recessions – and beyond that action on foreign investment regulation, tax, immigration, and competition in domestic services sectors.
5. We are all in this together. Except actually we're not. Celebrity backlash in the age of Covid.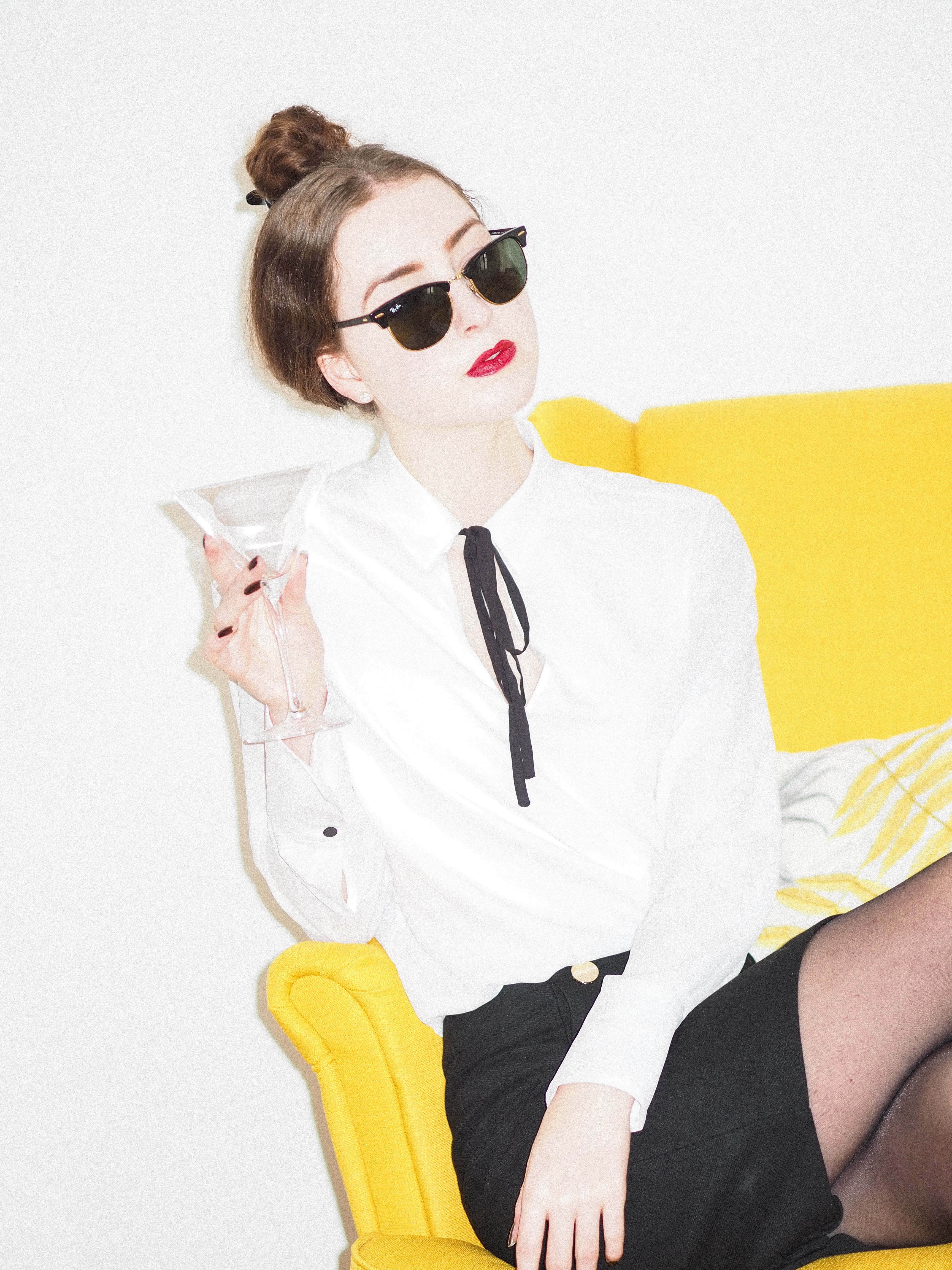 Photo by Laura Chouette on Unsplash
From billionaires assuring us they are fine as they self-isolate on their super yachts, to ultra-wealthy celebrities advising us to "stay home, stay safe" from their palatial country estates, it's never been more difficult for the ultra wealthy to read the room. Are we seeing the beginnings of a backlash against the glorification of the ultra-rich and insta-famous lifestyle? Will celebrity culture have to morph into reflecting the new reality of the masses?
Guardian columnist Arwa Mahdawi reports:
Celebrities being clueless is nothing new, but it feels as if there has never been such anger levelled at the jet set. Far from being a "great equaliser", coronavirus has made inequality impossible to ignore. That is not just wealth inequality, but inequality of access to healthcare. A new famous person seems to test positive for coronavirus every day while exhibiting mild symptoms at best. Meanwhile, our friends and family can be coughing up their lungs and still not get access to a test or a hospital bed.

Celebrity culture and capitalism are inextricably entwined. Both elevate the individual over the collective good. They rely on the lie of "meritocracy": work hard and you can achieve whatever you want. But it has become uncomfortably clear how little we value our hardest workers – the healthcare professionals, supermarket staff, bus drivers and delivery drivers who are keeping the world running while the rich run to their second homes. And it has never been so clear how little the people who earn the most contribute to society. "We're all in this together," the rich and famous keep telling us. Sorry, but it is obvious that we are not."