Chris Trotter suggests New Zealand may be set for a period of heightened political divisiveness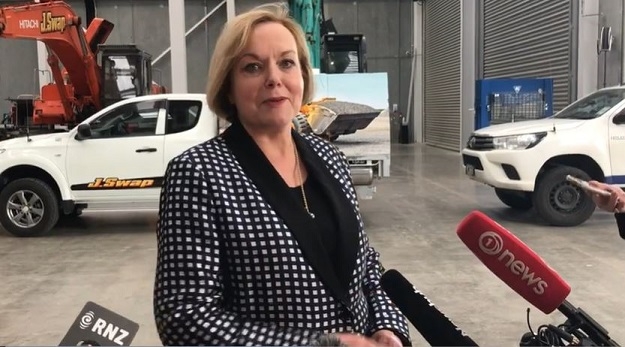 By Chris Trotter*
Judith Collins' sentimental journey into National's Waikato heartland sent voters an unequivocal political message: she expects to lose. Why else would she expend so much time and energy appealing to the 5.66% of the New Zealand workforce involved in the agricultural sector? Especially when the votes of those workers are already – and overwhelmingly – in National's column? How else are we to interpret the Leader of the Opposition's choice of campaign locations, other than as a desperate attempt to shore up her electoral base?
Liam Hehir, the young National Party-supporting political columnist currently making a name for himself across multiple media platforms, offered an explanation to the viewers of TVNZ's "Q+A" current affairs show. Collins, he asserted, was doing something more than simply shoring up her base. The farming community, he said, was liked and admired by a broad cross-section of the New Zealand public. If they can be persuaded that "Jacinda" and Labour are anti-farmer, then National's currently parlous position in the polls may be improved.
Hehir's claim has a superficial plausibility. As anybody who has ever watched a Steinlager television commercial knows: building brand loyalty by invoking New Zealand's quintessential "rurality" pays handsome dividends. From high-country musterers doubling as relationship counsellors, to small-town mechanics moonlighting as dance instructors, the message is always the same: New Zealand's heart is in the Heartland.
But, wait a minute. If Kiwis love cockies, why is Judith Collins describing dairy farmers as beaten-up and down-hearted? Why have their lobbyists spent millions of dollars on television ads presenting their members as the stalwart, salt-of-the-earth guarantors of New Zealand's prosperity? Would it really be necessary to contract the services of the former All-Black captain, Ritchie McCaw, to help repair the reputation of this country's dairy farmers if it wasn't actually in tatters? Judith and Liam can't have it both ways.
Herein lies the true irony of National's shameless misquotation of the Prime Minister's quip about Collins' rhetoric relating to "a time that has passed". Because, it would seem that the person upon whom all that dairy industry propaganda has left the deepest impression is the leader of the Labour Party. It is Ardern who is saying that the days of "dirty dairying" are behind us: and that the cow-cockies of today are actually well-ahead of the Leader of the Opposition when it comes to cleaning up New Zealand's waterways and fighting climate change.
"Poor wee thing" – to be so easily gulled. Dirty dairying is still very much a "thing" – no matter how many carefully chosen "Potemkin" dairy farms the Prime Minister is invited to tour. Just how sensitive the industry remains to the true state of affairs on the nation's dairy farms was illustrated with chilling force in Southland. Like something out of a Hollywood movie, an environmentalist photographer, identified as the person responsible for securing images of cows up to their haunches in supposedly non-existent mud, found himself looking out his front window at a pick-up truck-load of good 'ole boys enjoying a "barbecue" outside his front gate. Intimidation? Nah, just a few mates having a few beers.
Now, who do you think those good 'ole boys feel more comfortable with as National's leader? Simon Bridges, who, bravely swung his caucus in behind the Zero Carbon Bill? Todd Muller, the guy who worked tirelessly to make that crucial cross-party consensus on climate change a reality? Or, Judith Collins, who has run her party's colours back up the flagpole of "predatory delay" which has constituted the core tactic of Federated Farmers' climate change strategy for three decades? The next time those good 'ole boys from the heartland feel the need to fire up the barbee, they can use the pages and pages of National Party environmental policy that Collins has spent the past week discarding, to get it started.
Voters should (but most probably won't) ask themselves how Collins could get away with such a stunning reversal. What has happened to enable this sudden and dramatic shift to the right on climate change and water quality? The explanation is brutally simple. In the wake of Todd Muller's personal meltdown, and the abrupt departure of his discredited liberal allies, the balance of power in the National Party caucus has shifted to the evangelical right.
In this context, the word "evangelical" is doing (to borrow the Prime Minister's curious phrase) "double duty". It not only denotes the cluster of deeply conservative evangelical Christians who now comprise the hard-core of the National Party's emerging conservative majority, but also those fervent communicators of the "good news" concerning what they see as the indisputable superiority of neoliberal capitalism over "socialism" in all its guises. This shift away from the highly saleable political moderation of the Key-English era, towards the hard-line, socially-conservative and climate-change-denying policies of the Australian Centre-Right, will likely usher-in a period of heightened political divisiveness in New Zealand.
Those who are confidently predicting the rapid casting-aside of Judith Collins in the event of a resounding National Party defeat (still the most likely outcome of next month's election) may be in for a surprise. If a decisive ideological shift is on, then Collins is the person most likely to succeed in consolidating the new orthodoxy inside her caucus and the broader National Party. She is also, temperamentally-speaking, the National politician best suited to fronting the uncompromising policies such a shift will elicit.
National's emerging conservative majority is well aware that, prior to Covid, Jacinda Ardern and her Labour Party were facing a very hard electoral sell. The pandemic was a God-sent diversion from the Coalition Government's multiple failures on multiple fronts. Covid-19 may give the Prime Minister another three years, but the economic challenges which her successful fight against the virus have created promise to be greater than anything Jacinda and her colleagues have yet faced.
Collins and her allies will be comforting themselves with the thought that if Labour couldn't give us KiwiBuild, then overseeing a successful bounce-back from the most serious economic disaster in more than 80 years is pretty-near-certain to exceed their capacities by a wide margin. Those 200,000 women over 45 years-of-age who are getting ready to reward Jacinda for her handling of the Covid pandemic, may not be feeling so generous in 2023 about her handling of the Covid economic depression.
In retreating to her rural heartland, Collins is, in military terms, prudently shortening her defensive line. She is betting that, although stoutly besieged, the National Party heartland will not fall. Yes, the 2020 General Election looks certain to bring a sharp tactical reversal for the New Zealand Centre-Right – and quite possibly a costly and humiliating defeat. That said, however, Judith Collins is well aware of the difference between losing a battle, and losing a war.
An awful lot can happen in three years.
---
*Chris Trotter has been writing and commenting professionally about New Zealand politics for more than 30 years. He writes a weekly column for interest.co.nz. His work may also be found at http://bowalleyroad.blogspot.com.