David Hargreaves says the time may now be approaching when we need to consider a direct one-off handout of cash to the public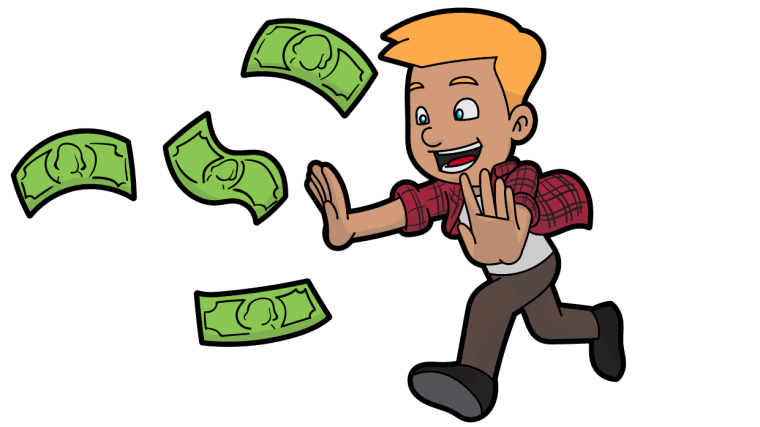 The time may be quickly approaching when we do want to start seriously considering the option of 'helicopter money'.
This is a subject the current Government kicked around a little as we got towards the end of the lockdown. 
How much money? Well, maybe around $1500 each at a potential cost of about $6 billion.
At the time I disagreed, not because I think the idea is necessarily bad, but because I didn't think it was the right time.
I think we are now getting closer to what might be 'the right time'.
Go spend it
To be clear, when I think helicopter money, I think in terms of a one-off handout of cash, to everybody, with the clear signal being given - urged even - that everybody go out and spend it.  
On the one hand it sounds frivolous, but on the other there is a logic, since the big infusion of cash into businesses, whether they be shops, restaurants, etc, would be a 'kick-start' for the economy.
But the timing would be everything.
I disagreed with the idea of giving such a one-off cash payment to people after the lockdown because it was simply too early in my view.
The key thing about a one-off drop of 'helicopter money' is that you would want to time it so that you literally got the best bang for your bucks.
The best thing would be for the one-off infusion to provide its sugar rush at a key moment where it could lift everything up, without the risk that conflicting forces were going to push the economy down again, effectively wasting the effort.
Uncertainty reigned
Back in April as the lockdown came towards its end, we were still at the very early stages of the pandemic and there was too much uncertainty. As I said at the time, I thought there was the risk people might simply stash the money away - in which case it all would have been a wasted gesture.
Yes, it was thought at the time that the economy might need a bit of a kick-start once it began opening again, but doing the one-off payment then just seemed too risky.
In the event, the natural pent up desire to spend, coupled with the support people had been getting through the wage subsidy and other stimulatory measures, meant that people did emerge from the lockdown in the mood to spend and so a good portion of the economy did start to bounce back very well. I was surprised. Certainly, economists were surprised.
It will be interesting to see more solid up to date data emerging on Auckland spending post its August 'lockdown lite' at Alert Level 3.
The anecdotal evidence so far has been that Auckland has bounced back well. Personally, I've got to say as someone who lives in central Auckland that's not how it has 'felt' to me. And on a personal level, I can say that while I emerged from the first lockdown spending quite enthusiastically, for me anyway it's been a different story after the latest one. And I'm not sure I can really tell you why.
Deadly Auckland
Either way, central Auckland has seemed pretty deadly from where I've been observing it since the second lockdown. Look, it could be that there are other forces in action here - that we are seeing a move away from the old idea of the 'central hub' of a city, particularly as people do more and more things online. And it could be that Covid is just pushing up the rate of this change. 
Therefore because the city centre seems dead doesn't mean money isn't being spent somewhere. Anyway, we will find out.
With the supporting stimulus of the wage subsidy now leaving us though it opens up various questions on how much worse joblessness may become and the extent to which the spending we have seen so far starts to dry up. And if the spending dries up, what happens to the economy? Well, very possibly it begins to wither.
The other interesting thing is: What happens at the end of this year and into early next year with interest rates?
The Reserve Bank indicated last week it's keen to introduce a Funding for Lending Programme, directly lending money to the banks at rates possibly around the Official Cash Rate (currently at 0.25%), before the end of the year. In all likelihood this may well be launched at the next RBNZ Monetary Policy Review on November 11. 
Less than zero
Once this programme is up and running then it is seen as highly likely the RBNZ will take the OCR below zero, probably in April.
This one-two punch will apply a further knockout to mortgage rates and should be supportive for the housing market. But it will also give a fair smack to deposit rates as well. 
With banks able to source money directly from the RBNZ at cheap, cheap rates, they won't need to be laying out the red carpet at all to attract yours and mine funds.
At the moment you can get around 1.2% on a year-long term deposit. Skinny as that rate looks compared with the sorts of rates we've seen in the past it might well look like 'luxury' in a few months time. Putting a finger in the air I would suggest we might see top rates of say 0.5% at best by early next year.
That's going to be problematic for particularly retired people who have been depending on interest. They may cut down on spending.
People who are saving, say for a house, may simply just save harder if they see they can't get returns on interest. So, they will spend less.
Spending could really dry up
So, combine possibly rising levels of unemployment, with savers bemoaning non-existent returns on deposits and we could seen spending in the economy really drying up.
March-April time then could be the time to bring in the helicopters. 
The key factor here also is that by March-April we should have a reasonable idea of whether the vaccines currently being developed to combat Covid are indeed going to work or not. If they are going to work then by March-April we may start to have some view of when this virus may no longer be a problem.
I've always thought that the best point to hit the people with a one-off payment would be at a time when we can realistically see an end point for the virus.
It could be therefore that given all we know at the moment, and the way things are developing, that March-April 2021 might be just the time to get those helicopters in the air and give that economy a boost.