Upsetting New Zealand's most significant trading partner seems like a very silly thing to do. So, why, Chris Trotter asks, did Foreign Minister Nanaia Mahuta do it?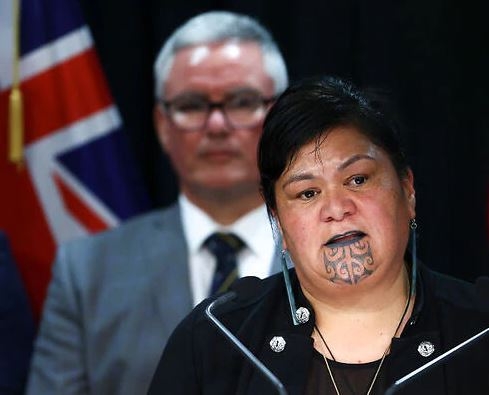 By Chris Trotter*
It is no bad thing for a country to have a good foreign minister, but not one that's too good.
Sir Edward Grey was Great Britain's longest-serving foreign secretary (1905-1916). Indisputably brilliant, but also secretive and devious, Grey was notorious for keeping his diplomatic and political cards extremely close to his chest.
He is best remembered for the words he spoke on the evening Europe fell into the abyss of the First World War. Looking out across London from a window in the Foreign and Colonial Office, he said: "The lights are going out all over Europe, we shall not see them lit again in our lifetime." Grey was well-placed to make this observation, since he, among others, was responsible for extinguishing them.
Very few Cabinet Ministers in the Liberal Government of Sir Herbert Asquith grasped just how closely Great Britain had aligned itself with the military plans of the French. Nor did they understand how closely France had bound her fortunes to those of the Russian Empire. Only Grey knew that a Russian mobilisation meant a French mobilisation, and that a French mobilisation would commit Great Britain to a general European war.
A general European war was, however, exactly what he wanted. Which is why he refused to stop it. By inflicting a shattering defeat on Germany, he hoped to preserve Great Britain's global hegemony. What he actually did was hasten its decline.
Grey also did something else. He caused upwards of 18,000 young New Zealand men to lose their lives. As a Dominion of the British Empire, this country, in 1914, had no real say over its own foreign policy. That we were at war with Germany was proclaimed by the Governor, Lord Liverpool, from the steps of Parliament – not by Parliament itself. Which is not to suggest that New Zealand's Parliament would have for one moment considered refusing to support the "Mother Country". The New Zealanders of 1914 may have thought of themselves as "Better Britons", but that just meant they would fight for the Empire more fiercely than any other subjects of the King-Emperor. And they did. The British casualty rate was 1 soldier in 8: New Zealand's was 1 in 6.
The risks of having a Foreign Minister who is too good at their job: too prone to running their own agenda without reference to the opinions of their Cabinet colleagues; too certain that only they fully comprehend their country's interests and how best to advance them; are, therefore, considerable – even fatal. This is not, however, an argument for having a Foreign Minister who is bad at their job. Not when you inhabit a tiny state located in a part of the world where great power rivalries are growing sharper – practically by the day. In these circumstances your country needs a Foreign Minister of extraordinary perspicacity, imagination and courage.
Have we got one?
The short answer, sadly, is "No." Nanaia Mahuta's first major diplomatic decision, appending New Zealand's signature to a statement released by the so-called "Five Eyes Partners" condemning Chinese policy in Hong Kong, was, from just about every perspective, ill-judged. It drained a significant amount of goodwill from the reservoir of mutual understanding and respect between this country and the People's Republic of China which successive governments have been at pains to keep full. What's more, the timing of this gesture could hardly have been worse. New Zealanders are bracing themselves for the onset of the Great Covid Recession. In such circumstances, upsetting the nation's most significant trading partner seems like a very silly thing to do. So, why did Mahuta do it?
Since most observers have so far failed to observe any Grey-like characteristics in Mahuta, it is fairly safe to assume that her first big decision was made in full consultation with the Prime Minister. The advice tendered by her officials at the Ministry of Foreign Affairs and Trade (MFAT) was, almost certainly, also placed before Jacinda Ardern. That Ardern declined to contradict the Ministry's advice will not have escaped the notice of the Chinese Government. Their own foreign ministry will likely mark the new Labour Government's decision to align itself directly with the Five Eyes Powers (rather than follow the precedent of releasing a separate and more nuanced statement) as a significant departure.
There will undoubtedly be speculation in Beijing that New Zealand's decision to fall back into line with the United States vis-à-vis China is a gesture of support for the incoming administration of President-Elect Joe Biden. Since any Biden Administration is likely to pursue an anti-China policy of considerably greater coherence than Trump's inconstant posturing, Wellington's new-found hawkishness will be counted as a serious diplomatic setback.
The sharpness of Beijing's response to the Five Eyes' statement indicates its dismay: "[I]t doesn't matter whether they have five eyes or 10; if they dare to damage China's sovereignty, security and development, they should be careful or their eyes will be plucked out." Mahuta's response: that the Chinese statement was "strongly worded" has, at the very least, confirmed that our new foreign minister has a gift for understatement!
While there is truth in the contention that a country's prime minister is also, in many respects, its foreign minister; it is equally true that any responsible prime minister will be at pains to fill what most nations still regard as one of the great offices of state with an individual whose insight and intelligence is sufficient to ward off serious diplomatic errors.
Herein lies the problem with Mahuta. She appears to be singularly lacking in both diplomatic insight and diplomatic intelligence. Rather than simply passing on MFAT's advice to the Prime Minister, she should have critiqued it.
Over the past two years it has become increasingly obvious to Beijing that the longstanding intelligence-sharing pact comprising the USA, the United Kingdom, Canada, Australia and New Zealand, is in the process of morphing into what Washington clearly envisages becoming a fully-fledged anti-Chinese alliance. (With Japan and India joining the party as honorary Anglo-Saxons.) It is being forged in the same spirit as Great Britain brought together the Entente Cordiale: as a means of arresting the rapid rise of an economic and military rival. Unlike Sir Edward Grey, however, the US Secretary of State, Mike Pompeo, is only too willing to lay his cards on the table.
Mahuta should have stressed, in the strongest possible terms, that any determination on the part of the NZ Government to stand shoulder-to-shoulder with its "Five Eyes Partners" would be interpreted in Beijing as evidence of hostile intent. A separate statement from Wellington, reaffirming this country's long-standing commitment to democracy, and calling upon all other nations to similarly uphold democratic norms and abide by their international undertakings, would not have been interpreted in this way. It would have signalled to both Washington and Beijing that Wellington intends to go on marching to the beat of its own drum.
How tragic it would be if, once again, a waning imperial power was permitted to drag New Zealand into the abyss of a winner-less global conflict. In Sir Edward Grey's era, nuclear weapons were just a gleam in Sir Ernest Rutherford's scientific eye. But, times have changed. If the lights go out in 2021, they will not be re-lit in anybody's lifetime.
---
*Chris Trotter has been writing and commenting professionally about New Zealand politics for more than 30 years. He writes a weekly column for interest.co.nz. His work may also be found at http://bowalleyroad.blogspot.com.