All the real official signals lenders get encourage them to lend for housing, and disincentive them lending to the productive economy - no matter what the officials may say. This raises real dangers says David Chaston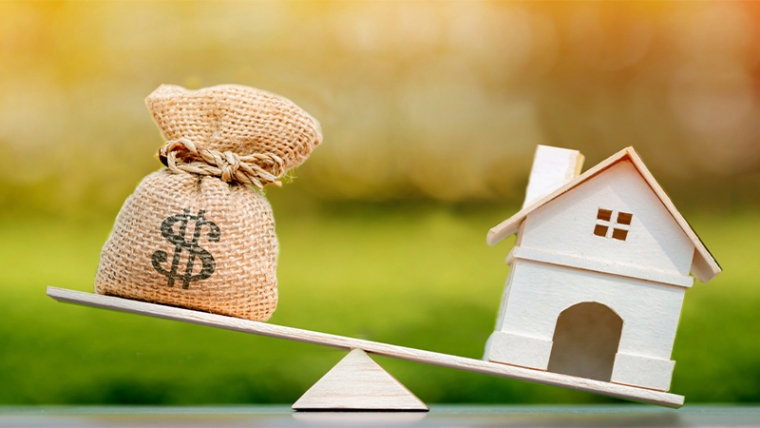 From the Reserve Bank (RBNZ) Dashboard data we can take a look at the overall balance of bank loan books.
Banks are essentially loan books. We can't look in them to see individual loans, but we can look broadly at what sectors banks lend to.
We have a lot riding on our banks being well structured, and financially stable.
The RBNZ regulates and reviews bank and financial system stability. They last did that on Wednesday, November 25. Their conclusion was that "the banking system has maintained strong buffers of capital and liquidity, and the insurance sector remains well capitalised."
But that Dashboard data allows us to inspect the balance of each bank's loan book.
It is not something the RBNZ does in its review. In fact, it has explicitly said they have no power to tell banks who to lend to or what sectors to target.
But we can see, for example, that 61.9% of all overall bank lending is for housing. That proportion is growing. A year ago it was 59.2%; two years ago it was 58.6%.
So that raises the question about whether this is a healthy concentration, whether it is heathy that it is getting more concentrated, and Dashboard data allows us to inspect which institutions have the greater or lesser concentation.
The big five
The overall New Zealand banking system is dominated by five large retail banks, and perhaps Kiwibank is little weight in this group. So four big banks dominate.
It used to be observed that we really only had one real trading bank, BNZ. The rest are in fact really just mortgage banks. But BNZ has now joined the pack with more than half its loan book in home lending.
Here is the share of lending to each broad sector in each of these banks: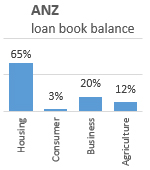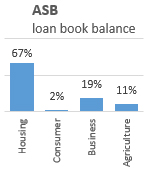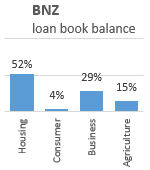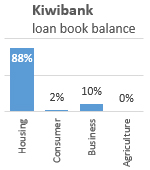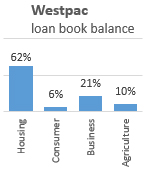 As a set, it is one that dominates 95% of retail and business lending, the overall consolidation is like this: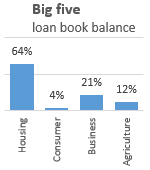 Only BNZ has anything approaching a balance in the spread of lending across sectors.
And in the current economy, that is hurting it. The New Zealand economy is more of just a housing market than ever, and being light on housing exposure isn't a competitive advantage.
In a real economy, we should be encouraging banks to diversify their risks across sectors, but we are doing the opposite.
The RBNZ allows special advantages for lending for houses. It allows very low capital risk-weights for housing compared with other lending, and it is about to deliver very low cost funding, almost all of which will be directed to housing.
And the Government has started its own lending program for SMEs, businesses that make up more than 90% of New Zealand's commercial economy - and the attraction of that IRD-administered loan service is that it comes with zero interest cost, is unsecured, and the obligation to pay back the loan in part or full will be negotiable based on how well your SME business performs. If it struggles, there will be debt and payment relief on a basis no banker would ever contemplate. Banks need their loans repaid and they apply proper credit assessments about that, something the IRD/Government isn't doing. So why borrow from a bank?
And the overall bond market that has an excess of funds looking for opportunity at very low yields, is an attractive option for large corporates who are taking full advantage now. So business lending by banks is up against severe headwinds as well.
All these practical market signals leave banks little option than to target lending to housing.
The next five
These banks generally are fighting for the scraps the big five miss. Specialist rural lender Rabobank is probably the exception. But these lenders, mainly locally owned, are in a tough spot, without the scale to effectively compete and no practical way to raise significant capital.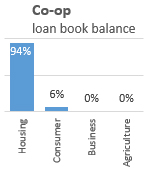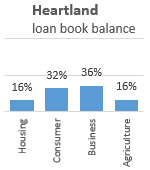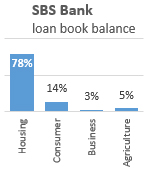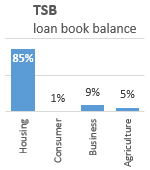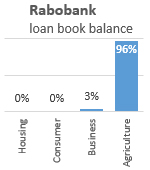 But some of them have built a commendable balance in their loan books, especially Heartland Bank which is a standout on this basis. But others are just as exposed to housing as the majors or even more so.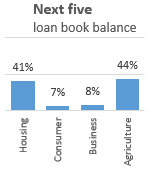 Rabobank and Heartland Bank give this disparate group some sort of rough balance.
And then there are the three Chinese banks, Bank of China, China Construction Bank, and ICBC.
Together (and they don't really work together), they have a different sort of loan book balance than any other bank set.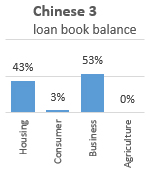 That our banks are choosing or prevented from lending to our productive economy should be of concern. "All" eggs in the housing basket isn't likely to help the New Zealand economy grow and develop.
Sadly, everyone knows this - the borrowers, the banks, the regulators, and even the Government.
But still, those who can are setting the incentives to target housing ever more closely.
Yes, we need more housing, and especially housing for first home buyers, people with average incomes, and more social housing.
But we also need more productive economy investment, investment in improved productivity, and more employment driven by tax-paying businesses. We will never get it when banks are effectively disincentivised from lending to these sectors.