Susan St John makes the case for taxing a deemed rate of return on excessive real estate holdings (after a family home exemption), to redirect scarce housing resources to where they are needed most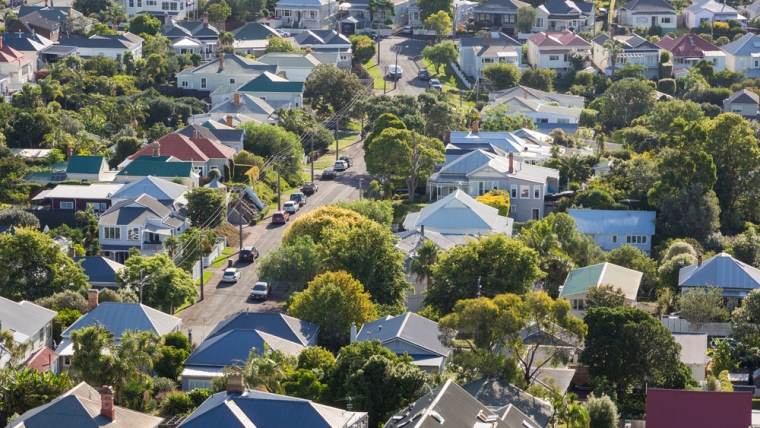 By Susan St John*
This is the speech I would like Grant Robertson to give in the New Year.
---
A very happy New Year to all New Zealanders.
We are so lucky to have our freedoms and to be able to enjoy the summer break due to our successful COVID policies.  But there are other threatening crises that we must be brave enough to tackle in 2021.
Clearly, one of these is the housing crisis. The way the current market is behaving is the driver of severe and damaging inequality. No one predicted in early 2020 that by the New Year house prices would be escalating in a widespread speculative bubble. As housing continues to be the most profitable way to accrue wealth, we are seeing gross distortions in the allocation of our scarce building resources.
Neither did we foresee that the precarious rental market would leave so many destitute, that so many families would not be able to feed their children after paying extortionist rents, nor that there would be an increasing proportion of society shut out of the opportunity to ever own their own homes.   The housing situation is not only bad for low-income New Zealanders, but it is also bad for the higher wealth and income individuals who are pulling ever further away from the rest. No man is an island. Societal cohesion and a sense of community are disintegrating.
Research shows that few landlords are paying their way with the majority returning close to zero or losses after they deduct costs such as interest on loans. If they can't make a decent return on their rentals, one can only presume they expect the return to come from future capital gains. Savers who are not happy with a low return on deposits are stampeding into property as it is seen as a safe haven for their money.  This one-way bet has indeed enriched the lives of many at the expense now of the growing legions of impoverished citizens.
The bright line tests pick up some but not all short-term speculative gains made in this frothy market. These must continue and be tightened.  But they will not be enough.
Loan Value ratios (LVRs) are another tool and fortunately some of the banks are already taking responsible action requiring higher deposits for investment properties. It has been suggested that investors might even be required to find at least a 50% deposit. But this tool alone will not be enough.
We could disallow interest costs to be deducted against rental income but this does not touch the heart of the massive accumulated gains made by wealthy property owners.
Building more state housing is of critical importance. But more supply will be slow and not enough to limit the damage of the current unconstrained bidding war.
The Labour government believes that neither a capital gains tax, nor a land tax, nor stamp duty, nor a wealth tax is the answer. But we do think that the income tax base should be widened so that better-off people pay tax on their non-cash housing income.
But we have no desire to affect the vast majority of home-owners nor to penalise good landlords.  We need a better system that sends the right signals to investors by levelling the playing field. We seek an end to the holding of houses for capital gain, empty houses, poorly rented houses as landlords wait out or evade the bright-line test.  We need to end the practice whereby wealthy home-owners accrue tax free fortunes by investing in ever more elaborate homes using materials that could be diverted to building more state houses and low priced private homes.
If nothing is done and housing ownership rates continue to fall as prices accelerate, then we are headed for a landed gentry class completely at odds with egalitarian ideals held by Labour and one that will further entrench the wealth gap between Māori and Pakeha. 
Here is the plan that the Labour government is announcing today.
All the other policies such as brightline tests and LVRs remain and will be strengthened.
In addition, on 1 April 2021, a person will list all their residential real estate holding's CVs and deduct any registered first mortgages to give their net equity in each property.  For the year ended March 2022, their total net equity in all housing outside of a modest family home will be deemed to have earned an annual return that will be included in personal taxable income.  New Zealand already does something similar to this in the foreign investment fund (FIF) tax rules that deem an income of 5% on the opening value of investment.
For the majority who own only their own home there will be no extra deemed income as an owner-occupied house will have a per person $1 million net equity exemption (i.e. $2 million for a couple). However, soft loans from mum and dad cannot be used to reduce net equity. Total net equity is treated similarly to having the same sum on deposit at the bank where the interest earned is fully taxable at the marginal tax rate of the individual. The rate of return or deemed rate will be a policy lever and will initially be set at 1%.
While the current CV may underestimate the current house value, it is readily attainable, standardised, and relatively uncontroversial. If sale prices increase, capital gains will accrue and will eventually be reflected in higher CVs.
This approach would save landlords the trouble of filing rental tax returns and the need to pay high-priced accountants to generate tax losses. Murky issues disappear like how airBNB is taxed, or boarders, or what is a capital expenditure and what is repairs and maintenance. Good landlords who were filing rental profits may actually find themselves better off and we are happy that they are rewarded. We need good landlords who are genuinely providing a social service, but just as is done in Berlin, we are also investigating policies that require that rents are reduced over time at least to pre-covid levels.
Those individuals with multiple properties and high-priced owner-occupied homes will pay more income tax as is required to reign in this housing bubble. The impact is progressive. The better-off older age group is more likely to have high net equity in their own homes and if there is no cash flow to pay the tax, it can be set as a debt against the property's eventual sale or the death of owner.  Those with high equity on lower incomes would pay tax at a lower marginal rate. Young people even if in expensive family homes, are more likely to have large mortgages and unlikely to exceed the $1,000,000 net equity exemption.
How would it work in practice?  Let's take the example of Peter and Laura who own a $3 million dollar home and are mortgage-free. They also have a mortgage-free family bach valued a $1.2 million that is rented during part of the year and generates a tax loss. Thus, after the $ 1 million exemption applied to their family home, Peter and Laura each have a net equity of $1.1million that is deemed (at 1%) to earn $11,000. Peter pays tax at 33% or $ 3300, while Laura is on a tax rate of 17.5% and pays $1925.  If they also have a $1m net equity in a rental property, they will also each be taxed on their share of the $10,000- imputed income but do not need to also do a tax return for their rental income.
Some may argue that the inability to deduct the costs of maintaining a rental property will be a disincentive for landlords to do essential work, but rental healthy homes regulations will still apply.  If landlords who are mainly there for capital gains exit the rental market, house prices may fall making it easier for first home buyers.
If real estate is held by companies or in family trusts or other kinds of trusts even if the property is used as a family home, there would be no exemption and the imputed income would be taxed at the company or trust rate. There is no incentive to reduce net equity by borrowing more as the loan interest still has to be paid.
We are serious about tackling this social disaster and this policy will run alongside a commitment to state house building and an expansion of income-related rents.
The rate applied to net equity will rise to 1.5% in 2022/3 and, depending on the state of the market, then to 2% in 2023/24.  This is a fair way of broadening the income tax base without increasing the rate. 
Our primary intent is to redirect scarce housing resources to where they are needed the most.  But extra revenue gains will be used to target support to those who are struggling, not like National whose tax cuts have favoured the rich.
Legislation will be passed early in 2021.
---
*Susan St John is an Associate Professor at the University of Auckland Business School.