David Chaston points out that the new 39% income tax rate won't work as intended. It will just re-incentivise the housing distortion, sad because the real answer has been in plain sight for a decade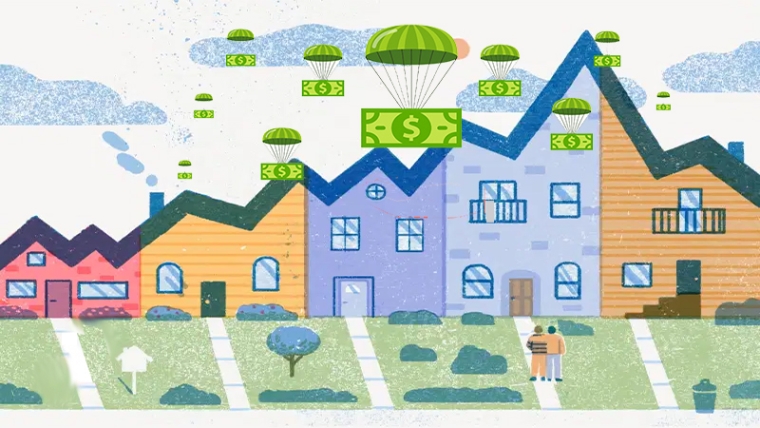 In 1999, Helen Clark won an election, promising many changes. Many changes were delivered, mainly around delivering enhanced public services.
One policy designed to pay for the much increased public spending was to raise the top income tax rate to 39% from 33%. This aspect was pushed through with priority.
But there were unintended consequences.
A policy designed to have the well-off paying for more 'free' services was sold as a fairness issue. A more 'progressive' rate scale was expected to add to political notions of fairness.
But a 39% personal rate will only really be progressive on employment and personal services income - income earned from personal effort.
It didn't apply to that part of the economy requiring no personal effort - unearned income. Income like capital gains from real estate.
The policy gave a massive incentive for those who could, to switch their effort and investment into sections of the economy where capital gains could be captured.
And huge numbers of people did.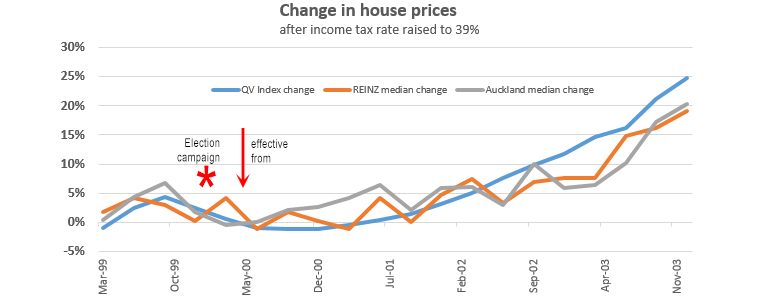 Over the next five years, house prices rose from +5% or less per year to over +20% per year, and all tax-free.
In 2020 2019, Jacinda Ardern won an election, promising many changes after a first term of very few changes. COVID happened however, and a huge increase in Government spending was required, funded mainly by unprecedented rises in Government debt.
One policy designed to pay down that debt was to raise the income tax rate to 39% from 33%. This aspect was pushed through after the election was decided, with priority.
This time, well-to-do taxpayers were ready. Rather than having to discover the work-around over a number of years, they had their playbooks ready after a quick search in a dusty drawer.
There was no time to lose. Before 2020 ended the frenzy started.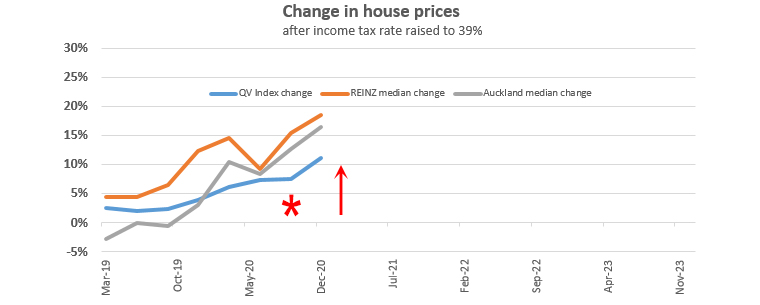 Knowing what happens in this scenario, the bidding for assets that gave tax-free capital gains started, but this time they have started in a market that was already rising.
Readers can imagine what will happen next. Likely it will make the 2000-2004 house price rises look tame and restrained, even though that earlier period generated huge gains for the asset-rich well-to-do. This time we may have to re-define 'huge'.
The irony however is that the solution to this crazy distortion is staring us in the face.
Such gains are only possible when demand far outstrips supply in an environment where these types of gains are excluded from the tax base.
The solution is "Christchurch".
The earthquake damage in 2010 and 2011 required the whole eastern section of that city to be basically abandoned, and a massive housing rebuild in western areas. The building continues today.
The scale of that event resulted in huge numbers of new houses built in a relatively quick timeframe. Old, tired housing stock was either demolished, or if not, it was rented cheaply after being refurbished.
So much new housing stock was added that it met or even slightly exceeded demand. House price increases in the Garden City have never taken off like in the rest of the country, and probably never will. They have an adequate supply of new, high-standard housing which can meet current demand. And at prices that first home buyers can generally afford. In the year to December 2020, CoreLogic reports that Christchurch house prices rose a modest +6.2%, the least of any main center and the slowest rise of any urban center (apart from tourism-ravaged Queenstown). That is half the rate for the rest of the country.
So the model is there, tested and proven that adequate housing supply can avoid house price distortions and keep housing affordable.
The problem is that policy makers have turned a blind eye to the Christchurch housing results.
The behaviour in the rest of the country to seek tax-free capital gains is a symptom, a response to a policy signal. Get the policy right on housing (build aggressively until we have enough modern, good quality stock, and don't put artificial cost floors in the way like the RMA/urban-rural boundaries/etc.) and a 39% income tax rate might work. But it won't when there is such an easy and profitable way to avoid it.
People respond to incentives. They respond to disincentives too.
Helen Clarks 39% income tax rate failed, leaving behind a distorted economy. It was from that event we started talking about the New Zealand economy being "just a housing market, with a few trees, cows and mountains on the side".
This time, Jacinda Ardern's 39% income tax rate is coming on top of two decades of compounded distortions, and unless those distortions are sorted out, it will fail too.
New Zealand needs those for whom the 39% tax rate is targeted to invest in our productive economy - after all they are the best placed to do so. But why do that when tax-free gains can just fall from the sky when you buy houses?