Does the removal of interest deductibility for investors reduce the likelihood of the RBNZ further restricting bank lending? Quite possibly, Jenée Tibshraeny argues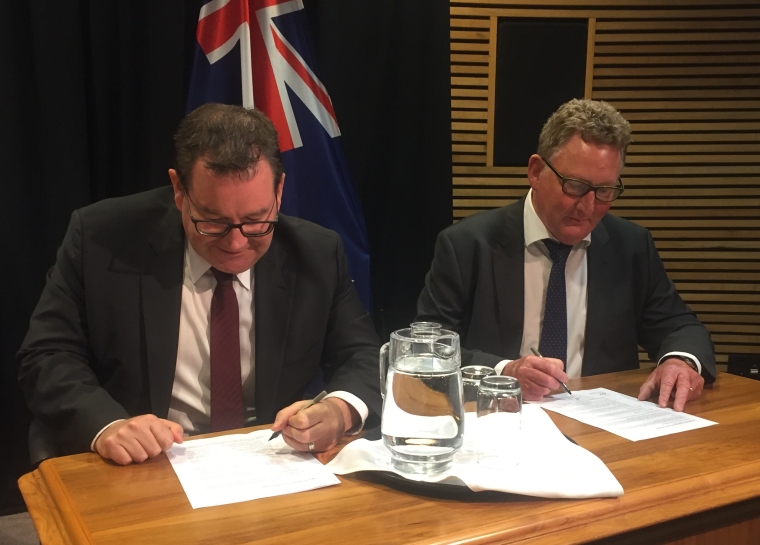 By Jenée Tibshraeny
The government is trying to dampen investor demand for property by making investors pay more tax.
On March 23 it announced people who buy and sell investment property within 10 years will need to pay tax on any gains made. Investors will also no longer be able to deduct interest from their incomes for tax purposes.
The question now is, do these moves reduce the likelihood of the Reserve Bank (RBNZ) putting further restrictions on mortgage lending?
The RBNZ is expected to report back to the government in May on how it could restrict banks from issuing interest-only mortgages and lending to those seeking high levels of debt compared to their incomes.
Finance Minister Grant Robertson has been clear he doesn't want first-home buyers impacted by any changes.
The RBNZ will undoubtedly be watching bank lending data closely between now and May, when it's also due to release its biannual Financial Stability Report (on May 5).
It might start preparing a consultation on further restrictions, but it's unlikely we will see these introduced in the next few months at least.
Why?
The RBNZ might want to see the impact of the interest deductibility change, as well as its move to reinstate loan-to-value ratio (LVR) restrictions at a tougher level for investors before doing more to dampen demand for housing.
Most commentators suggest the interest deductibility change will have a significant impact - if not in terms of costing investors more upfront, then in terms of reduced confidence.
Neither Treasury nor the Inland Revenue (IR) provided any commentary in the Regulatory Impact Assessment on the change. Treasury said it didn't support the change as it didn't have enough time to analyse the policy.
Cabinet making such a significant policy change without the support of Treasury and IR, without knowing exactly how the policy is going to look, and without evidence to show it has modelled potential impacts, creates a fair bit of uncertainty.
Presumably the RBNZ will tread cautiously before introducing another restriction in this environment.
While the RBNZ is tasked with ensuring the surge in mortgage lending doesn't compromise financial stability, it's also tasked with keeping inflation and employment buoyed.
How has it endeavoured to do so since COVID-19 hit? Through lowering interest rates to ease debt-servicing costs and encourage investment. And where do New Zealanders like to invest? Property.
Worth more than a trillion dollars, or about four times the value of New Zealand's annual Gross Domestic Product (GDP), the housing market effectively is the New Zealand economy.
RBNZ could've acted on interest-only lending by now
Had the RBNZ believed its efforts to encourage more borrowing and investment were putting the banking system at risk, it could've acted sooner to rein things in.
But, bar the reinstatement of LVRs, it hasn't, raising the question of why it would do so now that government has acted.
The data shows banks have certainly been engaging in riskier lending.
These graphs show how the portion of interest-only lending increased last year as banks were given a pass from their regulator to offer more mortgage repayment deferrals.
While the portion has dropped back down, the value of interest-only mortgages - especially for investors - remains at a high level.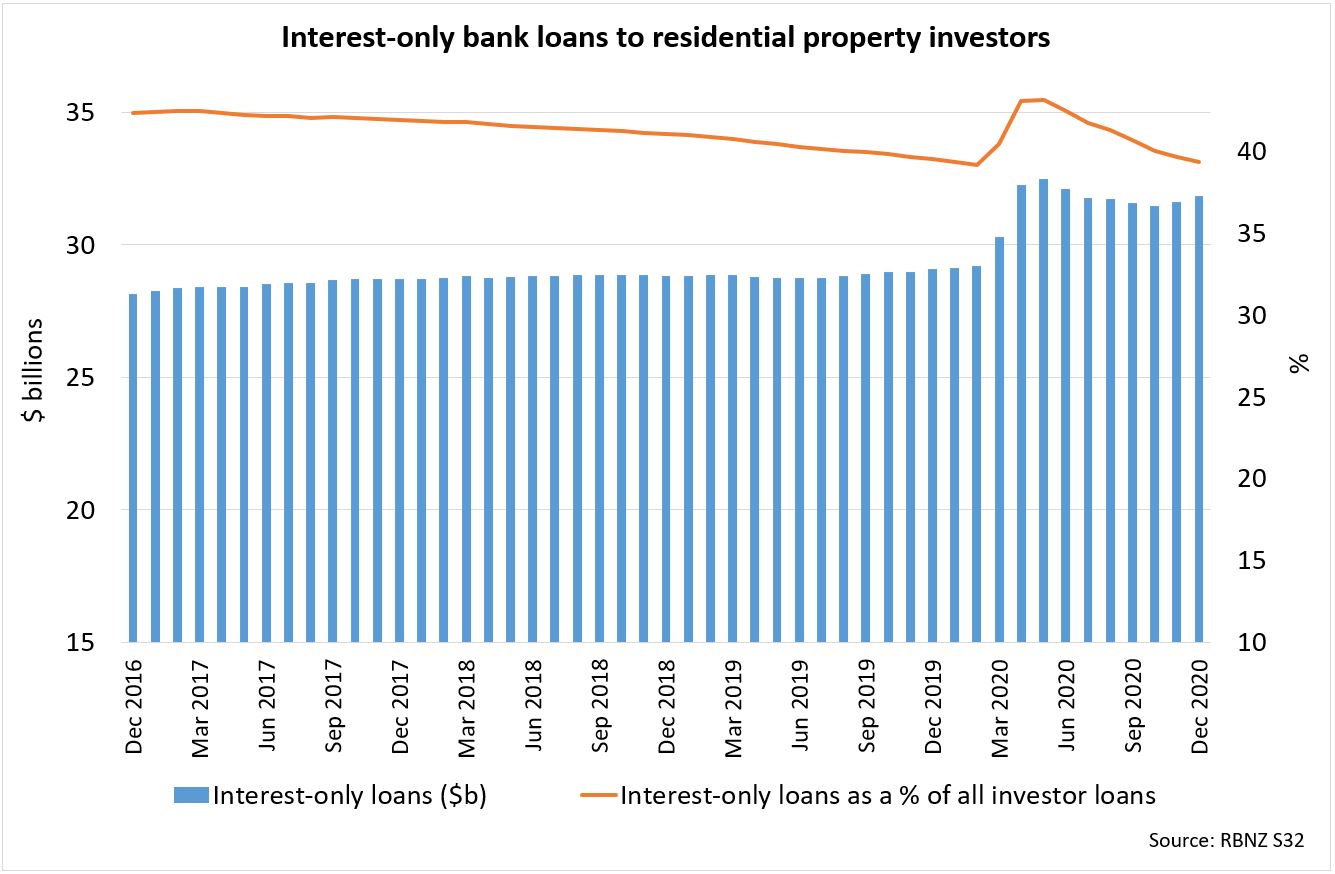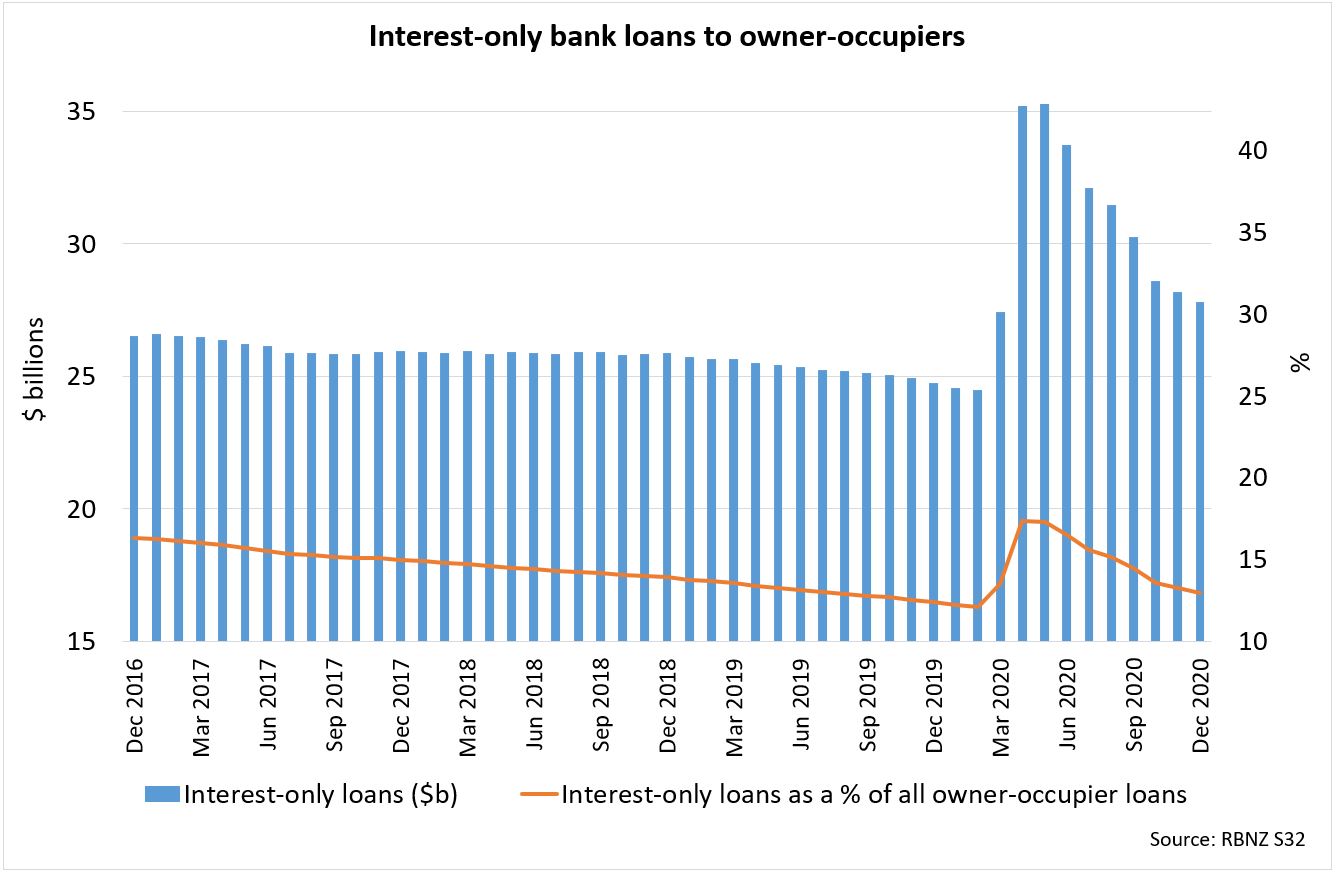 The RBNZ told interest.co.nz it could restrict interest-only mortgages now if it wanted to - without the government's permission.
"An interest-only restriction is not necessarily a macro-prudential instrument and the Reserve Bank could deploy it under s 78 (1) (fa)," an RBNZ spokesperson said.
"Section 78 (1) (fa) gives the RBNZ the power to regulate on matters relating to "risk management systems and policies" as long as it supports the soundness and efficiency of the financial system. A restriction on interest-only mortgage lending fits this category."
However, when interest.co.nz asked Robertson's office whether the RBNZ could restrict interest-only lending without government permission, a spokesperson from his office framed the situation differently.
They acknowledged the RBNZ could restrict the use of interest-only mortgages on a bank-by-bank basis as a "micro-prudential tool". 
But if the RBNZ was to implement restrictions on a system-wide basis, which is what Robertson's asked it for advice on, it would be considered a "macro-prudential tool". And Robertson would need to give the RBNZ permission to use it.
This is clearly a complex legal issue, but the fact Robertson and the RBNZ gave interest.co.nz different sounding answers to the same question, suggests the issue of restricting interest-only mortgages hasn't been thrashed out in detail.
Data suggests any DTI restrictions should include FHBs
As for the introduction of debt-to-income (DTI) restrictions, the RBNZ has for some years wanted this tool, but governments have said no, as they'd make it harder for first-home buyers to get on the property ladder.
Robertson has been clear his preference is for such restrictions to only be applied to investors. But RBNZ Governor Adrian Orr has said targeting restrictions in such a way would be difficult.
What's more, it might be difficult for the RBNZ to justify targeting DTIs to investors when first-home buyers and owner-occupiers are taking out increasing large amounts of debt compared to their incomes.
The RBNZ simply couldn't ignore this substantive uptick in new lending to first-home buyers with debt more than five times their incomes (which is deemed high-risk):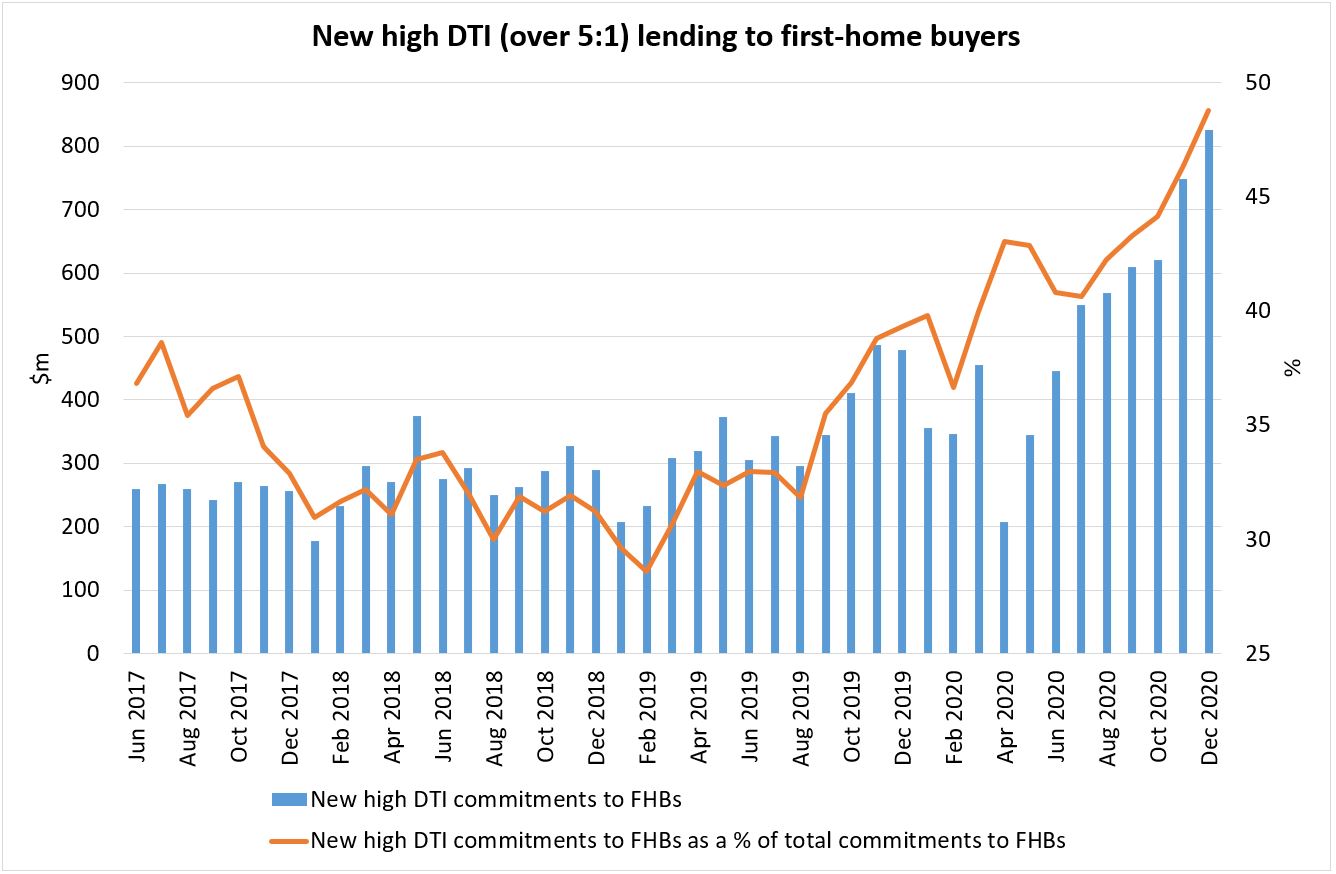 The RBNZ doesn't publish DTI data for investors.
As with LVRs, the RBNZ needs to consider how this kind of bank lending affects financial stability. It isn't tasked with helping first-home buyers into the property market, or keeping them happy come election time.
The removal of interest deductibility surprised most people - even to the point it prompted financial markets to bet on slower economic growth and thus interest rates remaining lower for longer. So anything is possible.
But for us to see DTIs imposed in the near-term, either Robertson or the RBNZ would need to change their approach.
And for us to see interest-only mortgage restrictions imposed in the near-term, the RBNZ would need to see risks it hasn't seen to date.
The RBNZ would also need to be confident that taking more wind out of the property market's sails to effectively protect banks from themselves, isn't going to bring the economy to a standstill.
With its Large-Scale Asset Purchase programme coming up against a headwind, as Treasury issues fewer bonds than planned, it would be left with little choice but to cut the Official Cash Rate (OCR) into negative territory if it felt it needed to do more to stimulate the economy.
And what's the last thing we need to tackle the housing crisis? Even lower interest rates.
*This article was first published in our email for paying subscribers on Friday. See here for more details and how to subscribe.