Chris Trotter argues that Labour has thrown out the old Political Rule Book, and that the new game they're playing is no longer called 'Democracy' but 'Holding On To Power At All Costs'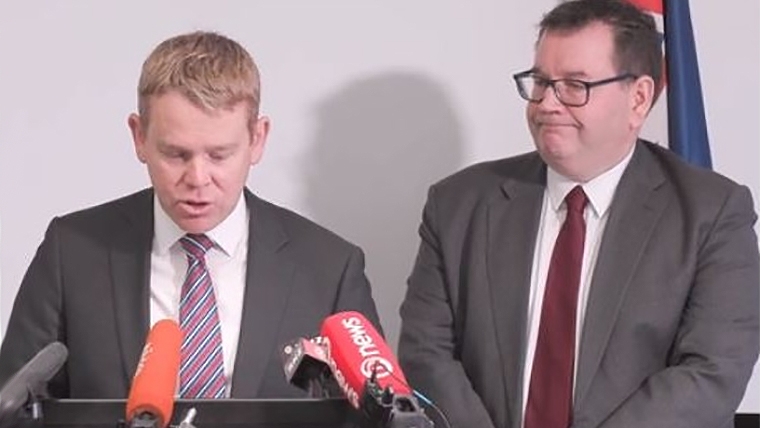 By Chris Trotter*
What has happened to the old Political Rule Book? This government appears to have found a new edition: one which the rest of New Zealand has yet to see, let alone read. Actions which the old Political Rule Book once rejected as electorally disastrous are being implemented with a jarring and inexplicable confidence. What's going on?
Let's begin with the Labour Government's decision to impose a three-year wage freeze on three-quarters of the Public Service. Under the old Political Rule Book, such an action would have been deemed extremely unwise. That rule book would have explained the sheer folly of effectively decreasing the purchasing power of some of the Labour Party's most loyal supporters. This is hardly surprising: "Look after your electoral base."; has always been the first and most important rule of electoral politics.
The old Political Rule Book would have further explained that to unfairly treat people regarded as heroes by a broad cross-section of the electorate is also a very bad idea. New Zealanders are three months into the second year of the Covid-19 global pandemic. That they have come this far without enduring the horrors witnessed in countries overseas is attributed in no small measure to the public servants who have positioned themselves courageously between their fellow citizens and the virus. Telling doctors, nurses, police officers, customs officials, military personnel, health ministry staff and teachers that they won't be getting a pay-rise for three years, is likely to strike most Kiwis as not only grossly unfair, but as evidence of the most perverse ingratitude.
There was, of course, an entire section of the old Political Rule Book devoted to New Zealanders deep commitment to the idea of "Fairness". It reiterated the scholarly argument that most New Zealanders feel about fairness the way most Americans feel about freedom. Threaten an American's freedom and watch out! Fail to meet the ordinary New Zealander's expectation of fair treatment and, again, watch out! Given the Government's behaviour, it would appear that this whole section is missing from the new Political Rule Book.
Exactly what the new Political Rule Book does say is the puzzle so many Kiwis are struggling to solve. Once again, judging by the Government's behaviour, it would appear to discount the old rule book's warning that extraordinary events, giving rise to extraordinary outcomes, are most unlikely to be repeated. The 2020 General Election, for example, produced a result which the old Political Rule Book declared to be impossible – i.e. a single political party winning an absolute parliamentary majority. That was not supposed to happen under MMP, where coalition governments are the norm.
Not only must we suppose that the new Political Rule Book has radically reassessed the likelihood of a single party winning a majority of parliamentary seats, but that it also argues in favour of extraordinary outcomes being repeatable. More specifically: that the great red wave of electoral gratitude that washed over New Zealand in response to Prime Minister Jacinda Ardern's handling of the Covid-19 pandemic can, indeed, be replicated. That all those tens-of-thousands of National voter who defected to Labour in 2020 can be persuaded to vote for Labour again in 2023.
The new Political Rule Book also seems to have had second thoughts about the political rule-of-thumb advising Labour against allowing itself to be outflanked on its left.
Without an absolute majority of parliamentary seats, Labour would be forced to rely upon the Green Party for the numbers needed to govern. Now, the old Political Rule Book warned Labour in the strongest terms not to have a bar of this. (A warning which the Helen Clark-led Labour governments of 1999-2005 were careful to heed.) The rationale being that such overt dependence on the support of a much more radical party would aggravate voter concerns about "the tail wagging the dog".
To be fair, that same old rule book also cautioned the Greens against allying themselves too closely with a more conservative political entity. Such an alliance was likely to create potentially fatal tensions within the party's own ranks. (This was, indeed, the common fate of NZ First and the Alliance, both of whom were torn apart by internal conflicts over the party's fraught relationship with its larger partner).
Assuming that our guesses about the content of the new Political Rule Book are correct, we must assume that the Labour Government is proceeding on the basis that it is no longer imperative to look after its electoral base; that perceptions of behaving unfairly no longer matter; that even if holding onto all the sunshine socialists of 2020 turns out to be impossible, governing alongside the Greens comes with no electoral downside.
We would probably be further justified in assuming that the new Political Rule Book takes into account the recent spate of right-wing populist victories across the West. In this new political environment, policies aimed at inflaming right-wing prejudices should not be summarily dismissed – not even by ostensibly left-wing parties. Not when they could produce an expansion of the party's electoral base. Labour need not fear the defection of their traditional supporters because, seriously, apart from the Greens, and maybe the Maori Party (both of whom are committed to coalescing with Labour) who else are their supporters going to vote for?
Certainly a new rule of this kind would explain why Grant Robertson and Chris Hipkins were willing to announce a policy calculated to win the enthusiastic backing of public-servant-hating conservative voters. Their new rule book may even have recommended throwing such a sop to Cerberus in advance of the Minister of Labour, Michael Wood, announcing the imminent introduction of Fair Pay Agreements – a policy aimed directly at the party's trade union supporters.
Cynical in the extreme? Well, yes, obviously. But that may be the key difference between the old Political Rule Book and the new.
The old book was written on the assumption that political principles are important, and that, accordingly, political consistency from political parties must also be important. At its core, the old rule book accepted that the game it was regulating was the game called "Democracy". That's why it enjoined politicians to put the convictions and interests of their core supporters at the heart of their policy decisions.
The events of the past week – so at odds with the old rules of the game – would suggest that not only have the rules changed radically, but so, too, has the name of the game itself. What our politicians now appear to be playing is a game called "Holding On To Power At All Costs". It is predicated on voters having a smaller set of principles, and a larger collection of prejudices. A greater propensity to complain, but a reduced willingness to do anything more than post their displeasure on social media. Most important of all, it assumes that voters are rapidly losing the ability to act consistently from first principles; and that they no longer expect their politicians and political parties to even try.
---
*Chris Trotter has been writing and commenting professionally about New Zealand politics for more than 30 years. He writes a weekly column for interest.co.nz. His work may also be found at http://bowalleyroad.blogspot.com.