NZ dollar-Aussie dollar short-term "fair-value" range seen at A75c to A77c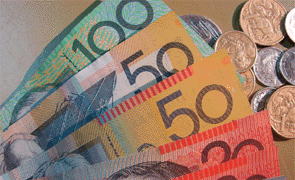 By Mike Jones
The NZD/USD drifted higher in relatively lacklustre trade overnight, benefiting from a broadly softer USD and the soaring AUD/USD.
Yesterday's notably upbeat speech from RBA Governor Stevens set the scene for a race higher in the AUD. Stevens essentially put markets on notice, suggesting that if "downside possibilities do not materialise" Australian interest rates will have to rise. This was also the message from a couple of hawkish articles from noted RBA watchers Alan Mitchell and Terry McCrann overnight.
After starting the week around 0.9380, AUD/USD surged to a fresh 25-month high above 0.9490 overnight as interest rate markets moved to price a roughly one in three chance of a RBA hike as early as October. Along with a broadly softer USD, this helped drag NZD/USD up to an overnight high of around 0.7320.
In contrast, NZD/AUD dived below 0.7700 for the first time since April. Stevens' hawkish undertones yesterday provided a clear contrast to last week's monetary policy about-face from the RBNZ. Following last week's publication of the RBNZ's watered down tightening expectations, local markets now do not expect another RBNZ rate hike until March. We agree.
The spread between the NZ and Australian 3-year swap rate is now at its lowest level on record (-124bps). Even after yesterday's ½ cent fall in NZD/AUD, this suggests more weakness is in prospect for the cross. Indeed, our short-term NZD/AUD "fair-value" model (which has done a good job of front running the slide in NZD/AUD since May) currently suggests a short-term NZD/AUD "fair-value" range of 0.7500-0.7700.
This suggests NZD/AUD rallies above 0.7750 will not be sustained in the absence of a push higher in NZ-AU interest rate differentials. Looking ahead, tomorrow morning's FOMC policy announcement remains the focus for markets. We suspect NZD/USD will remain contained in the familiar 0.7210-0.7330 range ahead of this.
Majors
The USD weakened slightly against most of the major currencies overnight against a backdrop of steady risk appetite and modest declines in US bond yields. Currency markets struggled for direction somewhat overnight as investors look ahead to Wednesday's FOMC policy meeting. Still, speculation the Fed could signal additional easing measures may be necessary undermined US bond yields and contributed to a rally in equity markets.
10-year US Treasury yields dipped 4bps to 2.71% while 2-year yields were broadly unchanged at around 0.46%. The OECD said it could be 2013, at best, before US unemployment returns to pre-recession levels, further weighing on US bond yields and the USD. "Safe-haven" demand for currencies like the USD and JPY was sapped by still buoyant risk appetite, evident in healthy gains in equity markets and a slight fall in the VIX index (a proxy for risk aversion).
European equity indices jumped 1.4-1.7%, while the S&P500 increased around 1.5%. Gains in the S&P500 accelerated after the index broke above 1130, the technically important level that had capped gains since mid-May. Further gains look likely in coming sessions as momentum players buy the topside break. Against a broadly softer USD, EUR/USD climbed from 1.3040 to brush against resistance around 1.3120. Gains were later partially unwound after Citigroup issued a short EUR/USD recommendation and the Irish central bank Governor said the Irish budget profile needs "reprogramming".
GBP bucked the softer USD trend as a string of lacklustre economic data highlighted the sluggish pace of UK recovery. The Rightmove index showed UK house prices fell for a third consecutive month in September, while home loan approvals dropped to their lowest level in more than a year (45,000 vs. 46,000 expected). After starting the week around 1.5650, GBP/USD slipped to nearly 1.5550.
Ratings agency Moody's said the UK's AAA rating will be able to "withstand economic challenges", helping prevent further GBP losses. Looking ahead, tomorrow morning's (6:15am NZT) FOMC policy announcement remains the focus for investors. We suspect it will take further clear deterioration in US economic data for the Fed to consider additional quantitative easing measures. As such, there is unlikely to be much change in the Fed's language.
If we're right, a mild bounce in US bond yields and the USD could be in the offing. Near-term support on the USD index is eyed towards 80.90, with initial resistance at 81.90.
* Mike Jones is part of the BNZ research team. 
All its research is available here.