Opinion: Upcoming G20 and FOMC meetings will influence NZD direction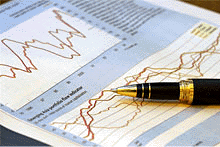 By Roger J Kerr
Whether the NZD/USD exchange rate remains above 0.7400 for a prolonged period or not really comes down to how global forex markets react to two key upcoming events.
1. The G20 summit meeting in Korea on 11 November and the likely reduction in tension between the US and China on the Yuan's currency value ahead of and during that meeting. The USD itself should recover recent losses in global FX markets if the prospect of US trade protectionism against China decreases.
2. The US Federal Reserve meeting on 3 November wherein Ben Bernanke will deliver the second phase of quantitative monetary easing ("QE 2"), however the amount of new cash injected into the US economy will be less and staggered over a longer period of time than what the currently hyped-up financial and investment markets are expecting.
The net result is a classic "sell the rumour, buy the fact" as far as the recent USD sell-off is concerned.
The US bond market is perhaps already selling that fact after all the QE2 stimulated buying of a few weeks ago which drove the 10-year yield down to 2.40%. The bond yields are already trading higher at 2.56%. 
My view is that the equity, commodity and FX markets have become well ahead of themselves on what QE2 can deliver to the US economy and their is an abundance of room for disappointment, and thus profit taking on the massive price shifts we have witnessed in recent weeks.
Therefore the EUR/USD rate should reverse rather rapidly to $1.30 from $1.40, driving the Kiwi back to the low 0.7000's. A downward correction in both equity and commodity prices should pull the AUD back a few cents from the tilt at parity to the USD last week.
Even though the FX markets have not been focussing too much on interest rate differentials as a driver of the NZD/USD value of late, the fundamental correlation cannot be ignored. The chart below confirms that the Kiwi is certainly over-extended at 0.75 and 0.76 compared to the two-year interest rate differential.
I do not see our two-year interest rates going any lower and neither can the US two-year rates.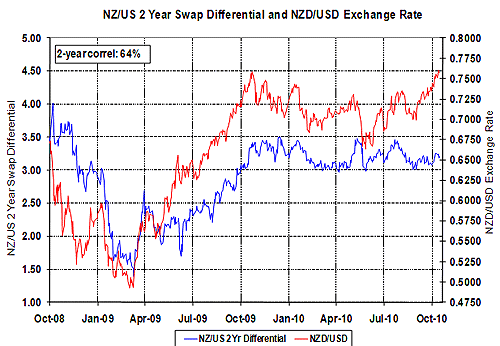 --------------------
 * Roger J Kerr runs Asia Pacific Risk Management. He specialises in fixed interest securities and is a commentator on economics and markets. More commentary and useful information on fixed interest investing can be found at rogeradvice.com