Risk never sleeps - expect higher rates and a steeper yield curve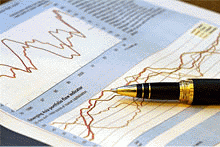 By Roger J Kerr
While NZ interest rates look set to be stable at current levels for most of this year, the reality of life is that nothing ever stays static in the wild, weird and wonderful investment/financial markets world we are all part of.
Add on the unexpected "event" risks such as earthquakes and rising oil prices, the economic/interest rate outlook can and will change rapidly.
The 2011 year from an economic growth perspective has had the stuffing knocked out of it by the Christchurch events.
On the surface, the revised forecast GDP growth of +1.5% for this year is not going to threaten the inflation or interest rate environment. Such a benign and complacent market outlook from here would be a dangerous position to take for borrowers and investors alike in my view.
There are a number of potential developments and trends that suggest the interest rate market climate could change in more ways than you might expect ...
Consider just two of the major influences on NZ interest rates:-
- Find a price for a good or service in the NZ economy that is going to be going down over the next 24 months? They are all going up by greater and lesser degrees:-
- Food – high export prices pushing domestic prices higher.
- Petrol, freight and transport prices (oil and lower NZD against the USD)
- House building costs (Timber, plastics, steel, carpets, Christchurch demand on construction sector resources and lower NZD)
- Rents – excessive demand in Auckland and South Island towns, coupled with the reduced supply of new houses being built
- Insurance premiums (for obvious reasons!)
- Imported electronic equipment (Japan disruptions and lower NZD)
- Electricity prices and local government rates – they always go up!
Core inflation (outside the current one-offs) clearly has the potential to be above 3.00% in 2012, not lamely returning to below 2.00% as the RBNZ is currently forecasting.
- US Treasury Bonds have rallied from yields of 3.70% to 3.26% over recent weeks as safe-haven buying from international uncertainties outweighed all the positive US economic data.
The Federal Reserve now appears to have more confidence that the US recovery is starting run on its own steam. The QE2 monetary stimulus package ends in June; the Fed will no longer be buying US$75 billion of Treasury Bonds each month like they have been doing since November. The Japanese investors will not be buyers either and could well be sellers of US Treasury Bonds. Expect to see supply exceeding demand in the US bond market over the rest of the year and yields moving back upwards.
From the chart below, the "converging wedge" of US bond yield movements since 2007 suggests a break-out up or down at some point over coming months.
For the above reasons, I continue to see the US long-term interest rates moving higher and our term swap rates following that direction; that is, an even steeper slope to the NZ yield curve.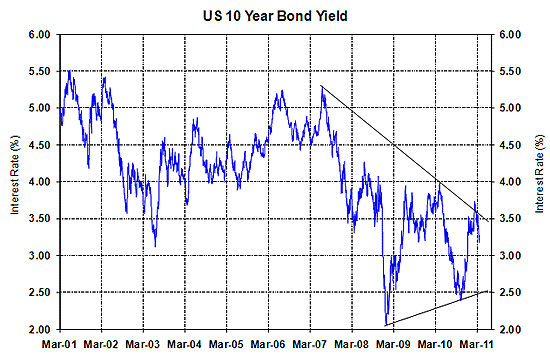 --------------------
 * Roger J Kerr runs Asia Pacific Risk Management. He specialises in fixed interest securities and is a commentator on economics and markets. More commentary and useful information on fixed interest investing can be found at rogeradvice.com
No chart with that title exists.