Opinion: Interest rate outlook all about Bollard's 'ifs' - global situation not tanking, and NZ recovery firming. And quit this NZ safe-haven talk - that's Aussie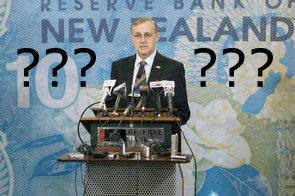 By Alex Tarrant
So here's what's going to happen.
Bollard is going to hike the OCR by 50 basis points to 3% on September 15 IF global financial events don't take a turn for the worse, and IF economic data in New Zealand doesn't turn back from its current upward trend.
Then he will leave it on hold for the rest of the year and probably a bit into 2012 unless something totally amazing happens like New Zealand wins Big Wednesday.
Sure, some pretty big caveats, especially the global situation one, but there's not much we can do in influencing outcomes over there. We could try sending Don McKinnon over to help the Americans and Europeans with their negotiations, but I don't think finance is his strong point. Keep an eye on Bernard's Top Tens - we know the Finance Minister certainly does.
And if Europe tanks badly again, or if the Americans default for the rest of the year or something horrible like that, hey, we don't have a zero official cash rate – he's always got an insurance cut up his sleeve and we know now he's not afraid to use it.
If, in-between now and September, data releases are not all pointing at the NZ recovery staying firm, one thing that could help him wait until October is the June quarter GDP figures due on September 22, while the MPS will be on September 15.
But the Reserve Bank, with all their spreadsheets and modelling would be pretty confident they have a good gauge on domestic activity before Stats NZ makes its big announcement.
The New Zealand dollar will stay high for a while. We've got billions of reinsurance dollars still coming in to the country, and, despite dropping slightly, commodity prices are still at record highs (and any exporting company who banked on them not coming off AT ALL at some point probably needs a new financial officer and a change in economic forecasting agencies).
Plus, everyone loves Australia at the moment and all this talk of New Zealand being a new 'safe-haven' is because our economy is so entwined with our Tasman cousin.
Hell, half of global currency traders probably think we're just another Australian state anyway, with different pictures on our notes and coins. Basically the thinking is, "hey Australia looks a better bet than the US at the mo, and seeing as we learnt in Finance 101 to diversify our portfolios, let's put some in that place underneath it – what's it called? Antarctica or something...?"
So if those two big ifs Bollard referred to happen, and the dollar doesn't come off, I'd say expect your floating mortgage rate to be going up 50 bps in September, possibly October (but unlikely), but then staying at that level until maybe March (or however you view the short-term – this could be up to a year), when Bollard's first MPS press conference of 2012 will be.
If those two big ifs happen.