Opinion: The Government's pushing through extensive changes to consumer credit law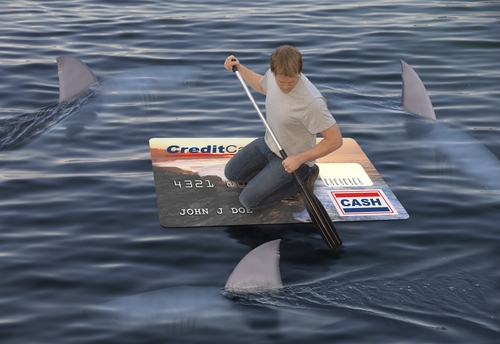 By David Hargreaves
The Credit Contracts and Financial Services Law Reform Bill has breezed through its first Parliamentary reading, enjoying cross-party support.
Normally the support of opposition parties would guarantee a bill an easy passage into law.
But in its its current form the bill is unlikely to thrill the big banks and it is to be expected that they will lobby hard for fairly extensive changes.
There's actually a lot in the legislation. In this article I've tried to pick out some of the parts I see as particularly significant - and possibly contentious.
Key changes
Key changes in this legislation involve disclosure, fees and the development of "responsible lending" principles.
The new piece of legislation, which has been several years in gestation, has its origins in concern around getting protection for consumers from loan sharks - you know, the types of operations that lend people $200 and the the debt mysteriously morphs over time into $1000 and so on.
Wide-reaching
But the legislation as it stands is actually a wide-reaching piece of law governing consumer credit contracts issued by all providers - something unlikely to please the big banks, who like to consider that they are already conducting themselves responsibly.
The preamble to the  describes the policy objective of the bill as to revise and update the law that governs consumer credit and broader financial markets so that it:
 Ensures that creditors lend to consumers and manage consumer credit contracts responsibly; and
 Provides improved protection for vulnerable consumers, including from unscrupulous lenders;
 Provides for consumer credit law to be dealt with holistically in 1 Act, and is consistent with other financial sector legislation; and
 Promotes and facilitates the development of fair, efficient, and transparent financial markets. 
The representative body of the banks, the New Zealand Bankers' Association, put out what I would take to be a very carefully-worded press release when the bill had its first reading.
Last year, after the Government had issued a draft form of the proposed legislation for public comment and submissions, the association put in a submission looking for extensive changes to the draft. It is to be imagined that the association has not changed its views, since in some instances the measures included in the legislation as it now stands are actually stronger than they were in the original draft.
Law firm Chapman Tripp has put out this useful summary of some of the main points of the legislation.
The Commerce Minister Craig Foss said in a media release after the bill's first reading that the new legislation would "crack down on unscrupulous lenders who leave borrowers and their families trapped in a spiral of uncontrolled debt".
"The changes will require all lenders to act responsibly, and provide consumers with the information they need to properly consider any loan agreement."
Submissions by November
Anyway, there appears to be a lot of water to go under the bridge yet. Submissions on the bill have to be received by November 1, while the bill is not due to be reported back from select committee till March 17 next year.
One requirement from the new legislation that catches my eye is the explicit need for the lenders to show their standard terms and costs of borrowing both on internet sites and at their business premises, which of course for the banks will mean in all branches. It could be pretty messy and costly to organise. And that's just one detail.
Also on the disclosure front, is the fact that the full disclosure of all the terms and conditions of a consumer lending contract must now be disclosed before said contract is provided. At the moment this can be down within five working days of it being provided.
It does seem clear that there will be potentially large costs involved, particularly for banks through increased administration, staff training etc. Will the banks pass those costs on?
Responsible lending
Another of the key features of the legislation is that it introduces the concept of "responsible lending". This is something similar to that previously introduced in Australia through that country's National Consumer Credit Protection Act 2009.
It is intended that there will be a non-legally binding Responsible Lending Code, which has yet to be developed. The Bankers' Association has already previously expressed concern about this code and potential double-ups, given that the association already has a Code of Banking Practice adhered to by the banks.
The full principles of responsible lending can be seen here.
My general comment on this is that there is much greater emphasis being put on the lender to not only provide all the information a customer might need to make a decision but to actually, and I quote from the legislation: "Assist the borrower to reach an informed decision".
More onus
I'm not a lawyer but I would have thought this language puts a lot more onus on the lender - legally - than simply by saying the lender must provide all the information a client needs to make an informed decision.
The final point I think worth emphasising in the bill regards the section on "unreasonable fees", which starts at section 40 in the legislation.
Section 44, which refers to credit fees other than establishment fees and prepayment fees, has definitely tightened the conditions for lenders charging fees.
Compared with the existing rules the new proposed law would remove reference to lenders being able to levy fees with regard to "a reasonable estimate of any loss incurred by the creditor". Now the legislation refers to "a reasonable estimate of the creditors reasonable average costs". Also a reference to fees in relation to "reasonable standards of commercial practice" has been removed.
Opposition
The Bankers' Association opposed those changes when they appeared in the original draft legislation, but the changes have remained in the current legislation.
This was what the association said in its submission last year:
"In our view, the proposed changes are not targeted to addressing concerns about the behaviour of unscrupulous lenders. It is accordingly not clear what the effect of the proposed changes will be or why they are needed. Banks charge reasonable fees based on their reasonable estimates of costs of services and generic costs. It is also reasonable commercial practice for a default fee to be charged to ensure there is an adequate disincentive to avoid default.
"Furthermore, the proposed amendments will also reduce opportunities for product innovation. For example, banks commonly offer a suite of products and services for customers which often include price discounting on some aspects because costs are fixed across the portfolio. If such products are not able to be offered, this will adversely affect consumer choice."
So, there you have it. There's plenty of food for thought in this legislation. And no doubt there will be plenty of room for 'robust discussion' as the bill is considered by select committee.
This article was first published in our email for paid subscribers. See here for more details and to subscribe.