Bernard Hickey looks at how to think about whether to fix or float and what bank economists are saying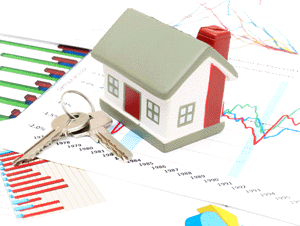 By Bernard Hickey
The big question for any borrower when they see interest rates rising is whether to fix or to stay floating.
The answer depends on your outlook for interest rates and your personal situation. A combination of both floating and fixed may also work, particularly if you want to be able to be more flexible in how you pay off your mortgage. It may also make sense to fix short term rather rather than longer.
A flat-to-falling OCR makes floating more attractive, while a fast-rising OCR makes fixing and fixing for a longer time more attractive.
It all depends on whether actual interest rate increases are close to the forecast track laid out by the Reserve Bank and expected by the financial markets. That's because fixed mortgage rates are heavily based on the 'swap' rates in wholesale markets and those 'swap' rates are dependent on those market expectations for future interest rates.
If interest rates move as expected then there's often not as much benefit in fixing as you might think.
The main benefits come from the banks accepting a lower 'profit' margin on fixed mortgages than advertised floating mortgage rates. Sometimes a floating rate borrower can get a better deal than a fixed mortgage simply by directly challenging your bank or working with a broker to challenge the bank to offer a better floating deal than the advertised deal.
But there is a way to work out which deal is cheaper over the full term of a mortgage. Interest.co.nz has a calculator that allows you to compare the costs of fixed vs floating over the full term, remembering that often the floating rate is cheaper in the first few months than a fixed rate, but then more expensive later in the term.
It's the total benefit that's important over the term of the mortgage and also whether rates actually rise faster or slower than the expected track built into your fixed rate mortgage.
Here's a table that shows the benefits of moving a NZ$500,000 mortgage from a floating rate of 5.5% to the various fixed options, assuming different interest rate tracks. The gains indicated as a positive and the losses are negative. The middle track for the OCR is in line with market expectations.
| | | |
| --- | --- | --- |
| OCR rate by end of 2016 | One year fixed (5.9%) | Two year fixed (6.3%) |
| OCR at 4.25% (low) | - NZ$4,473 | - NZ$4,379 |
| OCR at 4.75% (middle) | - NZ$120 | - NZ$26 |
| OCR at 5.3% (high) | + NZ$4,618 | + NZ$4,712 |
What bank economists say
Bank of New Zealand Chief Economist Tony Alexander argued in his April 24 weekly summary that he would look to fix most of a mortgage for three years.
The Reserve Bank fully met expectations this morning by following it's March 13 increase in the official cash rate with another 0.25% rise. The rate now sits at 3% on its way to perhaps 3.75% come the end of this year and something near 5% come the end of 2015. However there is considerable uncertainty surrounding the end-point of this rate rise period and how quickly we will get there given lack of data providing us insight into how newly sensitive people are to interest rates following the global financial crisis.

So this is a suck it and see exercise and people should not be at all surprised if we see some big shifts in market expectations for what our interest rates will do over the next couple of years. That uncertainty tells us clearly that there is value in establishing a mix of fixed and floating rate debt exposure. If you have some debt at floating rates and we all prove hugely sensitive to rates going up then they will not go far and you will benefit from that portion of your debt at least. If you have some debt at fixed rates of at least three years duration then should we do what we have done in the past and largely ignore the Reserve Bank for the first couple of years of rate rises then you will have some insulation against the heights which floating rates will go to.

Therefore if I were a borrower at the moment I would seek to place over 60% of my debt at a three year fixed rate.
ASB's Economists Nick Tuffley and Chris Tennent-Brown wrote in this April 29 Home Loan Rate Report they think the OCR is likely to peak around 4.5%, which is lower than the Reserve Bank is forecasting, and that rolling short term fixed rates are cheapest.
The RBNZ has lifted the OCR at two consecutive meetings, and another increase looks likely when the Bank meets again in June. Accordingly, floating mortgage rates and short-term fixed rates are likely lift again soon. If borrowers have not reviewed their situation already, now is definitely the time to give it some thought and look at strategies to manage higher borrowing costs over future years.
We stress that if the RBNZ hikes more aggressively than we expect (i.e. more hikes early on in the cycle), or lifts the OCR higher than 4.5%, then these shorter- term rates will lift more than we are forecasting, making this strategy more expensive than the longer-term rates on offer today.
By 2016 we would expect the variable rate to be around 8.25%, and fixed-term rates to be up around 8% too, rather than the 7-7.5% level we are currently forecasting. A key thought is that fixing for longer terms now does give extra insurance against stronger OCR increases than we are expecting. Depending on borrowers' risk appetite, that insurance may be worth taking. In this vein, the cost of some certainty is not actually too high, based on current mortgage rates. This is perhaps easiest illustrated with another example: The current floating rate is 6%.
If the RBNZ lifts the OCR again in April, then say again in July (as we are forecasting), the floating rate will most likely lift to around 6.25% in April, then 6.5% soon after the subsequent hike in July. A borrower can fix a 2-year mortgage for a carded rate of 6.29% right now. In other words, a borrower can lock in now a rate that is in line with what we expect the floating rate to be very soon, and lower than what we expect floating rates to cost around the middle of this year.
Westpac's economists said in this April 28 weekly commentary said fixers should not wait and that six month to three year rates offered similar value.
Floating mortgage rates usually work out to be more expensive for borrowers than short-term fixed rates, such as the six month rate.

However, floating may still be the preferred option for those who require flexibility in their repayments. For those who are looking to fix, there is little to gain from waiting. Fixed rates are more likely to rise than fall over the next few months.

Among the standard fixed rates, anything from six months to three years appears to offer similar value. Three-year rates are higher, but this is a fair reflection of where we think shorter-term rates are going to go over the next few years.

Fixing for four or five years may result in higher interest payments over the life of the loan than opting for shorter-term fixed rates. However, these longer-term fixed rates may still be preferred by those who are willing to pay for certainty.
ANZ Economists said in their April Property Focus their analysis indicated a two year rate was most attractive.
With the exception of a higher floating rate and an extraordinarily attractive 2 year fixed rate for borrowers with 20 percent equity or more,

The attractiveness of the 2 year rate – which sits back where it was in December – makes it hard to look past for borrowers who can access it. However, high-LVR borrowers are likely to be attracted to 6-18 month tenors, where lending rates are closer to floating.

Outside the specials, we see limited value in fixing now that wholesale interest rates are pricing in rate hikes flagged by the Reserve Bank.
(Updated April 30 with the latest views from BNZ, Westpac and ANZ)