Friday's Top 10: Brendon Harré on National vs Labour on housing affordability, UK councils' spy planes, Christchurch rents, Canterbury's leap frog sprawl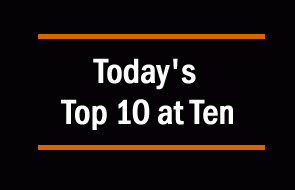 Today's Top 10 is a guest post from Brendon Harré.*
As always, we welcome your additions in the comment stream below or via email to david.chaston@interest.co.nz.
And if you're interested in contributing the occasional Top 10 yourself, contact gareth.vaughan@interest.co.nz.
See all previous Top 10s here.

1. In Parliament there has been a battle on whether the blame for unaffordable housing is the fault of this government or the previous one.
The current government is advocating that they will return New Zealand to its historic housing affordability levels over the next 12 years.
I have my doubts. New Zealand seems to be following the British model after a fifty year delay.
According to left wing British housing affordability campaigners such as Ian Abley, the fault in Britain did not solely lie with the 'socialist' Labour government who brought in the 1947 Town and Country Act. They did nationalise the land owners' development right to change land usage. But the 1947 British Labour government was anticipating the State keeping 100% of the 'betterment'. The fault, according to the left wing campaigners, is really with the following 'capitalist' government led by Winston Churchill that reformed the Town and Country Act in 1952. On the basis (supportable by the evidence at the time) that this had led to virtually no land being sold to developers at all, the Tories gave all the 'betterment' to landowners and developers to ever inflate to what is now known as 'planning gain'. No British government (according to these campaigners) has been willing to reverse the process, not because they support socialism, but because it would destroy 'capital' even though it is unproductive capital.
There is an element of this in New Zealand. Whenever John Key discusses housing reforms he also mentions the need to maintain stable property values. Unproductive capital is being protected by this government. Phil Twyford, the Labour Party's housing spokesman, has offered the government the chance to reform the Resource Management Act (RMA) and to add a National Policy Statement regarding housing affordability to the RMA. The government declined this offer.
2. In the UK the situation has deteriorated so badly that councils are sending up spy planes to catch people illegally living in garden sheds. New Zealand, being fifty years behind the UK, our councils' fascist tendencies haven't developed to such great heights. But even so some kiwis are creatively finding ways to bypass councils' development restrictions.
3. This chart shows median rents have increased $130 from $320 per week to $450 in Christchurch, a 41% increase in three and half years. This is much more in absolute and percentage terms than any other urban area in New Zealand, the Wellington, Auckland and National increases being between 13% and 17%.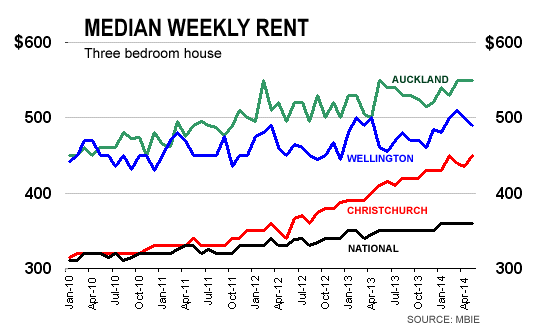 For Christchurch this translates to a $6,500 annual rental gain to the typical landlord and corresponding loss to the tenanted household. Median household incomes are only $65,000 to $70,000, so this is the equivalent of the tax rate going up 10 cents in the dollar, i.e. tax payments increasing from say 20% to 30% of household income. Future tax cuts will not be this big so for tenants housing reform is more important than tax cuts. 
The situation is predicted to get worse with rents forecasted to hit Auckland levels by next year.
The housing supplement is much less in Christchurch compared to the North Island cities, the supplement works on zones and in the Christchurch zone the maximum supplement is $51 per week, it is $45 more in the North Island cities at $96 per week.
These zones have not changed since 2005, so tenants are burdened with the full cost of post earthquake rent increases without any protection from government agencies.
4. These facts have translated to some people falling off the rental housing market completely. Here are two stories.
http://www.stuff.co.nz/the-press/news/10120070/Life-in-a-van-beats-rental-stress
Campbell Neil has a full time job, but chooses to live in his van instead of paying "ridiculous rents" for second-rate conditions. The 37-year-old "opted out" of Christchurch's expensive rents and competitive housing market by moving into his van about 18 months ago. 
"Ridiculous rents, shoddy conditions and constantly being expected to bid for a roof? Get stuffed"
Byllie-Jean Rangihuna never expected to be homeless. 
  
But after six months in a leaky caravan and applying for more than 100 tenancies, the mother of three says Canterbury's rental market is denying single-parent families the chance of a home.  
5. Rental conditions in Christchurch in particular, and Australasia in general, have led to a discussion of France's more stable long term rental agreements here and Germany's here.
Strong provisions in favour of the tenant led in New York to an undersupply of rental accommodation. This has not happened in Germany due to generous government subsidies for the initial construction of rental accommodation, along with other fiscal incentives for landlords. NZ already has provisions that benefit the landlord, such as the ability to write off rental property operating losses against other income for tax purposes. Policies like this made good sense in earlier times when the supply of housing was elastic and prices stable. but they are only toxic when speculation is the order of the day due to historically unprecedented tax-free capital gains.
6
. The pattern of rent increases in Christchurch indicates a strong single factor affecting the market; a genuine housing supply shortage compared to Auckland where the smaller increase in rents, with more variability or spikiness indicates there are multiple factors affecting that particular housing market.
Shamubeel Eaqub said something similar in April
.
"In Auckland there is a huge amount of speculation that's driving up house prices. And I say this because when we look at what's happening with the cost of housing through rent versus the cost of houses, rents haven't really done much. They're very subdued, growing at a gradual pace, but house prices were rising at a very fast pace," says Eaqub.

"That means that there's no shortage of actual houses, physical houses...."
Yet Auckland gets 39,000 newly zoned residential sections in its Housing Accord while Christchurch gets.....
7. When the government states their housing supply reforms will return housing affordability back to historical levels over the next 12 years, voters should assess the believability of this statement against their achievements in Christchurch.
After the earthquakes was the perfect time to try genuine housing affordability reforms. The need was there and the Government had a mandate to act.
They could have removed urban growth limits like Hugh Paveletich asked immediately after the first earthquake.
If that was too 'free market' the Government could have bought farmland at rural prices and rezoned it residential. Then swapped it for red zoners earthquake damaged land. Red zoners asked Earthquake recovery Minister Gerry Brownlee for that in this video (Skip to 2.47 then play)
This could have been a combined housing and transport package such as this. 
All Christchurch got was a continuation of existing planning restrictions sped up a little and then the pathetic Christchurch Housing Accord: 180 social need houses.
Red zoners fears (see video) of being priced out of Christchurch materialised while Brownlee's reassurances regarding housing affordability were found to be false. 
8. Due to Christchurch not having affordable housing there has been a leap frog sprawl effect where Canterbury satellite towns and lifestyle blocks have grown faster than Christchurch. For many months after the earthquakes between 2011 and 2014 the building consent figures for the neighbouring councils Selwyn, Waimakariri and Hurunui combined were larger than Christchurch. Now there is a transport crisis. Gerry Brownlee is also the Minister of Transport and his NZTA is keeping an emergency report on how to alleviate congestion choke points away from public debate.
But the government has released its national draft land transport policy statement. It is basically business as usual. No significant increase in funding, especially given infrastructure construction inflation has been increasing faster than CPI inflation. No change in transport mode share. No devolution of responsibility and funding for urban areas transport needs to local authorities. For Cantabrians it means no significant improvement in the current congested transport system.
For National this shows it has not changed its 'low cost provide the odd new motorway/road and very little else' transport policy. While Labour/Greens criticise this for not providing public transport and alternatives modes of transport such as biking and walking, they do not commit either any greater funding or widespread devolution of transport responsibility to local bodies.
The differences and ideological fervour regarding transport between Labour and National go right back to the first Labour government and their state housing/rail transport initiatives.
Unfortunately this history means in New Zealand the transport debate has become so partisan and entrenched it is difficult for anyone to move forward.
 9. The NZ Initiative recently came out with their latest thoughts on housing affordability. There is much of merit there especially the chart on page 27 comparing Ikea's prices in various European countries. Britain being 20% higher than 'right to build' Germany.
I think Alain Bertaud discusses agglomeration economies better though. He explains in 'Cities as Labor Markets' that these result from cities generating scale economies by firms reducing costs per unit, knowledge spillovers, and lowered transaction costs due to more competing suppliers and consumers in close proximity. Importantly he gives some empirical data on this effect.
In Korean cities, a 10% increase in the number of jobs accessible per worker corresponds to a 2.4% increase in workers' productivity.

Additionally, for 25 French cities, a 10% increase in average commuting speed, all other things remaining constant, increases the size of the labor market by 15 to 18%.

In the US, Melo et al. show that the productivity effect of accessibility, measured by an increase in wages, is correlated to the number of jobs per worker accessible within a 60 minute commuting range. The maximum impact on wages is obtained when the number of jobs accessible within 20 minutes increases; within this travel time, a doubling in the number of jobs results in an increase in real wages of 6.5%. Beyond 20 minutes of travel time, worker productivity still increases, but its rate decays and practically disappears beyond 60 minutes.

Both papers demonstrate that workers' mobility –their ability to reach a large number of potential jobs in as short a travel time as possible, is a key factor in increasing the productivity of large cities and the welfare of their workers. Large agglomerations of workers do not insure a high productivity in the absence of worker mobility. The time spent commuting should, therefore, be a key indicator in assessing the way large cities are managed. (p. 24, 25).
I know I already put this information here on Tuesday. When I recommend that Phil Twyford used a Bertaud formulation for mobility and housing affordability as his RMA National Policy Statement. But really this needs to be viewed widely.     
New Zealand has awful city transport infrastructure http://www.interest.co.nz/opinion/65197/brendon-harre-thinks-we-have-problem-poor-quality-and-inadequate-quantity-local-infras and it could be easily improved with the result that productivity and real wages will rise.
This should be a no brainer. Reforming housing and transport will decrease inequality by making tenants better off, decrease general prices for everyone, increase firms productivity and increase real wages for workers.
I work in healthcare, an area the government spends a lot of money on ($14.5 billion), much more than it does on transport ($3.1 billion). As a country we provide this care because we collectively agree it is the right thing to do. Fair enough. I wish we also had that attitude to transport and housing infrastructure too.
I think it is such small-mind thinking; the belief that the best way forward for New Zealand is that government should stick to business as usual, wait for a surplus to accrue and then give it out as tax cuts to favoured groups of voters. When that surplus could be used to improve transport and housing infrastructure for the benefit of us all.  If we achieve Bertaud's goals of house prices being about three times incomes, rents 25% of income and workers able to access the majority of the labour market in an urban area in under an hour, preferably under half an hour. Then it would be understandable that we look at tax cuts or extra governmental spending. To think otherwise is putting the cart ahead of the horse.
10. There is another component to the housing market that needs to be fixed. The cost of materials. Tony Sewell, CEO of Ngai Tahu Property, describes the situation well in "House of the rising sum" and has a simple yet effective solution.
"Sewell encourages anyone building a house to get on the internet to check overseas prices and to question local charges. The problem was a "cost-plus system" where if the price of a building product went up the builder simply informed the customer the cost of his house had risen.

"No one is really looking hard. I think we need to get more interested in the procurement chain."

Builders could do better by their customers, he says. "I wonder why the [Certified] Builders Association doesn't have a buying co-operative, like the farmers do with RD1 Ltd. That would be a way to pass on savings to their customers, but they don't seem to have any interest in passing on savings."
A government that genuinely wants affordable housing could easily play a facilitative role in getting this up and running.
--------------------------------------------------------
* Brendon Harré is a psychiatric nurse working in Christchurch and is a regular commenter on interest.co.nz.