David Whitburn on cutting red tape, NIMBYs, West Islanders, cutting the OCR, releasing Auckland land, buying in the provinces, a rush of high LVR loans, stadiums & fixing Auckland congestion, Dilbert & more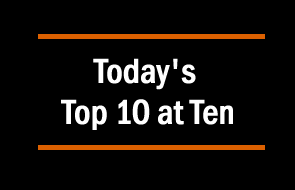 Today's Top 10 is a guest post from David Whitburn who is a professional property investor, property development consultant, author, member of the Auckland Property Investors' Association board, and proud father of three young kids. David is a co-founder of Fuzo Limited, an infill housing company, and he blogs on davidwhitburn.co.nz.
As always, we welcome your additions in the comments below or via email to david.chaston@interest.co.nz. And if you're interested in contributing the occasional Top 10 yourself, contact gareth.vaughan@interest.co.nz.
See all previous Top 10s here.
1. Want to Cut the Red Tape?
Unfortunately rules and regulations have grown massively over the decades.  There are now a number of bureaucratic obstacles to getting progress.  This is one of many reasons it is much harder to get resource and building consents in New Zealand, and is indeed a significant contributing factor to Auckland's housing supply crisis.  It is harder to grow when Government consume over 25% of a country's GDP.  Cutting red tape is important.  Have your say by making a submission to the Rules Reduction Taskforce.
The previously outlined RMA reforms were a start, but after National's Northland by-election loss, they are not a given. The RBNZ Governor told the Finance and Expenditure Select Committee that "work needs to be done in Auckland in addressing the height restrictions and the Not-In-My-Backyard syndrome that's there."
The main area of concern is the Affected Party Forms that Council require to prevent costly hearings which can arise if neighbours don't sign-off small planning contraventions.  Petty reasons and just not liking change are key reasons for not signing these. Other people use these as an opportunity to hold an applicant to ransom. 
Ransom money is far too popular in Auckland and we need to change our NIMBY culture, the RMA and Council policy and procedures to look for reasons to say yes to housing developments, particularly intensification projects to help address our supply crisis and rising house prices.
A concerted effort needs to be made now to categorise more activities as permitted or restricted discretionary activities.  Have your say on how to cut the red tape out of your life today!
2. Australians are working harder, producing more but being paid less.
The real Gross Domestic Product ('GDP') growth rate in Australia was reported on 3 June 2015 to be 0.9% for the three months to 31 March 2015 to give annual GDP growth of 2.3%. Whilst this looks on its face attractive, it is below 3.0% which is the level which many Australian economists believe to be the required level to keep employment and unemployment levels balanced.
Nominal GDP is a better indicator of wages and personal income growth, and expanded by only 0.4 per cent over the March quarter, and was up only 1.2% year-on-year.
Another Sad West Islander
What this means is Australians are "working harder, producing more but we're earning less" according to Macquarie Group chief economist James McIntyre.
McIntyre described the gap between company growth and employee wages as "the income challenge" and the key economic challenge of 2015 for Australia.
Real gross domestic income, which adjusts for the terms of trade, rose 0.2% quarter-on-quarter and was 0.2% lower over the year. Australian workers earned an average of 0.5% less over the three months.
Mr McIntyre said waning commodity prices and the dwindling mining boom were pushing incomes and employment growth down.  "It's a slow moving, continual drain," he said.
3. Cut in the OCR.
ANZ chief economist Cam Bagrie expects the RBNZ to cut the OCR by 25 basis points this month and a further 25 basis points next month to 3.00%.  This is on the basis that the RBNZ have been below the midpoint of the 1 – 3% core inflation range in the Policy Targets Agreement for 84 months now (that is 21 consecutive quarters).  The RBNZ have recently been breaching their Policy Targets Agreement which is unacceptable and they should have cut the OCR faster.
The issue for them has been the Auckland housing market growth.  Unfortunately they may not realise that their regulations are. Perhaps they were worried about putting in the macro-prudential tools in October 2013 which hurt first home-buyers with only 10% of lending above 80% LVRs. After that unsurprisingly investors filled this void. Now in Auckland this is deemed unacceptable, so they are making a regulation to have a 70% LVR maximum to cover their own tracks?
4. IRD Raise Use of Money Under-Payment Rates to 9.21%.
The Government has come through relatively unscathed with their stealth tax of raising use of money interest rates on underpaid tax from 8.40% to 9.21%.  These haven't been altered for 3 years, and this is very disappointing in this economic climate of stable and declining interest rates in a low inflationary environment. The Government is able to borrow money extremely cheaply offshore sub 2%, so having over a 7% margin is unacceptable.  Read my former tax lecturer Mark Keating's excellent article in the NZ Herald here.
Let's stop this extra revenue collection and have the OCR + 2.5% for under-payments, and the OCR – 1.5% for over-payments.  These margins will still be sufficient to remove the overwhelming majority of taxpayers desiring to use the IRD like a bank account, as happens in some overseas jurisdictions.
5. Release of Land in Auckland.
The Honourable Dr Nick Smith announced a large scale release of Government land in Auckland one week ago. I salute him and the Government for this move. There is no point in the Government holding land it doesn't have a current or future use for, particularly so when developing it can help play a small part in addressing the very obvious supply crisis Auckland has. The Moire and Glanville Road site in Massey East is a particularly good site, with critical infrastructure (including public sewer connection) already in, and its proximity to the outstanding amenity which is the massive Westgate Town Centre. The 18 hectares a couple of kilometres further north at Brigham Creek Road is another good site, but I am mildly worried that there could be a bit of an over-supply with a lot of development activity already in Hobsonville, Whenuapai and surrounds. If this all comes online at the same time, unless there is a powerful demand surge to match, there could be some happy purchaser's and sad developers in this location.
There are some critics of the Government releasing land to the market in Auckland.  Labour Housing Spokesman Phil Twyford is one of them.  Phil is a good politician and capable housing spokesman, however it is hard to oppose this as being "too small" and talking about how Auckland needs 13,000 dwellings per year, and how we are on track for little over 8,000 for prices continue to rise.  He's right on the price rises as demand still exceeds supply and migration internally and immigration too is running strong in Auckland still. 
The "small" contribution comment is a shame, as every bit helps though. It is not the power of Government building 10,000 houses per year, with at least half in Auckland, but that didn't seem to be overly well thought through and was hideously expensive. I commented to RadioLIVE that using Australian building companies would be a shame, as we do have sufficient local expertise, and we want to see profits made and taxes paid in New Zealand, and not give a leg up to the Aussies who have construction companies that can built in bulk, but appear to be only marginally cheaper at best.
6. Auckland's Stadium Strategy.
John Watson talks in the NZ Herald on his view on Auckland's stadium debacle.  Whilst talk has slowed recently on Auckland's Stadium Strategy it is picking up again.  Regional Facilities Auckland ('RFA') proposed moving the Warriors rugby league matches from Mt Smart Stadium to Albany, moving test cricket to Western Springs, who would lose speedway after 80 years! With only one cricket test every two years in Auckland on average, this is a hugely expensive upgrade – Hagley Park in Christchurch cost around $20 million. The Warriors have their club facilities and a large portion of their fan base in South and southern suburbs of Central Auckland, so to move all the way up to Albany is quite frankly daft, when some upgrade works could be done to a stadium that is regularly used for league matches and large concerts have been hosted there.  Performers have included Guns and Roses, Queen, the late great Michael Jackson, Elton John, Ricky Martin, Coldplay, U2, Robbie Williams, and three months ago the Eagles performed two sell out concerts.  Then just 6 days later the Warriors played the Parramatta Eels.  I see little reason for change.
I think we need to be future focussed as our population climbs and we become a better city. I would like love to see both Central and Local Government to work together to get a world class stadium in the central city, a bit like this:
We blew this opportunity in 2006 when bulk Government funding was available back then to ensure we had an expanded quality venue in time for the Rugby World Cup 2011, and it would have hosted the 2015 Cricket World Cup matches. The stadium and parks strategy is another debate. Ask Warriors fans their views on moving to Eden Park or Albany and you'll get strong opposition and interestingly it is a major issue for many.  It will no doubt be covered by savvy candidates in the lead up to Auckland Council 2016 elections.
It's not too late to bring back the Waterfront Stadium and have an architectural feature more like the Sydney Opera House, Nou Camp in Barcelona and Wembley in London, as opposed to port extensions into Waitemata Harbour which are quite frankly an eye-sore and represent a real loss of enjoyment of our magnificent Waitemata Harbour in the City of Sales. Perhaps our port strategy needs further investigation.
7. Rush to buy properties at 80% LVR happening right now.
I was speaking to Joel Oliver, Managing Director of one of Auckland's leading Mortgage Broking firm, SuperCity Mortgages yesterday.  He said "demand for 80% LVR loans from our Auckland property investors clients since the RBNZ's new policy announcement have been up 55.7%, and we have got pre-approval at 80% for well over $50 million of loans since this time."
In fact, we have been achieving approvals at above 80% LVR (up to 90%) for stand-alone residential investment properties at some of the major banks. Although some recent articles indicate a surge in out of Auckland property searches at Realestate.co.nz, this is not from investors, however it is Auckland home owners seeing what (5 bedroom house with land and a pool for $400k) they can buy should they move from NZ's Super City to the provinces.
Educated investors will only buy in Auckland, then Wellington and Christchurch as another option. Why would you buy in the provinces with no return or growth? The recent 'incentive' to borrow at 80% out of Auckland come October 1st will only attract the naive investor. The RBNZ has effectively poured petrol on the fire with the '70% LVR' announcement and there is a frantic rush for approvals to purchase Auckland Investment properties at 80 LVR%'.
In the meantime the Reserve Bank on 3 June released a consultation paper on the proposed rule changes to banks for the high-LVR loans.
8. Time to fix congestion to get Auckland moving with a quality public transport system.
I enjoy reading the Transport Blog from time to time.  They have some quality ideas on how to improve infrastructure which holds Auckland back from being the most livable city in the world.  Sure being third in the world isn't bad, but why not aim to be the best you can be.
Take a look at the Transport Blog's vision for Auckland's public transport system.
9. Top Ten Benefits of Living in Apartments.
While Auckland continues its over 200 year long trend of strong population growth, we cannot make land. In some cases infrastructure and in other cases the owner's finances and Auckland Council's planning policies restrict further urban sprawl. So we need to intensify our nation's largest and fastest growing city.
Apartments are fast becoming the norm for first home-buyers and will be more popular in the coming decades. There are a number of things people say about apartments – there's no land, you have a body corporate that takes away control and its costs money, what if you have bad neighbours etc.
Let's think about some of the positives including a lower price point as there is no land, new builds provide affordable entry points to first home-owners, body corporates let you spend more time living and less timing maintaining and administering your home, and can help get bulk buying discounts for insurance, repairs and maintenance and administer useful functions like providing a long-term maintenance fund, keeping your building warrant of fitness up to date and maintaining common areas and services.  Also don't be so negative and ask, what if you have good neighbours and they bring friendship and more fun into your life?  We can't all have 500 metres and extensive hedge rows to separate us from our neighbours. Lets take a look at some benefits of apartments in this Sydney Morning Herald article.
10. Blood Diamonds: Corruption and torture in Angola.
Rafael Marque de Morais is a brave investigative reporter who wrote the book Blood Diamonds: Corruption and Torture in Angola. This details conflict diamonds and their trade in Angola, child slave labour, torture, murder and corruption. 
He was charged with criminal defamation by the prosecution (seven generals and their business associates) in his native country. They wanted to imprison him for 9 years and sued him for £800,000. The trial was unsurprisingly a sham, and de Morais was given a six month suspended sentence and to withdraw the book from the internet and bookstores and any other distribution methods. 
When is the time to end the conflict (blood) diamond trade for once and for all?