Ryan Greenaway-McGrevy on the top 10 things to know about Donald Trump's impending Presidency
Today's Top 10 things to know about the Trump Presidency is a guest post from Ryan Greenaway-McGrevy, a senior lecturer at the University of Auckland. Prior to that he was a research economist in the Office of the Chief Statistician at the Bureau of Economic Analysis (BEA) in Washington DC.
As always, we welcome your additions in the comment stream below or via email to david.chaston@interest.co.nz. And if you're interested in contributing the occasional Top 10 yourself, contact gareth.vaughan@interest.co.nz.
See all previous Top 10s here.
Key posts are being filled. Advisors are being selected. And the Donald is doing his best to act Presidential.
But just what will President Trump's policies mean for the US and the global economy? Do we even know what they are? Does the man himself? Pundits around the world continue to speculate. Let's see what they are thinking.
1. Those manufacturing jobs aren't coming back.
On the campaign trail, Trump promised to punish companies that take jobs offshore. And during a speech at Liberty University, he pledged to make Apple build their computers and devices in the US.
Production may well return to the US. But that does not mean that the jobs will.
Going forward, labourers in the developed world will not be competing with low cost Mexican, Chinese or Vietnamese workers. They will be competing with robots.
Back in May, Foxconn replaced sixty thousand workers with robots. And Adidas is already reshoring production – but not jobs – to Germany. 
Could Trump's protectionist policies hasten this trend? Much ado has been made of reports that Apple has asked Foxconn and Pegatron to look into shifting iPhone production to the US. (Although apparently Apple approached its suppliers back in June.)
No doubt Trump will claim a victory should this happen. But Foxconn infamously captures a very small proportion of the value added in the iPhone supply chain, and production on US shores will likely be highly automated.
There may be some symbolic victories over the short term, but unless Trump wants to go full-luddite and start smashing up technology, the long term prospects of large-scale employment in the manufacturing sector remain bleak.
2. And the urban elite will benefit most from re-shored automated production.
The flipside is that by hastening re-shored production and the transition to further automation, Trump's policies may enrich those that despise him the most: The hi-tech urban elites that design and program those robots.
Silicon Valley must be giddy at the prospect. Perhaps another pre-prohibition era cocktail from your favourite mixologist to celebrate, Palo Alto?
3. The dealmaker is already making bad deals.
But he has already saved one thousand jobs in Indiana from going to Mexico! I'll admit, I started writing this top ten before the announcement on Wednesday. It's hard to keep up with the Donald.
Tax breaks to keep jobs in America. Let's be clear: that is not punishing firms that are offshoring; it is bribing them. No doubt the rationalisations of this brazen bribe will be entertaining. I'm off to get some popcorn.
But more troublingly, this sets a terrible precedent. It creates a big incentive for employers to claim that they are moving offshore. As Justin Wolfers puts it:
Every savvy CEO will now threaten to ship jobs to Mexico, and demand a payment to stay. Great economic policy. https://t.co/t2WAJOgh8F

— Justin Wolfers (@JustinWolfers) November 30, 2016
These CEOs might need a credible reason for offshoring these jobs, right? I mean, they can't just say that they are doing it because other firms got a tax break. The fact that the peso has weakened substantially since Trump's election will help make those numbers look credible. And we know whose fault that is…
And before we move on from this issue, here is Wolfers nailing it again:
Imagine if welfare worked the way corporate welfare works: "Who wants money? But please be honest & only ask for it if you're really needy."

— Justin Wolfers (@JustinWolfers) November 30, 2016
Indeed. It's all a bit reminiscent of some economic policies closer to home. *Coughs* Tiwai point *Coughs* Peter Jackson *cough cough*.
4. That infrastructure stimulus.
On the campaign trail Trump said he'd spend twice as much as HRC to revive America's flailing infrastructure. But according to this Vox article, Trump does not plan to spend any public money to make the upgrades. He plans to make it all happen through tax breaks.
Privately-funded public infrastructure can work, but one way or another it requires local money to make it worthwhile for a profit-seeking firm to get involved. That likely means no upgrades for the parts of the country that need these upgrades the most, such a Flint, Michigan, which has those nasty lead pipes.
So where should we expect to see infrastructure upgrades? Where the money is. There he goes again, helping those rich urban liberals!
5. Trump's policies create a greater incentive for illegal immigration.
Tyler Cowen outlines how Trump's policies actually encourage illegal immigration. First, he will increase demand for labour in the construction sector by splurging on infrastructure. Second, he will throw the Mexican economy into a tailspin by messing with NAFTA.
To paraphrase Martin Brody… You're going to need a bigger wall.
6. How do you label China a 'currency manipulator'?
It's more than a campaign slogan. Ashok Rao takes us through the steps necessary for the US government to label the country a manipulator.
As it happens, there is an existing statute on the books that gives the steps necessary and sets out criteria that any country must satisfy in order to qualify as a manipulator. China probably does not meet those criteria – but some other trading partners such as Japan and Germany just might.
And as Rao points out, Pence and another Trump advisor were not too fond of previous attempts by the Democrats to give Obama the means to punish China for stealing those jobs: They voted against a previous bill that would have authorised countervailing tariffs against China.
Would anyone be surprised if they suddenly had a change of heart? Politics isn't about policy now, is it?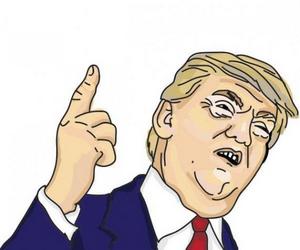 7. The negative consequences of Trump's climate policies are probably overstated - at least over the short term.
Putting a climate change sceptic in charge of the Environmental Protection Agency certainly is not a good sign, and Vox says we've blown our chance at limiting global warming to two degrees this century. Which seems … remarkably exact. I want whatever they're drinking, because it apparently gives you more confidence than a red bull and vodka.
Trump has not yet made good on his promise to destroy the Paris Agreement – and even as I write this, the Donald is beginning to reverse his earlier positions on climate change – much to everyone's surprise, I'm sure.
The Paris Agreement contains nothing binding, and these unenforceable international climate agreements can in fact enable countries to undermine their own domestic climate policies; our companies could only purchase those dodgy carbon credits from the Ukraine and elsewhere because we were part of an international climate agreement.
But even if Trump does withdraw from the Paris agreement, there are a few silver linings from the Trump agenda. This piece from the Niskanen Center downplays the potential damage he can do to the climate, at least over the short term.
First, fracking natural gas is beating the pants off coal, and gas is twice as carbon efficient as coal. Trump's plans to open-up Federal lands for fracking is only going to make coal less economical – which means that carbon dioxide emissions will continue to decline. The fracking 'revolution' is a big part of the reason why CO2 emissions in the US have been declining since 2007. More fracking is not exactly a win for environmentalists, but at least it is helping to reduce carbon emissions for the time being.
Second, if Trump orders the EPA to reverse its position that CO2 is a pollutant, it opens emitters to lawsuits from public interest groups. The US is nothing if not litigious.
Third, many states in the US are addressing the problem on their own through regional emission schemes. States rights and all that, Republicans? Right guys?
8. A fractured nation. But perhaps not fractured communities.
One of the most striking features of the rise of Trump is the divisive nature of his victory.
Hillary won two thirds of the US economy, highlighting how the election exposed the economic fault lines dividing the country. And many pundits have focused on the plight of poor Whites and rising inequality in the wake of Trump's victory.
Seemingly at odds with this hypothesis is the fact that early polling suggested that Trump voters in fact tended to have higher incomes on average for their demographic.
How can we make sense of it all? The key here is that many of these slightly wealthier Trump supporters tend to be concentrated in communities that are plagued with the social problems of economic stagnation. Perhaps within these localised communities, there is less division between the haves and the have-nots than within the country as a whole.
9. What does Trump mean for Devonport?
Yes, the quaint seaside village just a short ferry ride from downtown Auckland. Snuggly protected as a historic district under the Auckland Unitary Plan, what could Trump possibly mean for this proud bubble of Auckland heritage?
Much of Trump's rhetoric on the campaign trail was focussed on America's security partners pulling their own weight when it comes to security arrangements like NATO. That will ultimately translate to more defence spending from its allies.
Don't be surprised if we are subject to pressure from Australia to up our defence spending in the coming years. It was poignant that the Australian Navy chose to send one of its submarines to the 75th anniversary of our Navy last month. There could not have been a better statement of the stark difference between our defence capabilities.
What does this mean for good old Devo? A ramp-up in our defence capabilities will likely mean more activity on the peninsula – or moving the base altogether. The government is already selling-off the remaining Navy housing further up the peninsula, forcing Navy families to find accommodation from the private sector. Which would seem a bit short-sighted – unless it was the government's cunning plan all along to move the base.
Either way, our days of free-riding on America's defence capabilities may be drawing to a close.
10. Alec Baldwin is back
With Thirty Rock done-and-dusted, Alec was probably polishing up the old C.V. No more. Dude has a job for the next four years. And let's face it, the Donald provides so much material to work with.