Brian Fallow is encouraged by the collegiality on display in Parliament over climate change, but notes the cow in the room remains agriculture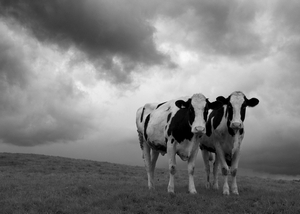 By Brian Fallow*  
In a rare display of consensus and concord, the last thing Parliament did before rising for the Easter recess was debate a report by Vivid Economics on how New Zealand can get to zero net emissions of greenhouse gases in the second half of the century.
The harmony on display in what is usually a forum for partisan scrummaging was not because it was Holy Thursday, or because Cyclone Cook was bearing down on us. 
Nor was it because there is anything particularly remarkable in the contents of the Vivid report, which does not really tell us much we didn't already know about the potential technically and economically feasible pathways to a carbon-neutral future. 
What is remarkable is who commissioned the report -- a group of 35 MPs drawn from every party represented in Parliament, who have been shepherded by Green MP Kennedy Graham into a New Zealand chapter of GLOBE (Global Legislators for a Balanced Environment). 
"We have come a long way since Shane Ardern drove his tractor up the steps of Parliament," Greens co-leader James Shaw said. 
"Our climate change debate here in New Zealand and around the world has gone through four stages of denial: first, that it is not happening; second, that if it is happening, it is not caused by us; third, that if it is caused by us, it actually is not that bad; and, fourth, if it is that bad, well, actually, there is nothing we can do about it." 
"All four of those stages have a response: it is happening, it is us, it is bad, and we can do something about it. It is that fourth and final debate that we are having here today - what we choose to do about it," said Shaw.
Consensus wide, but shallow
But the consensus, while wide, is not deep. It is one thing to accept a distant objective, a trajectory for the country to follow. 
That still leaves scope, as the MPs made clear, for plenty of disagreement about the pace at which to proceed. 
And, crucially, about when to give farmers the hard word about the emissions arising from pastoral farming. 
Unusually for a developed country, carbon dioxide represents less than half of New Zealand's greenhouse gas emissions. So moving towards all-renewables electricity generation and the widespread adoption of electric vehicles and biofuels will not get us there. 
We have an even bigger challenge dealing with the emissions of methane and nitrous oxide generated by cattle and sheep. 
The Vivid report, Labour's climate change spokesperson Megan Woods said, "does not ignore the cow in the room. The report makes it very clear that in order to have an effective way of pricing carbon within our economy we must bring agriculture within our emissions trading scheme." 
The Government has no plans to do that. It expressly excluded the issue from its review of the Emissions Trading Scheme (ETS), still under way.
Running defence
National MP Stuart Smith sketched the argument normally run in defence of the status quo: that it is pointless to expose farmers to a price on emissions when they do not yet have technological options for reducing emissions in response to that price signal. Imposing that "economic hairshirt" on them would only drive food production offshore to even more emissions-intensive models - the "leakage" argument. 
Climate Change Minister Paula Bennett evidently agrees: 
"We make no bones about it, that we support farmers and how they do it, and actually there is no point in cutting them off at the knees here in New Zealand," Bennett said. 
"The world still needs what they produce, and there are more inefficient farmers in other parts of the world who would then pick up that slack and actually the world would be worse off, from an emissions profile. So we should be backing our New Zealand farmers and looking more, I think, at how we get more consistency of sustainable and efficient farming across the agricultural sector, because there are still pockets that could pick up and take some better practice." 
Promise
There are some promising technologies for potentially reducing emissions from pastoral farming: selective breeding of cows that emit genteel lady-like burps rather than volcanic eructations of methane, new strains of ryegrass or other forage plants, precision application of nitrogenous fertilisers, and the holy grail of a methane-suppressing vaccine. 
But the Royal Society reckons technical solutions for reducing agriculture-related biological emissions could take a decade or two to reach commercial viability. If they do. 
Vivid Economics believes a combination of emissions pricing instruments and regulation will be needed to encourage farmers to adopt cutting edge technology as it does become available. 
Overlooking three things
Opposition to exposing pastoral farmers to an emissions price tends to overlook three things, however. 
One is that it is not proposed that farmers face a carbon price for every tonne emitted, but only that they be treated the same as any other emissions-intensive trade-exposed sector. That means a free allocation of units covering the vast majority of their emissions but an exposure to carbon pricing at the margin, where economically important changes occur. The free allocation is the policy response to the leakage argument. 
Secondly the behaviour that pricing seeks to change is not just, or even mainly, farming practice but land use. Its absence has contributed to a rash of dairy conversions on land that might, for example, be better used for horticulture or cropping and perhaps pork production (pigs are not ruminants). 
Thirdly, New Zealand is internationally responsible for all its emissions. If those who profit from half of them do not bear the cost, the rest of us have to. That is a subsidy, and one that gets capitalised into land prices. Those who benefit are the vendors of farm land, who get a larger tax-free capital gain; the buyers just get a larger mortgage. 
Labour's David Parker was enthusiastic about the potential for technological innovations to enable higher value uses of land – higher value than the mass production of milkpowder – as key to a wealthier as well as cleaner, future. 
"We put a huge impediment in the way of that land-use change by not making agriculture take responsibility for its emissions," Parker said. 
"If we are elected agriculture will be coming into ETS very fast. We have always said it should. We have always said its free allocation should start at 90 per cent of 2005 emissions. We have not resiled from that."
What about forestry owners?
Maori Party co-leader and Minister for Maori Development Te Ururoa Flavell reflected anger among forest owners about how that crucial sector had been treated, or mistreated, by policymakers, resulting in net afforestation dwindling virtually to zero. 
"This has a huge impact on Aotearoa, and also on those hapū and iwi who have received large forests as a part of their Treaty settlements, and so have large carbon credits that are virtually worthless." 
New Zealand First's Denis O'Rourke said that while an increase in forestry would create a huge carbon bank that could be used as an offset to emissions, those emissions must also be reduced strongly. 
Some form of internal carbon pricing to allow that to happen would be inevitable, he said, but that did not require an ETS open to international trading. 
Clearly, then, the collegiality on display in Parliament last Thursday does not mean our political leaders are about to link arms and march in lock step towards towards the broad sunlit upland of a carbon-neutral future.
But it's a promising start all the same.
---
*Brian Fallow is a former long serving economics editor of The NZ Herald. This is the fourth article in an election year issues-based analytical series on economic policies he's writing for interest.co.nz.

His first article is here.
His second article is here.
His third article is here.