The case of truck drivers highlights how confusing NZ's work visa and immigration settings can be; It also shows the shortage might be working in encouraging the industry to figure out how to attract more locals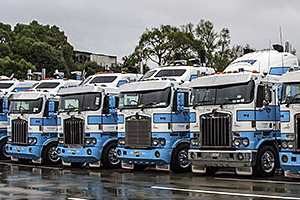 By Alex Tarrant
Truck drivers. We don't have enough of them.
And it's worrying.
The industry is worried. A survey last year put the nationwide shortage at 744 in Auckland alone.
Bill English is worried. Some bloke told him he couldn't find drivers to fill 28 of his 180-strong fleet.
People in Canterbury are worried. People in Northland are worried. Freight volumes are rising, while training institutions are struggling to recruit new blood to replace an ageing fleet.
There have been calls for the government and the industry to provide more training to locals to boost the industry.
There have also been calls for changes to New Zealand's immigration settings so we can temporarily import drivers from overseas to fill the gap.
But truck drivers are not on Immigration New Zealand's immediate skills shortage list.
Truck drivers are not on New Zealand's long-term skills shortage list.
In fact, they're not even on New Zealand's skilled occupation list used to determine whether we can bring someone in on a work visa.
There is demand for them. One crude measure backs this: Wage and salary rates for road and rail drivers are rising at a percentage point higher than all occupations combined.
There is a shortage – and we're told that this is being partly exacerbated by New Zealand's migration settings.
So are we keeping them out?
Before going any further, Immigration NZ figures do show work visas are being issued to foreign truck drivers. Some are being brought into the country from overseas, while many are already here and are being issued new work visas so they can stay.
And while our two main skills shortage lists do not list truck drivers, the occupation is on the Canterbury skills shortage list.
In the year to March, 782 people applied to Immigration NZ to drive trucks in New Zealand. That is, people who were not Kiwis, Aussies or would not be able to work here otherwise.
We approved 621 and declined 161 of those applications.
Of those visas approved, 505 were given to people already in the country, leaving 116 approved applications from offshore.
They're not all in Christchurch
Now, if Canterbury is the only skills shortage list the truck driver occupation is on, reason would suggest these people are all heading there.
That's not how it works.
Bay of Plenty: 7 in the year to March; Hawke's Bay: 1; Manawatu: 1; Marlborough: 1; Nelson: 3; Northland: 26; Otago: 30; Southland: 5; Waikato: 10; Wanganui (sic): 1; Wellington: 6; Unknown: 12.
Canterbury: 91.
Auckland: 427.
Remember, the only skills shortage list used by Immigration NZ to supposedly determine whether to let someone into or stay in the country that 'truck drivers' appears on, is the Canterbury list.
Yet 69% of truck driver work visas issued by Immigration NZ in the year to March went to people in Auckland (or heading there).
Most of these were onshore applications. But even for visas approved for people offshore – ie the ones who will come into the country to help us fill a skills gap – only 11 of those 116 went to Canterbury.
What gives?
Well, there's more than one way to drive a truck through New Zealand's immigration settings.
Immigration NZ says that if you're a truck driver wanting to come to New Zealand you'll need to have a:
NZ recognised Full Class 4 or 5 Driver Licence
AND
a minimum of three years' experience driving heavy rigid (gross laden weight of more than 18,000kg) or heavy combination (gross combined weight of more than 25,000kg) vehicles, including at least 12 months' relevant work experience in New Zealand.
If you meet those requirements, then you may be eligible to apply for an Essential Skills visa to fill a skills gap in Canterbury. This is a visa intended to fill temporary skills gaps and does not directly lead to residency applications.
I imagine the first thing that sticks out to truck drivers applying from overseas is that they must have at least 12 months' relevant work experience in New Zealand.
That is, before coming to New Zealand to help fill a skills gap in Canterbury, you must first have spent 12 months in New Zealand.
This might explain why less than a fifth of approved truck driver work visas in the year to March were issued to people who applied from outside the country (ie issued to the global talent pool we're trying to attract by posting a Canterbury skills shortage list on the Immigration NZ website).
Another hurdle for truck drivers wanting to come to New Zealand from overseas is that they may just not want to live in Canterbury. In fact, there might be a load of jobs being offered in Auckland. On the face of it, that's a problem, because truck driving is not on any of our other skills shortage lists other than Canterbury.
Don't worry, drive happy
No bother. As Immigration NZ notes on its website: "If your job is not on a shortage list, don't be disheartened. There are other work, resident, student and holiday visas that might be right for you."
And indeed, for truck drivers, there are. And this explains why most of the drivers we issue work visas to don't end up where the government supposedly reckons we need them most.
As mentioned, of the 621 approved applications in the year to March 2017, 91 listed Canterbury as their 'region'. Only 28 gained visas by way of the Canterbury skills shortage list, while another 41 were via the Canterbury Skills and Employment Hub. (Of those 161 people declined, only 12 had planned to go to Canterbury.)
That's 69 approved work visas directly relating to Canterbury, representing 17% of the 404 Essential Skills work visas issued to truck drivers in the year to March.
In fact, the majority of truck driver Essential Skills visas were the 273 approvals where a case was made by an employer for a person to be issued a visa - nationwide.
And that's just under the Essential Skills criteria. Under Immigration NZ's Talent (Accredited Employer) criteria, 33 visas were issued where an employer made a case for someone. And a further 23 under Variation of Conditions criteria.
In all, 329 work visa applications for truck drivers in the year to March were approved where an employer made a case to Immigration NZ for a person to be allowed to work here.
So, nothing to do with any of our skills shortage lists, and despite truck driving not even being treated by Immigration NZ as a skilled occupation in New Zealand.
Takeaways
There are a few takeaways from this for when we're discussing work visas, skills shortages and immigration settings.
When talking about work visas issued by Immigration NZ, we need to be aware that the majority each year are issued to people already in the country – 81% in the year to March in the case of truck drivers.*
And the majority of those were for workers for whom their employer petitioned Immigration NZ to let them stay in the country because they could not find suitable Kiwis or Aussies living here who were trained and had the experience required.
An industry can be calling out for years about a shortage of workers, yet not be placed on our two main skill shortage lists.
But this case shows it is also possible to bring workers into the country when their occupation is not considered in shortage or skilled.
It is quite clearly a skilled job. Truck driving at least deserves to be on the NZ skilled occupations list ahead of some rather questionable entries.
Yes, our third shortage list – Canterbury – has attracted some truck drivers into the country. But these numbers represented less than 10% of the work visas issued in the year to March to truck drivers who applied from offshore.
The theory is that these are the people an Immigration NZ skills shortage list should be attracting; people from overseas, coming into the country to fill a local gap. Most, though, go to Auckland, and Immigration NZ does not consider that part the country to have a shortage of truck drivers.
Confused? Well you're not the only one.
Silver lining
Here's a final thought. One reading of the situation is that the settings are actually leading to the outcome many are calling for – the training of more Kiwis as truck drivers so that we don't require migrants to fill the gaps.
A representative body last month announced a scheme to attract 1,000 more drivers. The group is examining entry points and industry settings: "We have to understand what's working and where improvements can be made."
Wages are rising in the industry faster than for other occupations. In theory, this should help attract more people to the occupation. It could be that this was made possible by the fact the industry wasn't flooded with migrant labour over the last few years.
"The transport industry recognises more must be done around the driver shortage problem than where we are right now, and the only way to get anywhere was to band together."
That may be harder and cost more in the short-term than just calling on the government to change migration settings. But it might be the better long-term outcome.
The trade-off is the near-term squeeze on our ability to shift freight around the country.
Economics is all about trade-offs and how to allocate scarce resources.
Perhaps it's something the 14 economists granted work visas last year can look in to.
---
* Also note that when talking about work visas specifically, the best granular data is the Immigration NZ stuff (the Work one - have some fun with a spreadsheet), not the Stats NZ Permanent and Long Term set (although this is helpful for other things like 'how many people came here during a certain time period'). When politicians cite the Stats NZ PLT data (that net 72,000 figure), but then start talking about cutting work visas by tens of thousands (a purely 'for example' number plucked from thin air, of course), they need to understand that you could cut work visas by that amount (ie those issued onshore) yet still not affect net PLT migration.
*This article was first published in our email for paying subscribers early on Wednesday morning. See here for more details and how to subscribe.