David Hargreaves says the Auckland housing market has gone cold at exactly the wrong time. And does the sudden focus by politicians on our largest city's infrastructure imply a sense of defeat on housing?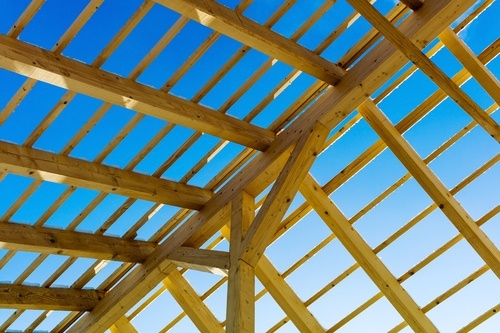 By David Hargreaves
It wasn't meant to be this way.
Go back a few years and the National Government was talking up a pretty good game about how it was going to get the building of new houses rocketing ahead in Auckland.
And yes, the numbers of houses being built have increased (because, goodness, they needed to) but not in anything like the volumes this Government was predicting.
In the meantime immigration numbers have gone up and up, meaning that the shortfall of Auckland houses that existed a few years ago is simply getting worse.
Now, I fear, that with the house market going very quiet, we may see further disincentives for people to develop. Certainly it's not going to encourage the banks, who have already considerably reined in their lending criteria, on top of the 40% deposit rule imposed by the Reserve Bank on housing investors.
As I suspected, with the spectre of ever-rising house prices currently removed, our politicians are moving their eyes in other directions. Suddenly infrastructure is big.
Now of course, if some constructive initiatives are put in place for Auckland's infrastructure, that should help housing longer term. But I can't help think that the politicos are just simply moving on to the currently sexy topic. And house prices suddenly are not sexy. But they will be again, if Auckland doesn't sort its act out and build enough houses to start pegging back the shortfall.
There needs to be a proper plan and central and local government need to get the buy-in of the building industry and the banks. Either that or bite the bullet and build the houses themselves.
I've been prompted to write this by the appearance of the latest, annual, (this is the fifth one done) National Construction Pipeline Report from the Ministry of Business, Innovation and Employment; this one oddly, released on a Sunday - when previous ones had been issued during the week.
The report contains updated predictions of new house building activity in Auckland measured by forecast consent numbers in coming years.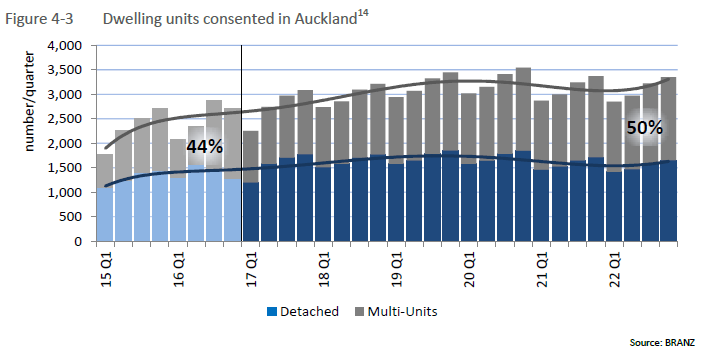 Taken in isolation, the figures look pretty good.
However, if you compare the latest forecasts with those going back two years, contained in the 2015 report, then the amount of slippage against targets becomes all too clear.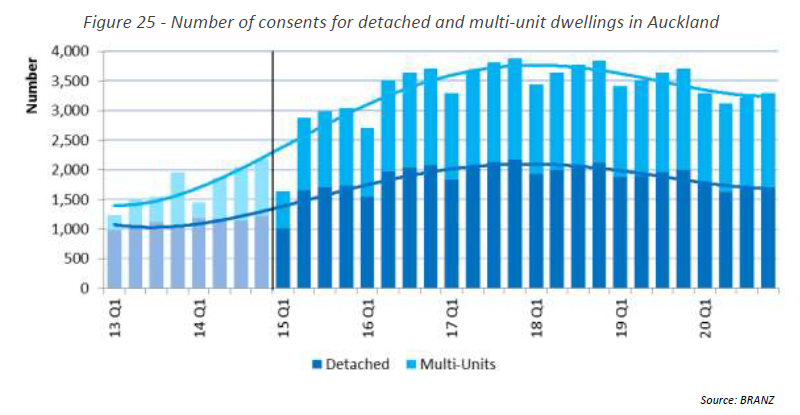 And just finally, here's a graph from the latest report again, this one showing the annual projected figures as per the latest forecasts.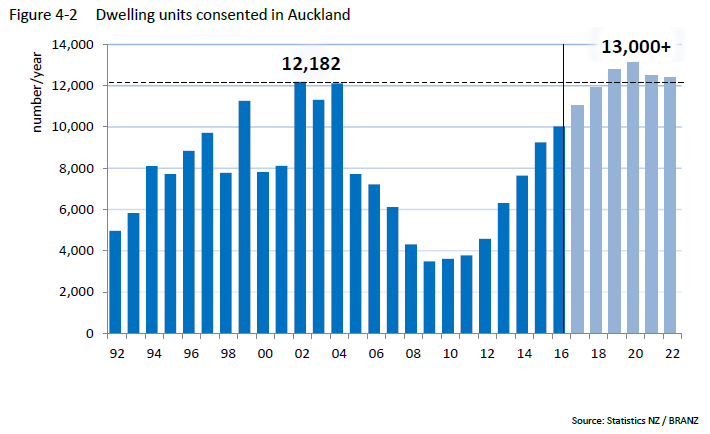 Yes, the Auckland housing new build consents have gone up a lot in recent years. But, if we look back at the forecasts from two years ago, the report then was forecasting that Auckland would have a new high of around 13,400 consents LAST YEAR. In reality, just over 10,000 were consented in 2016. That's a 25% shortfall on what was forecast.
In releasing the 2015 report Nick Smith, who was then both Building and Housing Minister (the Housing title was retired by Prime Minister Bill English late last year), talked enthusiastically about Auckland's prospects.
"I am particularly encouraged by this report's projections that 80,000 new homes will be built in Auckland for the forecast period of six years to the end of 2020," he said then. "This compares to only 30,000 built over the past six years and signals a massive building boom. It indicates that the measures by the Government and Auckland Council to increase supply are working."
Whopping shortfall
The reports generally don't provide the raw data on which the graphs are based, but taking the graphs from two years ago and putting them up against the latest ones would suggest that even if the forecasts for the next four years are now correct, the best that's going to be achieved in that 2015-2020 period will be about 68,500 consents, a whopping 14.3% short of Smith's trumpeted 80,000 figure. The shortfall of houses, at around 11,500 would house about 34,500 people - which is somewhat less than the numbers of immigrants arriving in Auckland every year at the moment.
When he released the 2016 pipeline report, Smith again trumpeted progress in Auckland, saying: "The growth in residential activity in Auckland is particularly encouraging as it forecasts that next year more homes will be built in Auckland than ever before.
"Residential construction has been growing at more than 20% a year in Auckland for the past five years and is projected to reach an all-time high of 13,332 homes in 2017, and to stay at those record levels until 2022."
Record delayed by two years
In the 2017 report the target for Auckland has been trimmed back to just over 11,000 - and now the record peak is not tipped to happen till 2019. For the record, the actual number of consents in the first six months of this year was 4771 - so even making 11,000 now could be a stretch.
Little wonder then perhaps that Smith, having talked up Auckland in his past two pipeline report press releases, this time took a more nationwide focus.
In the release that came out on Sunday, he said: "I am particularly encouraged that this report shows even stronger growth than last year's report. The peak has increased from 30,000 per year to 34,500 per year and 12,000 more homes being consented over the next three years.
"It shows a far wider spread of new home construction to the regions rather than Auckland and Christchurch."
Yes, that's right, "rather than Auckland and Christchurch". Well, I'm sure the Auckland folk would 'rather' see a few more homes being built in their area. I thought that was actually the whole point. Remember this was a Government that steadfastly refused for a long time to take part in anything that might dampen demand in the market. The mantra was it was all about supply. They would ramp up the supply of Auckland houses.
Not fast enough
And yes, the number of houses being built in Auckland has risen from critically low levels - but nowhere near fast enough.
The problem is not going to go away - just because house prices aren't shooting up at the moment. The problem of a constrained Auckland market and out of control prices will resurface at some point unless there is some practical solution arrived at by which the supply of houses can be easily ramped up.
If the experiences of this Government prove anything, it is that you can't just talk something into happening. You can have your housing accords and the like and pass all sorts of rules, but if you can't make builders put a spade in the ground, and the bankers give them the money, it ain't going to work.
Remember, as many as 25 of the Special Housing Areas that were established in Auckland from 2013 up till last year saw NO consenting activity at all before being disestablished earlier this year.
Solutions are needed. Our politicians of all stripes now appear to be ducking for cover.