Labour's knee-jerk 'clean our rivers' call needs details so it doesn't look like a rural-to-urban wealth transfer in the sheep's clothing of a freshwater policy; On the principles of royalties; And why aren't we talking nitrates?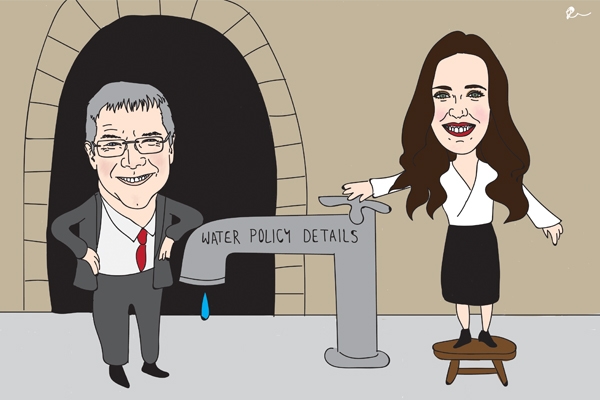 By Alex Tarrant
Labour's water policy announcement had some of the desired effect. "Labour promises to make commercial water bottlers pay," one major news outlet headlined.
Some coverage even got excited that Labour would get unemployed youth to plant trees and build fences around waterways to 'help' the farmers out.
I'll get that out of the way first, because as Jordan Luck once said, it's been bugging me: If you can get someone to the skill level required to build stock fences on rural terrain then you're more than halfway to training up a fully-fledged farmer. That's no bad thing, given an ageing farming workforce and shortage of labour.
But that part of the policy sounds more a confused make-work scheme (with which the health and safety people will have a field day) included in a fresh water policy after a last-minute brainwave from someone who thought it would sound good to Ponsonby swing voters.
It'd be easier putting these 'youths' to work in the milking sheds while Mr and Ms Farmer go and carry out the fencing work. (Not that these kids will be required on dairy farms – some 97% of dairy waterways are already fenced off. The government's expected $400m expense required to have 90% of waterways fenced by 2030 work will fall on beef (mostly), pig and deer farms.)
Now to the water policy. Quick note: if you want to know all there is to know about the policy, then you can't just go to the policy page. Yes, that's a good starting point, but the details are trickling out from various sources.
Labour's 'big environmental announcement' on Wednesday was led by a speech by new leader Jacinda Ardern. There were tidbits there not in the policy document. For example, 'stock water' (ie the stuff in troughs) won't attract a royalty (even if it comes from the same place as 'other' water which would attract a royalty).
Hydro power companies won't be classed as commercial users because they discharge the water back into the rivers. That might sound fine. But go and ask a down-river water user whether they've ever had any problems of hydro companies keeping water back at certain times of the year.
If you want to be real nit-picky then anyone who's spent time in a milking shed knows cows are wont to discharge water back into the natural environment as well. Yes, I know, unlike the hydros, cow piss comes with the added bonus of a heap of nitrogen – which is causing more damage than anything else to most waterways. Just remember this though: Labour's policy document on cleaning up those waterways doesn't mention nitrogen or nitrates once.
On Friday, we heard royalties will only apply to water taken from rivers, lakes and aquifers. It seems the line in the policy page that "councils will not pay any water royalty" means that all water sourced from council supply won't be affected.
This means urban water bottling companies or those who turn water into Coke or beer in Auckland won't have to pay royalties for the water they use. Let's turn a blind eye to the fact that a portion of Auckland's urban water supply is from a great, big – wait for it – river.
The argument is that urban commercial users already pay charges to Watercare and the like for delivery of water. That's not paying for the actual water like farmers will be forced to do (oh, sorry, and rural water bottlers). That's paying for the infrastructure.
Here's a newsflash: farmers also pay for the infrastructure needed to deliver the water from river to paddock. It doesn't just turn up there. Irrigation NZ's Andrew Curtis seeks to explain it: The cost to install irrigation infrastructure is $5,000-$9,000 a hectare plus annual maintenance. And rates are about $2,000 more a year than a dry-land property. Also, farmers pay for council monitoring and reporting on water use.
If Labour's main problem was that some farmers are subsidised for irrigation costs, then take those funds away (which they're doing). If you're doing that, then just to be fair, make Auckland residents pay the actual cost for Watercare's pipes – those Infrastructure Growth Charges they bill you don't recover the full costs of growth, as I've written before.
Writing this column, I kept coming across new comments from David Parker that just threw up more and more questions. Here's another one: "Some of those water consents are now very valuable and it's fair that the public gets a share of that money."
If Labour's problem is our current first-come-first-served basis for allocating water consents then change the way that operates. Bring in tradable allocation rights. Is there any talk of this? No. At least just pay lip service to the fact the current government has a group (led by an ex-Labour Cabinet Minister) researching how we could allocate water rights better and that we'll listen to what they say.
What are the details?
It all got to a point last week when I asked Labour whether we could have all the details in one place; could they publish Ardern's Wednesday speech for farmers to be able to read? No, the speech was mainly from notes, apparently.
Then something interesting: There's an election manifesto chapter on the policy. Can we see it? Not yet – they still have various boxes to check before it's made public. Up until then, Labour had said that we wouldn't see more details until after a roundtable is held within the first 100 days of the next government.
Well, that was until David Parker and Grant Robertson began talking about 1c, 2c or 3 cents per 1000 litres as they sought to deflect the 10c claim and $18 cabbages. Also, we're now told the most the 'royalty' would raise is $500m a year. Granted, it's not up there with Nick Smith's scaremongering of tens or hundreds of billions. But have we got all the details, or is there more to come? There might be some fleshing out in that manifesto.
Royalties
As they're fleshing the ideas out, I'd encourage the party's policy boffins to read this rather helpful paper Treasury wrote in 2006 on principles for royalties on non-mineral resources in New Zealand. It includes all the main questions we should be asking ourselves when looking to impose a royalty regime on a resource like water.
Here's a key paragraph: It can, however, be translated, as in the Sustainable Development Water Programme of Action, to a usable design principle that any royalty regime should ensure that a resource "is made available over time for its highest value use". (Footnote: Value is defined "in its holistic sense and not just in reference to economic value. Highest value use encompasses all aspects of sustainable development: environmental, social, cultural and economic.)
Translation: A pure royalty regime should help society figure out the best value use for each water catchment. For some catchments, this might be allowing for intensive farming. For others, less farming so that a greater amount of recreational activity can take place in/on/around nearby water bodies and for greater environmental outcomes. Nationwide, it might provide an argument for even more intensive farming overall; it might mean get rid of farming altogether.
Labour's policy page appears to pay homage to this: Labour will allow each regional council to apply royalties flexibly "to reflect the scarcity or abundance of water in different regions, the different quality of water, and its use."
But that doesn't hold when you get to the bit on why exactly the policy was announced: "The National Policy Statement will stop water quality getting worse straight away. Water quality will begin improving within five years. Within a generation, we will reverse the damage that has been done to our fresh water, and make our rivers and lakes swimmable."
Instead of a 'pure' royalty regime that encourages highest value use, we'll get a regime that encourages this, but only if quality of all water bodies nationwide doesn't fall further below X, and hits Y within 'a generation'. We'll also get a regime that needs to raise (only) $500m a year.
I'm not at all begrudging Labour those water quality goals – it would be very nice to be able to tell everyone that all our water bodies meet an exceptionally high swimability standard. But let's start saying it how it is
Let's acknowledge that, before we even start, we've set a bunch of parameters that might not fit with best practice for why we want a royalty regime in the first place (to figure out highest value use of water in different catchments).
Let's acknowledge that this is not a 'pure' royalty regime. It will be a targeted transfer of wealth away from certain parts of the economy – agriculture/rural – wrapped up in the sheep's clothing of 'a fresh water announcement', to pay to fix something that we've all allowed to happen.
Let's discuss what this $500m a year will likely be spent on. Are we talking about transition support (re-skilling of Canterbury horticulture farmers into urban water bottlers)? Are we talking about subsidies for land-use change (if so, then a slice of just $500m might not cut it)?
The only thing I've heard David Parker venture is that regional councils might use the funds to reduce existing rates paid by horticulturalists. If you allow them to keep the same overall costs then this won't discourage water use – it wouldn't tackle the issue of over allocation because they'd put the money they save on lower 'other' rates towards paying extra to keep their water use the same.
Promising farmers a bunch unemployed youth to help plant some trees and fence some waterways in exchange for $500m a year to put towards whatever councils want to put it towards as long as they can link it back to water isn't going to cut it. Oh, and start talking about reducing nitrogen run-off if you want a freshwater policy to be taken seriously.