After a relatively controversy-free six weeks as Acting PM, Winston Peters' disgraceful comments in the House on Wednesday have marred his short tenure, Jason Walls argues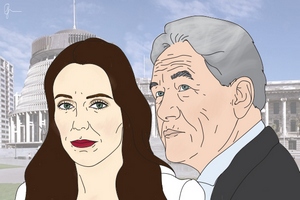 By Jason Walls
At 12am on Thursday night, Winston Peters slipped back into his role as Deputy Prime Minister after a more or less controversy-free six weeks in the top job.
For the most part, he has received high marks from commentators and Government MPs alike.
For five weeks and six days, he performed relatively well in the job.  
But his actions in the House on the last day of his time as Acting Prime Minister were nothing short of disgraceful and need to be called out.
During an exchange in question time on Wednesday, Peters can be heard yelling "throw fatty out," at National's Gerry Brownlee, as he interjected during one of the answers.
It's by no means uncommon for MPs to heckle each other from opposite sides of the House, but a personal attack like this is well out of line.
We should call it what it is – bullying and it's not acceptable.
Although the comments were widely reported – even UK-based The Guardian ran a story on Peters' "fat-shaming" – the story was out of the news cycle just hours after it was first reported.
The comments will likely be all but forgotten in a matter of weeks.
A lot of that comes down to people giving the NZ First Leader a lot of slack. "It's just Winston being Winston," is a phrase thrown around a lot.
As NZ First leader, there is often a tendency to just laugh off or roll your eyes at some of the more outlandish things Peters says.
But on Wednesday it was different – he was the Acting Prime Minister.
He was sitting in the Prime Minister's chair, answering questions directed at the Prime Minister and acting in the capacity of the Prime Minister.
Not only that, but as Acting Prime Minister of this Government, Peters represents a group of MPs who Jacinda Ardern famously said would be nothing short of "relentlessly positive."
"Throw fatty out," is about as far from "relentlessly positive" as you can get.
It's a comment that is nowhere near acceptable for an MP in the House. For a Prime Minister, it is nothing short of outrageous.
What if John Key, or Bill English had said it to a Labour MP when they were in the top job? Do you think for a second that would get lost in the news cycle?
If Ardern said it, we would be reading about it for weeks.
Alas, it was simply "Winston being Winston" and thus that seems to be the end of it.
It is understood Peters has made no attempt to apologise to the National MP he insulted.
He needs to rectify this soon.
Peters also needs to apologise to Ardern for tarnishing the "relentlessly positive" image of the Government.
After almost 30 years in politics, Peters finally won the ultimate prize. It's a shame his last public act in the job he worked so hard to get was such a shameful performance.