David Hargreaves tries to make sense of what the Government may be planning as the so-called 'recalibration' of the flagship KiwiBuild policy continues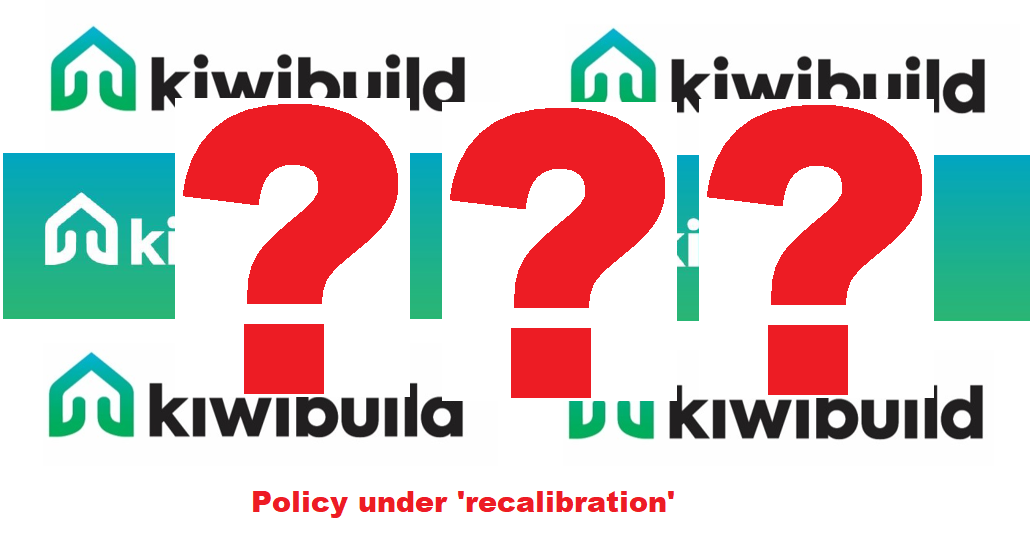 By David Hargreaves
If a Government is about to bury one of its flagship policies, the last thing it will say is that it's burying it.
No. It might say it's reprioritising, or fine-tuning, or, dare I say, recalibrating or resetting the policy. And then without ever saying so it will quietly start spading the dirt on top of the policy. And it will hope people stop talking about it. As soon as possible.
Well, I don't know for sure that the burial is being prepared for KiwiBuild and the (in)famous 100,000 affordable homes. But it's looking awfully like that, isn't it?
I commend anybody who hasn't done so yet to listen to the excellent interview interest.co.nz's Jenée Tibshraeny conducted last week with Housing and Urban Development Minister Phil Twyford.
Everybody takes specific things from an interview they see as noteworthy. Me, I was magnetised by the references to targeting rents about two minutes into the interview. And then I found this comment, about 12 minutes in, was a real showstopper: "…There's no silver bullet. And we've never considered KiwiBuild to be a silver bullet…"
Intrigued, I went back over some of Twyford's media releases in 2017, election year, and have cobbled together a bunch of them here for your information.
How about some of these headlines: "RBNZ Governor's warning shows need for KiwiBuild", or "Homeownership rate hits new low; KiwiBuild needed now", or "Research underlines need for KiwiBuild".
And then how about this passage of text, which is not untypical:
"We can fix this; the Kiwi dream is not dead.

"It's time for government to get off the sidelines and start building houses. Labour's KiwiBuild programme will build 100,000 affordable homes for first homebuyers. That will give young families a real shot at owning their own place, and increase the homeownership rate.

"Labour will help young families into their first homes, just as previous governments did for decades," says Phil Twyford.
Okay, granted, I can't see the words 'silver' and 'bullet' anywhere, but it kind of looks to me as if KiwiBuild WAS being offered up as a simple, seemingly magical, solution to a difficult problem. Oh, and by the way, 'a simple, seemingly magical, solution to a difficult problem', is in fact Wikipedia's explanation/description for the term: "Silver Bullet".
To go back to the interview Twyford gave last week, here's his specific comment about rents that attracted my attention:
"One of the striking things about housing in New Zealand now is the stress on renters in a number of different parts of the country."
This suggests to me that the Government's considering some specific direct targeting for those who rent. Some sort of subsidy or payment relief?
That's curious for a number of reasons.
Consider this passage from one of Twyford's 2017 media releases:
"Labour's housing plan will stabilise house prices and ease rents by building 100,000 affordable homes, banning foreign speculators, and adding thousands more state houses," says Phil Twyford.
Okay, in that release Twyford seems to be indicating that KiwiBuild (don't call it a silver bullet) will help to stabilise house prices and ease rents.
And do you know what, I reckon he's right – if you can build 100,000 houses. I reckon that's what the policy would achieve. It would ease rents.
So, why is he now talking about being concerned about rental prices? Isn't there tacit acceptance in such logic that these people who are renting now will in fact continue to be renters? Isn't this tacit acceptance that these people are NOT going to be able to graduate to being home owners?
Some people rent by choice in this country. I do, if it comes to it. But hell, I tell you what, not many do rent by choice. Virtually anybody who rents in this country wishes they could own their own home. It's the classic New Zealand psyche. Get on that property ladder and start climbing.
By now talking directly about rents, while seemingly avoiding talking about KiwiBuild, Twyford's clearly indicating he no longer sees KiwiBuild as an answer to high rents, nor does he think he's going to build enough houses to get all those renting who wish to buy into their own home. That's what that all says to me.
Losing its nerve
Prior to Christmas I opined that the Government needed to get itself together over the summer break and come back with a clearly articulated plan of how it was going to organise and drive KiwiBuild.
I actually wrote that at the time because I sensed the Government was losing its nerve and that there was a real chance it would backtrack on the KiwiBuild policy.  
My concern then and it's even more the case now, is that the focus will switch from getting people into their own homes; that it will move on to getting people comfy in rental accommodation and yes, in state accommodation.
There's a fine line to tread here. What we want as much as it is ever feasible is to have everybody with a roof over their heads. Homelessness is a tragedy that should not exist in a so-called developed nation. But we also want and need an aspirational environment. The Government is a terrible parent. People as much as is humanly possible should be encouraged to look after themselves. Which means encouraging people to get their own homes. Not creating a comfy looking trap of welfare dependency. But I fear that's where this recalibration/reset (burial) of KiwiBuild may lead us.
Clearly the Government HAS lost its nerve. And that's a shame.
Rent-to-buy, anyone?
Another point I throw in at this stage, although it's digressing slightly, is: Whatever happened to the idea of 'rent-to-buy'? This was explicitly referenced in the Government's confidence and supply agreement with the Greens after the election. I thought it was a great idea. But I can't recall it ever being mentioned since.
Let's wait and see what the Government comes out with on KiwiBuild and housing after the Budget. Bearing in mind though that we've now been waiting a very long time – too long - to hear what the Government intends on this issue.
I still think the Government should have committed all-in to ridding the country of housing shortages by building up the housing stock through KiwiBuild. This I think offered the best chance both of giving us a much-needed upgrade of our housing stock and of tackling affordability issues in a more long-term and meaningful way. But seemingly not.
A definitive plan?
If the Government now comes out with definitive plans to tackle Auckland's urban boundary (which was promised), plans to reform the dreaded Resource Management Act, convincing ways of handling who pays for infrastructure in new developments, ways of making building materials more affordable, and ways to just generally remove the constipation from this country's planning processes, well then I will forgive the Government and may even happily shovel a couple of loads of dirt on to KiwiBuild myself.
If, however, what comes out of this reset amounts simply to getting those currently locked out of the housing market comfy in rentals and in the bosom of the state then, personally, I might be a bit less forgiving.
Here's Twyford from 2017 election year again:
"KiwiBuild is part of Labour's comprehensive plan to boost the supply of housing, restore the Kiwi dream of owning your own place, crack down on speculators, and help families in need," says Phil Twyford.
Well, apparently not for much longer…