ANZ economists say housing credit growth is being supported by falling mortgage rates, but any future downturn in the housing market would be expected to suppress spending and deepen the economic downturn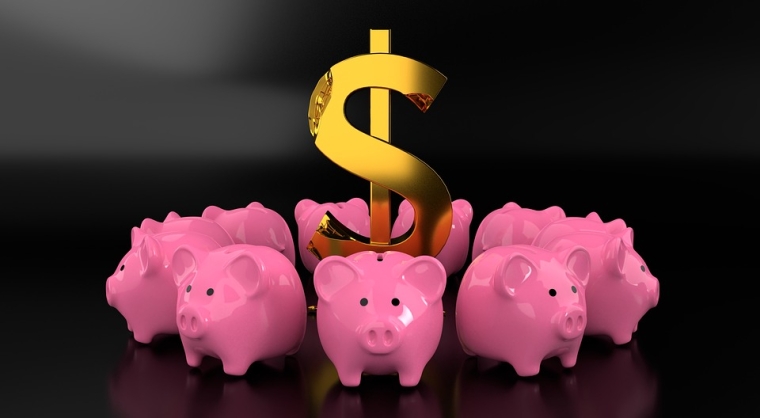 The resilient housing market is proving positive for household spending currently, but any subsequent downturn in the housing market in the future would be expected to suppress spending, ANZ senior economist Liz Kendall says.
In an ANZ Insight publication, Kendall says "so far", the housing market has been resilient, with housing credit growth supported by falling mortgage rates. She says the wage subsidy scheme has also provided a cash-flow boost to help households weather the lockdown-induced income shock.
"However, there is some evidence that households are nonetheless a bit more cautious about taking on debt. Mortgage lending has been supported, but consumer credit has contracted 11% since February; and borrowing by businesses (ultimately owned by households) has been gradually declining.
"We may see some housing wobbles emerge in coming months as fiscal income support wanes, though the extent that this might be counteracted by further declines in mortgage rates is unclear.
"Any downturn in the housing market would be expected to suppress spending further, deepening the downturn."
Kendall says a pull-back in spending on the part of households is bad for growth in the economy.
"But increasing one's rate of saving is an understandable and sensible response on the part of individuals. When income or wealth positions are eroded, it is natural to want to shore up financial positions."
She says, however, it's not, in fact, yet clear what is happening with the savings rate.
"This actually isn't an easy question to answer. The household saving rate is difficult to measure; it is the residual between measured income and consumption, where data on underlying income sources can be noisy and incomplete. Over the period of the Covid-19 crisis, measuring saving will be fraught with even more difficulties and volatility, given that income and spending have both been disrupted by the impacts of Covid-19 and associated restrictions. Saving data is also very lagged; the last data point we have is for March 2019, and we won't know where it was in March 2020 until late this year. However, Stats NZ is currently working on producing this data quarterly and making it much timelier, which will eventually help improve our understanding."  
Kendall says where the saving rate goes from here will depend on income and housing developments, and the impact of interest rates.
"It is unclear how these forces will net out. But often in recessions, the impetus to save increases. We expect that is happening now too, with dampening effects on growth. One thing we do know is that households are more reluctant to spend, with fewer households saying it is a good time to buy a major household item. The data is consistent with levels seen during the GFC – and this is passing through into durables spending. There was a flurry of car purchases  post-lockdown, boosted by pent-up demand, a cash injection from the wage subsidy, and deferred travel spending. But sales have now settled at a more modest level and could come under further pressure as income strains mount (figure 4).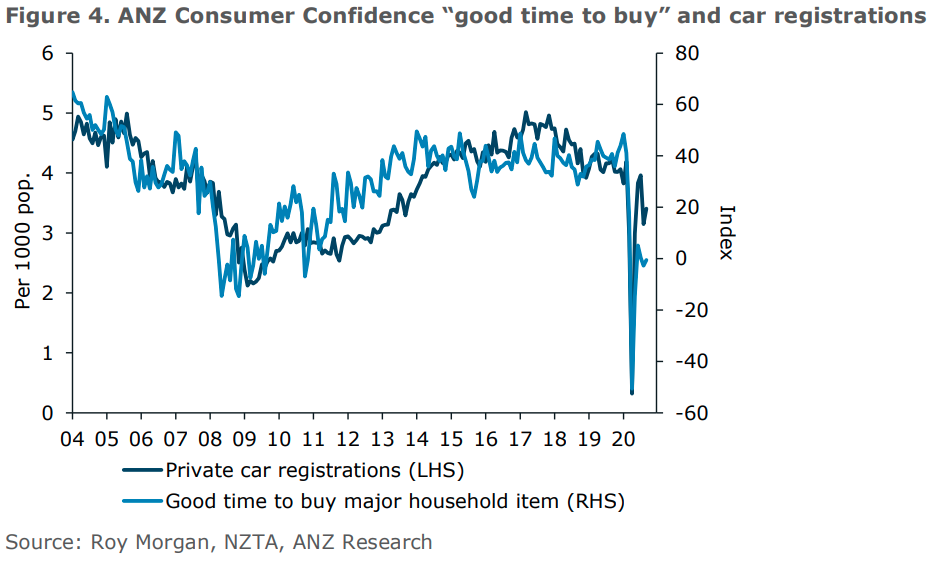 "But is this a higher saving rate or just the impact of lower incomes? Probably a mix of the two – we'll have to wait to find out."
It is tempting, Kendall says, to look at household borrowing and deposit statistics for clues about household saving, "but the latter in particular tells us very little, unfortunately".  
The strong increase in household deposits earlier this year has been primarily a result of the Reserve Bank's quantitative easing (QE, or money printing) programme and the Government's wage subsidy.
"Slower growth more recently has been a matter of timing of various financial flows, but assuming that ongoing QE continues to boost liquidity, deposit growth can be expected to continue, regardless of households' saving decisions."
She says that, likewise, if some households are borrowing more, that doesn't necessarily mean that in aggregate households are saving less.
"So the upshot is that the saving rate is almost certainly rising, as that is an intuitive response to income uncertainty. But we'll have to wait to see it confirmed in the data. And deposit and lending statistics are not the place to look."
On the Reserve Bank's plans to introduce a Funding for Lending Programme (FLP) by the end of the year, providing money cheaply to the banks, Kendall says this would provide stimulus in and of itself, but could also be used in conjunction with a negative  Official Cash Rate to make it more effective.
"An FLP will reduce bank funding costs and thereby weigh on deposit and lending rates, but by how much is unclear. (Note that to the extent that banks take the funds, this will boost the money supply and deposits too.)"
The overall impact of the FLP scheme will be greater, Kendall says, if banks access the scheme at scale and use the funds to lend. But even if the banks do not use the funding, knowing the programme is there as a backstop should contribute to downward pressure on retail rates.
"Take-up of the scheme will depend partly on the strength of deposit growth, and whether banks can "self-fund" through that (figure 6).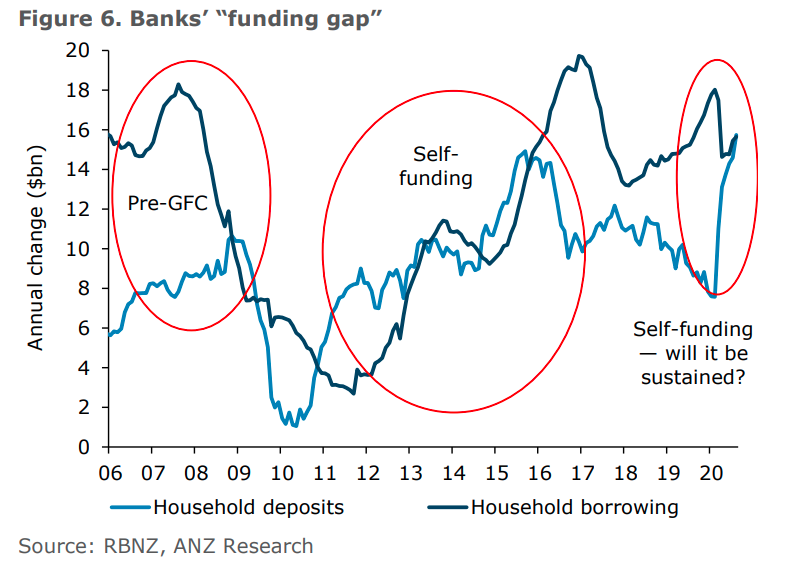 "Although deposit growth is expected to remain robust, we expect there will still be a reason for banks to take up funding via the FLP, because it will be cheaper. But how much funding is taken – and how stimulatory this will be – will depend crucially on the strength of credit demand," Kendall says.  
"Downward pressure on retail rates will provide an incentive for households to borrow and spend. However, although we expect the FLP will be stimulatory, households are likely to remain somewhat cautious towards debt and spending as the weak economic environment becomes clearer.
"As such, the RBNZ is likely to conclude that more stimulus is required beyond the FLP for it to meet its inflation and employment mandate. We expect that the OCR will be taken negative in April next year."