British government acting on advice buy now pay later credit sector needs to be regulated 'as a matter of urgency' to protect consumers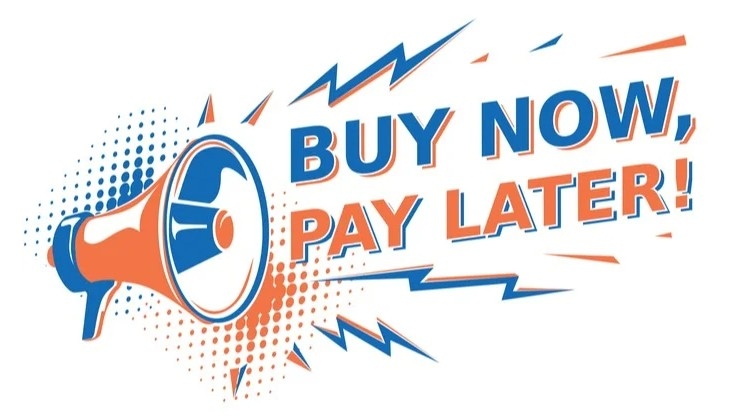 The British Government has decided to regulate the burgeoning buy now pay later (BNPL) credit sector, something the New Zealand and Australian governments are yet to do.
Interest-free BNPL credit agreements will be regulated by the Financial Conduct Authority (FCA) in order to protect consumers, John Glen, Britain's Economic Secretary to the Treasury, says.
"Buy now pay later can be a helpful way to manage your finances but it's important that consumers are protected as these agreements become more popular. By stepping in and regulating, we're making sure people are treated fairly and only offered agreements they can afford – the same protections you'd expect with other loans," Glen says.
The British Government plans to give the FCA, their equivalent of the Financial Markets Authority, oversight of BNPL service providers, and allow people to escalate any complaints to the Financial Ombudsman Service if things go wrong.
The decision comes after a review of change and innovation in the unsecured credit market was reported to the FCA board recommending BNPL regulation. The review was chaired by Christopher Woolard, a former FCA board member and CEO.
Woolard's review recommends that; "As a matter of urgency, the FCA should work with the Treasury to ensure the necessary amendments to legislation are made to bring BNPL products within the scope of regulation."
"The unregulated BNPL market more than trebled in size in 2020, poses potential harms to consumers and needs to be brought within regulation to both protect consumers and ensure it is sustainable," the Woolard report says.
Here in New Zealand the BNPL sector was considered in a 2018 Ministry of Business, Innovation & Employment (MBIE) review of consumer credit. MBIE advised there was very limited evidence of consumer harm from BNPL products at that time. Thus it was decided the BNPL sector wouldn't be dragged under the umbrella of the Credit Contracts and Consumer Finance Act, even though it has features of consumer credit contracts.
In February last year the then-Commerce and Consumer Affairs Minister Kris Faafoi told interest.co.nz he was "keeping a close watch on the sector."
Aside from consumers, retailers BNPL service providers partner with are also their customers. BNPL business models typically rely on merchant fees paid by the retailer to the BNPL provider, based on a percentage of the order value. In NZ these can be about 5%. In December the Government announced plans to regulate merchant service fees, and said it's considering regulating BNPL merchant fees.
Gary Rohloff, managing director of NZ BNPL company Laybuy which operates in Britain, says Laybuy is already in a strong position in relation to potential UK regulatory change.
"We agree that there needs to be a balance to protect consumers, but also support the innovation and simplicity that consumers value. We will continue to work closely with the regulator and the UK Government as it considers the next steps following this review," Rohloff says.
In Britain the FCA estimates the BNPL sector comprises about 1% of the total credit market, with a total value of transactions of about £2.7 billion, having accelerated very quickly to get to that point. In 2019 a NZ Post report said more than 228,000 New Zealanders had signed up to BNPL schemes. Appealing to young people and females in particular, this number is likely to have grown significantly since then.
The Woolard review points to significant growth in BNPL use since the COVID-19 pandemic hit, saying as of December, 11% of British consumers, or five million people, had used a BNPL product since the start of the pandemic.
"When BNPL is provided to those who can afford to repay on time, it is a cost-free way to access credit easily. If repaid on time, it is significantly cheaper than most alternative forms of regulated credit. It can play a useful role as an alternative to higher cost borrowing for those who may struggle to access mainstream credit elsewhere," the Woolard Review says.
However, there are a number of potential harms including that some customers don't view BNPL as credit, or debt.
"Given this perception, there is a risk that consumers may not apply the same level of scrutiny to their decision-making as they would for other credit products, including consideration of the potential consequences of failing to repay," the Woolard Review says.
"BNPL providers take a variety of approaches to late payments, defaults and collection practises. Some charge late payment fees, capping them at a percentage of the initial transaction, while others don't charge anything at all. Some, but not the majority, report late payments and defaults to credit reference agencies. Some pass debts onto debt collection agencies while others write the debt off. Most providers won't continue lending to individuals who have outstanding payments with them."
The Woolard Review describes the need to regulate all BNPL products as "urgent."
"While the emergence of unregulated BNPL products has provided a meaningful alternative to payday loans and other forms of credit, BNPL also represents a significant potential consumer harm," it says.
The fast growth of the BNPL sector has made its companies share market darlings in Australia, where eight are now listed on the ASX enjoying high valuations even though they're loss making. The Australian Financial Review reported on Wednesday that Matthew Walton, Afterpay's chief financial officer for less than six months in 2016/17, has now exercised his share options pocketing A$48 million.
Details on what NZ BNPL service providers such as Afterpay, Laybuy and humm offer can be found here. Below is a summary from the Woolard Review of what's on offer in Britain.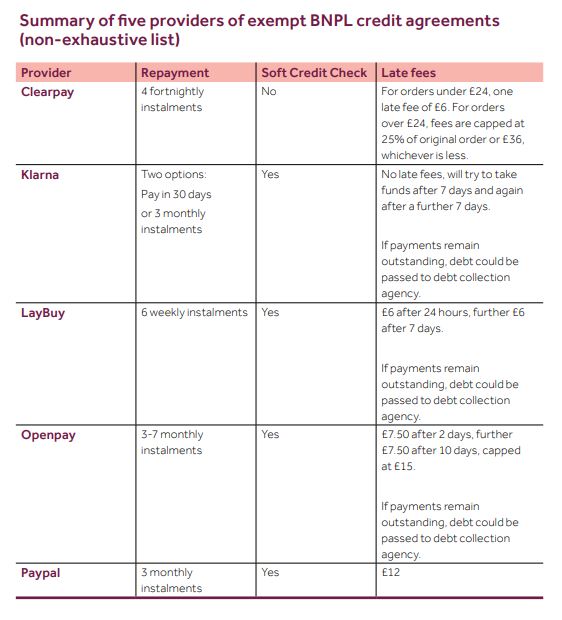 *This article was first published in our email for paying subscribers. See here for more details and how to subscribe.