Highly liquid gold delivers superior risk-adjusted returns than other commodities, is a proven store of value, and has low volatility, says the World Gold Council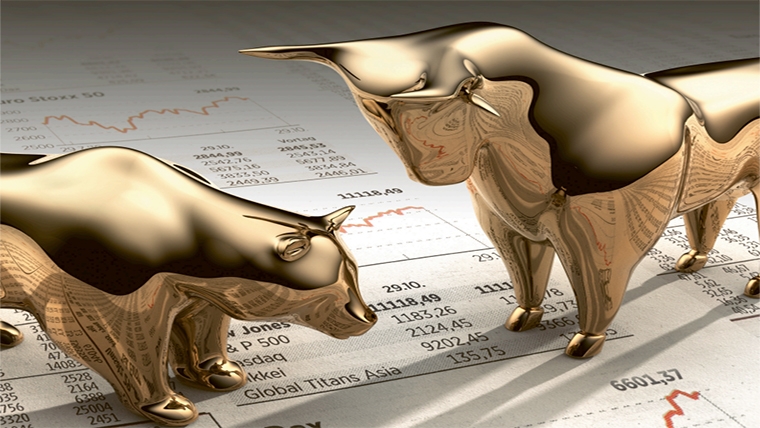 Content sourced from the World Gold Council. The original is here.
---
The current global economic landscape indicates improving economic conditions, higher inflation and rates expectations, as well as commodity supply shortages which are likely to support commodity performance. This is reinforced by the fact that investors are increasing their allocation to commodities.1 While broad-based commodity investments are often used as a source of returns and diversification, the benefits tend to be tactical.
Our analysis suggests that gold is still the most effective commodity investment in a portfolio as it continues to stand apart from the commodities complex. It deserves to be seen as a differentiated asset as it has historically benefited from six key characteristics:
• It has delivered superior absolute and risk-adjusted returns to other commodities over multiple time horizons
• It is a more effective diversifier than other commodities
• It outperforms commodities in low inflation periods
• It has lower volatility
• It is a proven store of value
• It is highly liquid.
2021 key developments
Gold is a commodity that has always stood apart, but there have been recent market developments that build on its existing differentiators while illustrating the importance of its role in a portfolio.
• The commodity reflation trade is in full effect, which can negatively impact risk-on assets and could suggest a larger allocation to gold
• Gold's weight in commodity indices is increasing, and should continue to increase for a strategic allocation
• Gold's volatility has been stable despite the variability in equities, bonds, and alternative assets.
Commodities can be tactically relevant investments, but a strategic gold allocation on its own can supplement or replace a broad-based commodities investment.
Real assets have tended to do well in reflationary periods
Understanding historical asset performance during reflationary periods is relevant for understanding how assets could perform during the current period. We examine the performance of various assets during the last two periods of reflation, i.e. Consumer Price Index (CPI) trough to peak, and compare this to the current environment.2
The results confirm the idea that assets like Real Estate Investment Trusts (REITs) and Treasury Inflation-Protected Securities (TIPS) were solid performers, with commodities and gold performing well. Additionally, it confirms gold's meaningful outperformance over equities and bonds.
But what it also suggests is the potential upside in gold compared to how broad commodities have performed during the recent reflationary period. In the previous two periods, gold outperformed broad commodities. However, in the current environment, gold is down 10% compared to commodities, which are up substantially.3
Gold lagged other commodities beginning in May 2020, and has continued through the first half of 2021, but this is not unusual in commodity-led reflationary periods historically, as we addressed in our recent publication, Gold, commodities and reflation. Historically, gold lags initially, but catches up to most major commodity groups by the second and third years of a reflationary period.
Volatility has increased globally, but less so for gold
Volatility increased across major assets and commodities in 2020, driven by COVID-19-induced uncertainty, but less so for gold comparatively (Chart 1). A key reason for gold's relative stability stems from its role as a diversifier in turbulent markets, as well as stronger left-tail correlation between many other commodities and risk-on assets.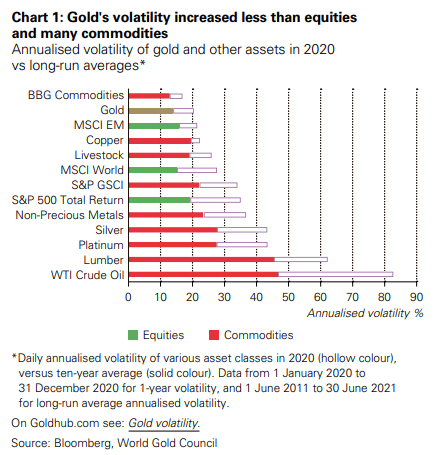 It is interesting to note that the increase in the volatility of the broader Bloomberg Commodity Index (BCOM) in 2020 was not as substantial as one may have expected. This is largely a function of the significant dispersion of commodity performance, particularly with oil performing so poorly, and other commodities like gold performing so well, evidenced by overall commodities returns of -24% and -3%, compared to a gold return of 25%.4 Simply put, commodities as a whole exhibited lower volatility than gold, but they did not protect the portfolio as well as gold (Chart 2).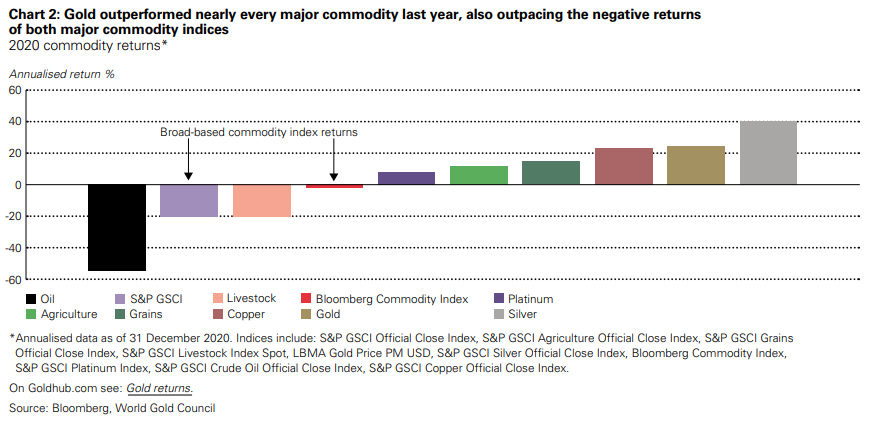 Focus 1: Commodity index providers have increased their gold weightings
In November 2020, we noted that major commodity indices would increase gold weightings for a second year in a row, which is an indication that index providers are, perhaps, acknowledging a greater importance for gold within a portfolio and broad-based commodity index.
Our 2019 report discussed our belief that gold's weighting in the broader commodity indices was underrepresented. Some of the reasons for this include:
• the diversity of gold's liquidity
• the lack of understanding of overall gold trading volume
• capped weights in specific sub-sectors
• gold's economic significance
• the size of the gold market
• its diversification benefits.
Since then, gold's weight in both the S&P GSCI and BCOM has increased two years in a row, with 2021 highlighting gold as the largest individual commodity weight increase in the S&P GSCI, as well as its highest weight ever in the BCOM.5 This also took the precious metals weight of the index to an all-time high. The weight increase in both indices is broadly a function of increasing production and trading volumes. Focus 3 provides specific details on the index target weight methodology for both indices.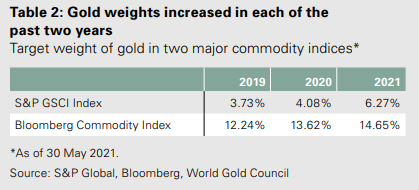 While our analysis suggests the ideal weight of gold in an optimised commodity portfolio should range from 20% to 35%, we feel the continued increases are a step in the right direction.6
---
Notes:
1. "Rethink, Rebalance, Reset: Institutional Portfolio Strategies for the Post-Pandemic Period", July 2021, Coalition Greenwich (formerly Greenwich Associates).
2. Using National Bureau of Economic Research (NBER) recession index (USRINDEX) via Bloomberg to determine analysis starting points. In our analysis, a reflation begins during the last month of the NBER recession and is loosely characterised as an environment of resurgent economic growth twinned with rising inflation and interest rates.
3. 31 August 2020 to 30 June 2021.
4. Total returns for the S&P GSCI and Bloomberg Commodity Index for 2020, respectively.
5. S&P GSCI is a world production-weighted commodity index based on the average of the previous five years.
6. Analysis based on New Frontier Advisors Resampled Efficiency, including individual and sub-index commodities. For more information see Efficient Asset Management: A Practical Guide to Stock Portfolio Optimization and Asset Allocation, Oxford University Press, January 2008.
---
This is part of a World Gold Council publication, Gold: the most effective commodity investment, which is available here.
---

Our free weekly precious metals email brings you weekly news of interest to precious metals investors, plus a comprehensive list of gold and silver buy and sell prices.
To subscribe to our weekly precious metals email, enter your email address here. It's free.
---
Comparative pricing
You can find our independent comparative pricing for bullion, coins, and used 'scrap' in both US dollars and New Zealand dollars which are updated on a daily basis here »