Personal Finance
/
analysis
In their second edition of The Vault, ANZ commodity strategists think heightened geopolitical risks will drive investor demand for gold, and make it a good hedge against inflation despite a strong USD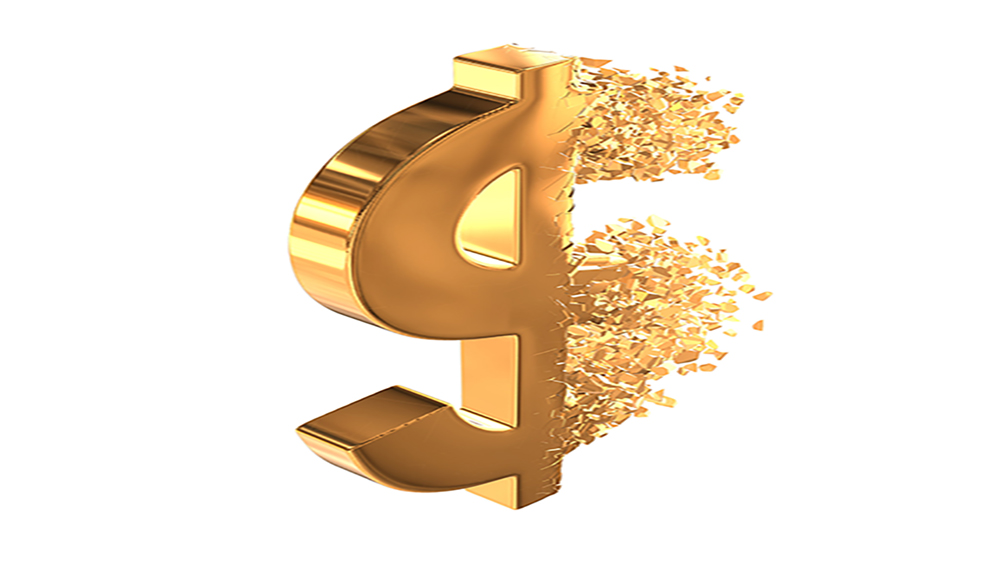 By Daniel Hynes and Soni Kumari*
Highlights
• Investor demand for gold is strong, amid heightened geopolitical risks.
• We see gold continuing to be a good hedge against inflation.
• Prices are sitting in a neutral zone of USD1,920–50/oz. A break above USD1,960/oz would be a bullish signal.
---
Outlook
Aggressive monetary tightening, rising yields and a stronger dollar are key drags for the gold prices. Rising inflation failed to impress the market, instead raising fears of a more hawkish stance by the central banks. That said, the spread between the fed funds rate and CPI is at its widest, suggesting the Fed is struggling to contain inflation.
Concerns about global economic growth, fueled by sustained inflation and heightened geopolitical risks, should protect the gold price somewhat. We expect gold to remain supported at USD1,850/oz, with upside potential of USD1,950/oz.
Investment demand has suffered recently, with investors liquidating nearly 23t since late April. Net-speculative positions have lost241t since early March. Investors are both liquidating long positions and adding fresh short positions. The short term is looking challenging as there is still room for further selling.
Higher prices and economic growth concerns are weakening physical demand. India's gold imports fell to 16.5t in March, and soaring inflation could have a negative impact on gold jewelry demand. Lockdowns in major cities of China is also likely to cause suppress demand.
Figure 1. US 10y Treasury yield rose to its 2018 level
What are the major risks for the gold price?
Aggressive Fed rate hikes, faster quantitative tightening, the stronger US dollar and any possible easing of Russia's invasion of Ukraine are the main possible headwinds for the gold prices. The US 10y yield rose to its 2018 high, reducing gold's investment appeal. We expect the Fed to hike rates with 50bp hikes in both June and July, taking the terminal rate to 3.75% by mid-2023, above our estimate of neutral (2.5%–3.0%).
Higher inflation risks and lingering geopolitical tension are likely to offset some of these risks. The key development to watch is the Fed's reaction to any upside surprise in inflation, which could impact real interest rates.
Is there further downside risk to gold prices in Q2?
We expect downside risks to be limited after the price hitsUSD1,850/oz. Sustained geopolitical risk and elevated inflation have been supportive factors. The uncertainty facing the euro area economy is intense, given elevated energy costs and uncertain gas supplies, plus rapidly accelerating inflation. Further, corrections in equity markets amid the uncertain economic backdrop will benefits gold's status as a risk diversifier. Gold looks well supported at USD1,850/oz in the short term.
Have gold prices largely given up the geopolitical risk premium?
While the war in Ukraine drags on, geopolitical tension will remain a risk. The European Union's bans on oil and gas imports from Russia could not only tighten supplies for energy but impact the broader commodity complex. This, in turn, could trigger protectionism, further disrupting commodity supply chains. So the ongoing risk is likely to support gold's appeal as a safe haven asset.
How does investment demand look for rest of the year?
Investment flows have eased recently as headwinds have strengthened. After starting the year strongly, ETFs outflows have been 24 tonnes since late April, down from the peak of 3,329 tonnes. Investors have been liquidating futures positions, and there is room for further liquidation if bearish market sentiment dominates.
We expect investment demand to be guided by geopolitical and inflation risks. Should the Fed tighten monetary policy more than expected and geopolitical risks escalate, demand may take a hit. However, risks to the economic outlook could offset those headwinds and support investment demand later this year.
Is lacklustre physical demand a cause of concern?
Physical demand (jewelry and industrial) weakened by 3% in Q1 2022 due to higher prices and China's lockdowns. Jewelry demand in India and China together fell by 15% y/y in Q1. A resurgence of COVID-19 cases in China, a deteriorating global economic outlook and higher prices are the key headwinds for physical consumption. We downgraded our 2022 jewelry demand growth expectation to 1%y/y from earlier estimates of 5%y/y. High prices in March discouraged Indian gold imports which fell to16.7tand are likely to remain muted given that fuel prices adding to import costs. COVID-related lockdowns in China are likely to subdue demand for the short term. It is, however, investment demand that really guides the gold market.
What would motivate central banks to purchase more gold?
Central banks tend to diversify their foreign currency reserves during crises, increasing their gold buying. De-dollarisation (a move away from the US dollar) has been driving central bank purchases in recent years, with China and Russia buying more gold. Russia holds 21% of its reserves in gold. Further sanctions could trigger more gold purchases by central banks.
Upside pressure to build up
The prospect of an aggressive fed rate cycle has seen the USD rally and bond yields rise, triggering a fresh round of gold selling. Prices have recently fallen below the 100-day moving average. Gold found some relief after the Fed took a rate hike of 75bp off the table, pushing prices back towards USD1,900/oz. We see the short-term key support level being USD1,850/oz. Should it break below this, prices could easily retreat to USD1,800/oz.
Nevertheless, we see a falling wedge formation on the chart starting from early March, which suggests bearish momentum is fading. Prices have hit a lower bound of USD1,830/oz, and we expect a trading range of USD1,850–1,930/oz in days ahead. A convincing break of above the upper trend line of USD1,930/oz would confirm a bullish move. Once this level breaks, prices could touch the previous highs of USD2,000/oz and USD2,050/oz.
Figure 2.Gold daily technical chart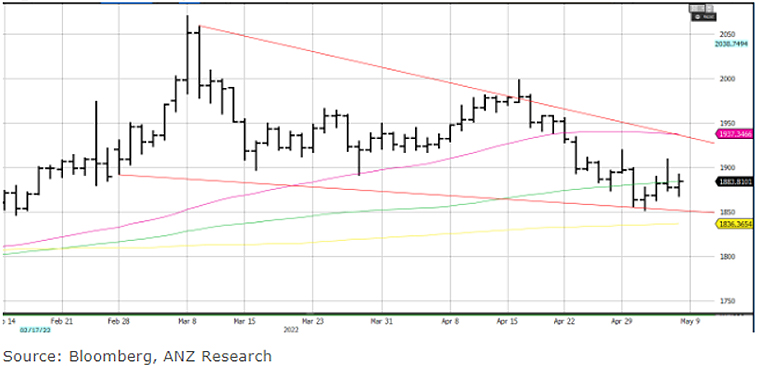 ---
Daniel Hynes and Soni Kumari are commodity strategists at ANZ. This article is a re-post from ANZ and is here with permission.
---

Our free weekly precious metals email brings you weekly news of interest to precious metals investors, plus a comprehensive list of gold and silver buy and sell prices.
To subscribe to our weekly precious metals email, enter your email address here. It's free.
---
Comparative pricing
You can find our independent comparative pricing for bullion, coins, and used 'scrap' in both US dollars and New Zealand dollars which are updated on a daily basis here »