The reasons for investing in gold are varied. The World Gold Council lists five core reasons, and one of those is because it is an inflation hedge.
(We have previously looked at diversification as a reason, here ». )
Most analysis of these reasons is international, with a strong US dollar bias. This series extends that work from a NZ dollar perspective.
Gold is recognised by investors around the world as one of the most reliable hedges against inflation.
The World Gold Council points out that the value of gold, in terms of the real goods and services it can buy, has remained largely stable for decades, if not centuries.
In 1900, the gold price was US$20.67/oz. And, in the five years to end-December 2011, the price of gold averaged around US$1,066.6/oz. Prices in 2011 have consistently remained well above the US$1,300/oz level and, indexed to 1900 prices, gold has held its value better than any other currency. Gold's real price has endured a century characterised by sweeping change, inflation and repeated geopolitical shocks. Despite all challenges, it has retained its purchasing power. In contrast, the real value of most currencies has generally declined.
But is this true for New Zealand investors?
More than that, is it relevant?
The very long term inflation hedge characteristics may be interesting, but to be effective this attribute needs to be both true during the time scale of a current investor, and needs to be better than other assets that also exhibit inflation hedging characteristics. From a Kiwi perspective, real estate is an obvious comparative, but more generally soft and hard commodities need investigation too.
Time scale
The World Gold Council has produced some very long inflation adjusted comparisons for a wide range of currencies. But the set does not include the NZ dollar.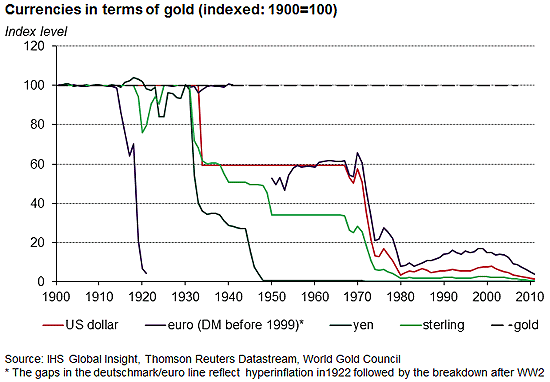 Fair enough - but that history is pretty ancient. Investors are probably better considering the time period since 1980, the period when regulators actually got on top of inflation after the 'stagflation' mess of the 1970's. And they should look at that shorter track record from the modern perspective of whether the future is one of deflation, balance, or inflation.
For 25 of the last 32 years, the price of gold in New Zealand dollars declined; for the past seven years however it has generally appreciated.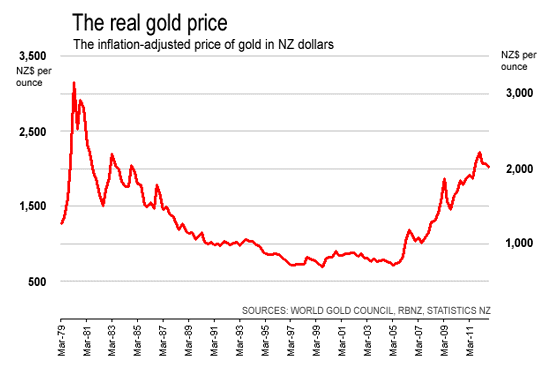 Another way to say this is to observe that for New Zealand investors, gold has not been a good inflation hedge for most of this period, although recently it has held its value well.
Of course experience has shown that gold can deviate from its long-run inflation-hedge price. During a sustained buoyant period, as is currently the case, it can even offer opportunities for impressive returns.
Whether gold is a practical inflation hedge depends on a number of things as judged by an individual investor and their investment timeframe:
- the expected changes in price of the yellow metal
- the expected view of future inflation (or will it be deflation?)
- anticipated levels of supply and demand, including potential demand by central banks.
Other inflation-hedge options
New Zealand investors have inflation-hedge options in other assets.
These options include real estate, and soft commodities. Real estate has a track record, but a disadvantage is that it is quite illiquid (despite Auckland's current property boom) and is subject to potential regulatory risk: will we get a land tax or other CGT? You also need to risk substantial funds to play this game, and for most people that undercuts their ability to stay diversified.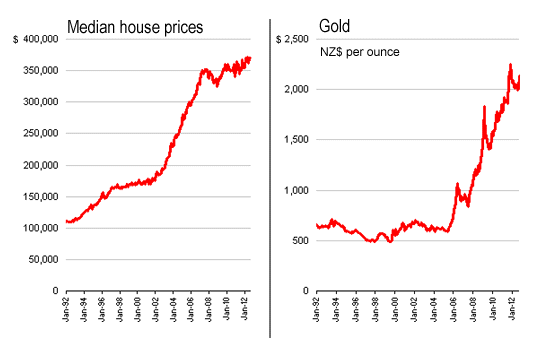 The new Fonterra share trusts will also allow us to invest in the future of a core food commodity that is expected to be founded in rising long-term demand, with a characteristic that it is relatively immune to low-growth risk. But this is all very new and lacks the track record of precious metals.
The international research
The World Gold Council commissioned Oxford Economics to assess this area. This review is here » (you may need to register and log in to read the report, but it is free).
If you look at life from an international perspective, their conclusions will resonate.
Our scenario analysis using the Oxford Global Model shows that gold may perform especially strongly in more extreme economic scenarios featuring high inflation, a weak dollar and elevated levels of financial stress.

But gold also performs well in our deflation scenario, where very high levels of financial stress triggered by sovereign defaults in the EU causes a flight to safe assets. As such, gold's potential role as "risk insurance" in a balanced investment portfolio is clear.

Moreover, our optimisation analysis suggests gold's lack of correlation with other assets means that it has a role to play in reducing the volatility of investment portfolios even in more benign scenarios when its long-run real return is negative; gold's optimal portfolio allocation in our baseline scenario is 4-9%, depending on risk appetite.

These considerations may partly explain why gold's use as an investment vehicle appears to be rising, with investment-driven demand up to around 40% of the total in 2010 from less than 15% in 2002. With central banks becoming net buyers of gold in 2010 for the first time since the late 1980s, there seems to be evidence of a reappraisal of gold"s value by various classes of investors.
------------------------------------------------------------------------------------------
You can find detailed, up-to-date pricing for gold coins, bars/bullion, and gold scrap, all in both NZ$ and US$, here »
------------------------------------------------------------------------------------------