Local gold miner overcomes production issues to record a strong finish to 2012, reducing production costs and raising output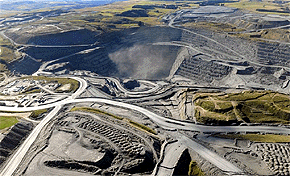 OceanaGold's share price fell 4.2% yesterday to NZ$3.16 ahead of its full-year results which will be released tomorrow (Thursday).
The fall is in response to an analyst forecast that they will report a small drop in revenues and a big (32%) drop in earnings.
The South Island gold miner OceanaGold says it finished 2012 meeting its production and cash cost targets, but weakness earlier in the year may have been too much to make up even with good Q4 results.
It said both its Macraes and Reefton operations delivered higher grades during the fourth quarter and thus production was up 55% on the previous quarter.
The ASX, NZX and Toronto listed gold miner said 2012 production was 232,909 ounces, with the Macreas mine Q4 production at 58,872 ounces a 60% rise over Q3.
The Reefton mine rose Q4 production 43% over Q3 to 17,972 ounces, due to accessing higher ore grades and imporved recoveries.
It hasn't all been plain sailing through. In January, heavy rains resulted in ground movement at the Macreas open pit and production stopped for 16 days while remediation work was done.
2013 production levels are expected to be variable as they work through varying grade profiles.
Actual revenue for Q4 was US$119 million which was sold at an average price of US$1,705 per ounce. (Sales were of 69,761 ounces.)
Cash operating costs were US$638 for Q4 and US$940 for full 2012. The decrease in cash costs from the third quarter 2012 was mainly attributable to higher ounces of gold sold the company said.
The company also has operations in the Philippines and a new mine there is expected to start production this year.
------------------------------------------------------------------------------------------
You can find detailed, up-to-date pricing for gold coins, bars/bullion, and gold scrap, all in both NZ$ and US$, here »
------------------------------------------------------------------------------------------