German doubts about eurozone policy direct trigger a sharp rise in the gold price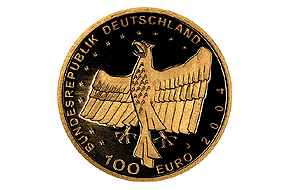 Gold rose US$15 per ounce overnight closing in London $1,594 and in New York at US$1,592 per ounce. That is a daily rise of just under 1%.
The jump came after the price of the precious metal had been soft during March, averaging US$1,578 in the first 10 days which was 3% down on the February average, and 5.5% down on the January average.
Driving the rise were reports of frustration within the German central bank over the wavering support for eurozone reforms.
The Germans are said to have doubled their reserves as one of the measures to insulate themselves from what they see as on-going sovereign fiscal instability in the EU.
The news shook markets and raised perceptions of risk. 
The move higher for precious metals reflects the heightened risk.
In NZ$, the daily rise is NZ$21.60, up more than 1.1%.
Two policy camps have developed among regulators.
The Keynesians want to grow themselves out of recessionary forces by massive public spending, borrowing and money printing programs, currently being carried out by quantitative easing. The Americans and Japanese are in this camp.
The Austerians want to get debt and deficit levels down as a priority so that when growth returns it is sustainable and free from hangover debt. The EU and eurozone were in this camp. But southern eurozone countries are rebelling over the short-term impacts and are not expected to maintain the policies.
The commitment is even fraying in France now.
The Germans sense previous commitments are unraveling and are positioning themselves for what they see as the inevitable consequences.
Assets that store value - and precious metals have been such investments - have benefited from monetary policy uncertainty.
This is because investors forsee currency debasement coming.
Reuters is reporting physical buying continued in Asia, spurred by comments from the Bank of Japan reiterating that they will accelerate quantitative easing aiming at ending years of deflation.
They also noted precious metals interest remains high in China, with average daily trading combined volumes on the three main gold contracts on the Shanghai Gold Exchange up 24% in the first two months of the year.
Rises were also reported in India.
---------------------------------------------------------------------------------------------------------------------------------------
You can find detailed, up-to-date pricing for gold coins, bars/bullion, and gold scrap, all in both NZ$ and US$, here »
---------------------------------------------------------------------------------------------------------------------------------------

Our free weekly precious metals email brings you weekly news of interest to precious metals investors, plus a comprehensive list of gold and silver buy and sell prices.
To subscribe to our weekly precious metals email, enter your email address here.
---------------------------------------------------------------------------------------------------------------------------------------