Latest RBNZ figures show that net household financial wealth has surged by 10% in the last quarter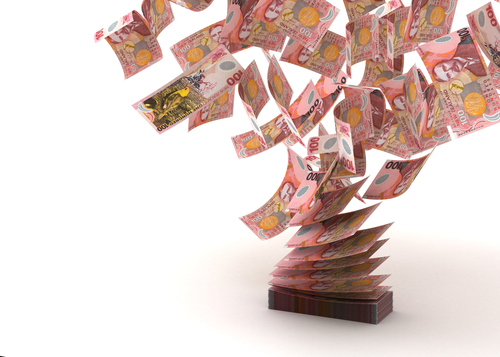 That loud clanking and jingling you can hear is the sound of money pouring into the coffers of New Zealand households.
Kiwi Household Inc had a pretty darn good September quarter according to new statistics from the Reserve Bank.
The RBNZ said that as at the end of September the total net household wealth for New Zealand households stood at $55.81 billion, up some 10% on the $50.709 billion figure recorded for June and compared with $42.516 billion in September 2012.
The latest figure shows a strong bounce-back in the household finances after net wealth in fact dropped for the first time in two years in the June quarter.
Also, the latest figure is nearly double the amount of wealth households had just two years ago and about five times the amount in the kitty in March 2009 at the low point after the global financial crisis.
As at September NZ households had $255.734 billion in financial assets (up from $248.211 billion in June) and $199.924 billion of liabilities (mostly mortgages), up from $197.501 billion in June.
Key factors in the rise in financial assets in the latest period, included a lift in NZ bank deposits to $119.238 billion from $116.681 billion in June, a climb in superannuation, life insurance and managed funds to $80.544 billion from $77.907 billion in June and a very impressive surge in the value of directly owned NZ share investments to $24.048 billion from just $22.036 billion in June.
Not included in these figures are the value of houses, which are shown separately, but the figures for September are not yet available.
As at June Kiwis had net equity in houses (the total value of houses minus the amount borrowed on them) of $505.047 billion, which was up from $490.751 in March and $455.230 in June 2012.
Quarterly household disposable income as at September this year was calculated at $34.473 billion, up from $34.025 billion in June and $33.094 billion in September 2012.
Annual disposable income was $135.425 billion as at September, compared with $$131.907 billion in September 2012.
A key statistic the RBNZ looks at is the percentage of total financial liabilities to annual disposable income. 
After breaking through the 100% barrier in early 2000 this ratio rocketed to as high as 153% (ie financial liabilities equalled 153% of disposable income in March 2009 before coming down to 142% in March last year.
However, it has continued to slowly rise again since, reaching 148% as at the end of September, up from 147%.
The RBNZ has been concerned about Kiwis' debt levels and vulnerability to a house market shock and therefore a flow-on shock to the banks that have loaned on the houses. This was the key underpinning reason for its decision to implement "speed limits" on high loan-to-value lending as at October 1.
But for the more cheerfully disposed, while the household debt ratios are slowly rising again, the ratio of household financial assets to disposable income is rising more quickly. It was at 189% as at September, up from 185% in June and just 176% in September 2012.