Roy Morgan names Kiwibank and TSB winners in the financial services categories of its annual customer satisfaction awards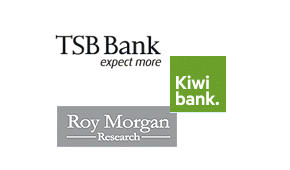 Kiwibank has been named Major Bank of the Year for the third straight year in Roy Morgan Research's third annual Customer Satisfaction Awards, with TSB Bank taking out the Financial Institution of the Year Award for the first time.
Roy Morgan revealed its 2013 winners in Auckland on Thursday night. Pip Elliott, the firm's New Zealand general manager, noted TSB won Financial Institution of the Month in 11 of 12 months during 2013, with SBS Bank winning in June. With satisfaction steady at 95% throughout the last quarter of 2013, Elliot said TSB was positioned to continue the winning streak this year.
In the Major Bank of the Month category, Kiwibank also won 11 times, with BNZ winning in March. However, a late surge from ASB means it's "the challenger to watch" in 2014, Elliot said.
Kiwibank also took out the Major Bank of the Year category, for banks with at least 7.5% market share, in 2011 and 2012. SBS Bank won the Financial Institution of the Year category, which includes banks, insurers, and some financial service providers, in both 2011 and 2012.
"Talking about our satisfaction (or dissatisfaction) with our financial institution is practically a Kiwi pastime," Elliot said. "And every bank, credit union or building society faces intense competition for the trust and loyalty of New Zealanders. The award-winning organisations have clearly researched and implemented ways to attract and satisfy old and new customers, whether they service a defined and concentrated market or any Kiwi with a spare dollar for safekeeping or a desire to borrow more."
In other categories Air New Zealand, 2degrees, Suzuki, Apple iPhone, Energy Online and sports store Hunting & Fishing each won their respective categories for the third consecutive year.
Howard Seccombe, Roy Morgan's international client services director, suggested social media makes customer satisfaction more important than ever.
"Social media such as Facebook and Twitter have given customers a megaphone to broadcast their praise or disapproval, while smartphones allow instant access to information about prices, availability and ratings," said Seccombe.

"Businesses across all industries need a continuous, accurate, quantified measure of overall customer satisfaction. These awards identify and commend the businesses that listened to their customers throughout 2013 and provided an industry-leading level of satisfaction."
"Roy Morgan Research congratulates not only the award-winning businesses, but all that made efforts to provide a better product, service or environment to customers in 2013," Seccombe added.
He said New Zealanders spent more than $5.87 billion online in 2013, but Roy Morgan's Research suggested only 38% of New Zealanders feel comfortable giving credit card details over the internet. Seccombe said two out of three online shoppers prefer buying from online retailers they know, with 52% of online shoppers buying only from New Zealand online stores.
Customer Satisfaction Awards Winners –2013

Financial Institution of the Year TSB Bank

Major Bank of the Year Kiwibank

Car Manufacturer of the Year Suzuki

Quick Service Restaurants of the Year Burger Fuel

Chemist / Pharmacy of the Year Amcal

Clothing Store of the Year Hallensteins

Coffee Shop of the Year Starbucks

Department Store of the Year Ballantynes

Furniture / Electrical Store of the Year Bond & Bond

Hardware Store of the Year Hammer Hardware

Liquor Store of the Year The Mill Liquorsave

Music / Book Store of the Year Paper Plus

Shoe Store of the Year Hannahs

Sports Store of the Year Hunting & Fishing

Supermarket of the Year Pak 'nSave

Handset Provider of the Year Apple iPhone

Home Phone Provider of the Year TrustPower Kinect

Home Internet Service Provider of the Year TelstraClear

Mobile Phone Service Provider of the Year 2degrees

Domestic Airline of the Year Air New Zealand Link

Hotel And Resort of the Year Hilton

International Airline of the Year Emirates

Electricity of the Year Energy Online

Gas of the Year Nova Energy
This article was first published in our email for paying subscribers. See here for more details and to subscribe.