Semble mobile wallet launches with ASB, BNZ and telcos on board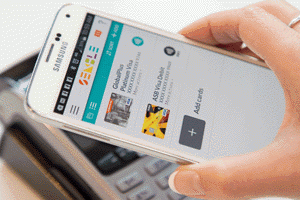 Semble, a collaborative project including the country's three mobile phone network operators, ASB and BNZ, has today launched New Zealand's first mobile wallet.
"From today close to one million Android smartphone customers around the country will be able to download the free Semble app and to make secure payments at contactless (payments) terminals using only their smartphone," Semble CEO Rob Ellis announced at a media briefing in Auckland.
"From day one with Semble we have all three mobile network operators and two of our major banks. Between them they have 20 different Semble ready phones and 25 different credit and debit cards that can be added to Semble," Ellis added.
Semble also includes payments network Paymark.
The initial launch, offering users the ability to make payments, is just the beginning Ellis said, with "many more" service providers set to join in the future including more banks, loyalty cards, public transport cards, ticketing, offers, and vouchers. From April a trial will launch, testing special offers for redemption at point of sale via the Semble app, initially with BurgerFuel. And from June Snapper cardholders will be able to use their smartphones when they take public transport.
The Semble app works with the addition of a "Semble Ready" SIM card, housing a chip like those used in credit and debit cards. To use Semble, people then hold their smartphone over any contactless payments terminal, wait for an accepted notification on the terminal, which is the signal the transaction is complete. The SIM card is available from Vodafone, 2degrees and Spark.
"Semble is a natural evolution of how we already use our smartphones for so many different things on a day to day basis. Merging the wallet with the smartphone is the obvious next step," said Ellis. "The vision is to replace our over stuffed wallets and put all our stuff in our smartphones."
"(It's) one app, a single access point, with multiple services on offer. It  represents a whole new virtual mobile marketplace for business, and a new experience for kiwis who we know are ready for this.," he added.
Semble says in the "majority of cases" customers with compatible phones won't be charged for Semble SIM cards. However, they are advised to talk directly with their mobile phone provider for more information.
The Apple conundrum
A couple of key concerns for Semble are the fact two of the country's big four banks, Westpac and ANZ, are forging their own mobile wallet paths, and whether the company can get its app into Apple's near field communications (NFC) enabled iPhones.
Ellis noted Android phones comprise roughly 70% of the New Zealand smartphone market. However, he confirmed Semble's yet to talk with Apple.

"Apple iPhone 6 and 6 Plus launched last year, which for the first time included capability that would enable payments to be made at point of sale. That's still closed (just) to Apple and at the moment is still only in the US. I'm not sure how long it'll be before Apple Pay comes to New Zealand, but we look forward to having conversations with Apple about how Apple and Semble could work together," Ellis said.
"Apple will be one of the companies I'll be looking forward to speaking to over the coming months."
Last October he told interest.co.nz it wasn't clear whether Apple will allow third party developers such as Semble to access the NFC technology in its iPhones.
Meanwhile, Ellis said he was "not concerned at all" to be launching with just two banks onboard.
"I think it's a great start to have ASB and BNZ . We remain in discussions with ANZ who I'm sure, like everyone else, will be watching with great interest over the next few months as we roll out Semble throughout New Zealand. We are in conversation with a number of other banks, -  Kiwibank, TSB, the Co-operative Bank, UnionPay, and others in the payments space," said Ellis.
"It's not an either-or scenario. If a bank or any other organisation chooses to have its own wallet or application, that's fine, it's about giving customers choice. You can also have your cards in Semble, and in fact you can have Semble as an application and talk (to/with) third party applications as well in the future. So there are lots of options in the future," Ellis added.
Westpac & ANZ's plans
Westpac is going down its own path with a solo mobile wallet project. Westpac is using host card emulation (HCE) mobile payments, which stores and transmits payment card information such as cardholders names and card numbers in the cloud. Last year Westpac said it was targeting a launch in the first quarter of 2015. However David McLean, Westpac's CEO, recently told interest.co.nz trials are still underway and he wouldn't estimate when a commercial launch may take place.
Last week ANZ said it too plans to launch a mobile wallet using HCE technology, during the second-half of this year.
Visa estimates about 20% of New Zealand's payments terminals are contactless payments enabled, and about 20% of payments made in this country are contactless payments, which is well down from 60% in Australia. Semble says New Zealanders have done more than 11 million contactless transactions so far in 2015, having made almost 40 million last year worth about $1.4 billion. Semble also says the number of contactless payments has increased by 64% in the last six months in New Zealand, with the number of active contactless payments terminals up by 66% since January 2014.
The info-graphic below was provided by Semble, as were these questions and answers.