A 325% debt-to-disposable income ratio, household debt growing at a more sustainable rate, horticulture lending being monitored, eye watering life insurance commissions & more from the RBNZ's FSR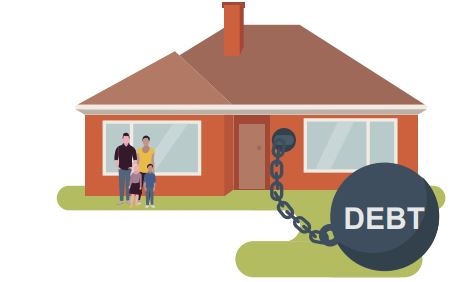 As usual the Reserve Bank's latest bi-annual Financial Stability Report, issued yesterday, is full of charts and tables detailing crunchy information about New Zealand's financial system.
I've plucked 10 out that caught my eye. They, and a blurb or two about each one, feature below.
1) Highly indebted households. 
About 60% of bank lending is to the household sector and New Zealand's household sector carries a high level of debt relative to its income. The Reserve Bank notes debt in the sector is concentrated within certain types of borrowers.
"The most indebted households are typically those with mortgages. These households tend to have higher-than-average incomes, but have far higher levels of debt. Their debt-to-disposable income ratio, at 325% on average, is near its historical high. Debt is further concentrated among those households with investment properties, those who have had less time to pay down debt, and those who have purchased in regions with relatively high house prices, such as Auckland," the FSR says.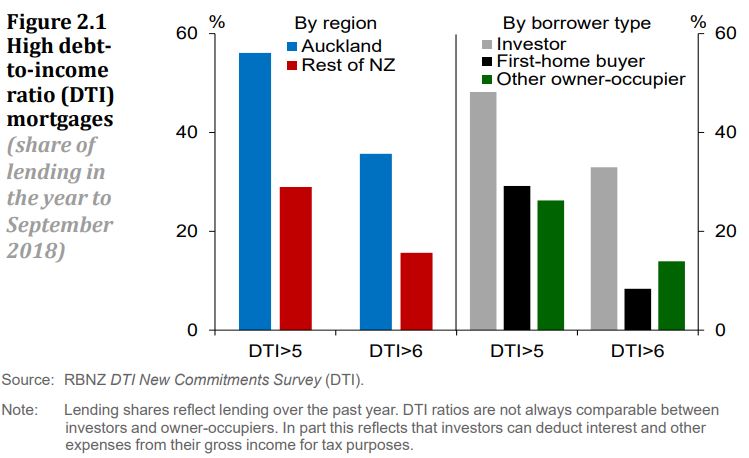 2) 'Over a third of borrowers look vulnerable.'
Following on from 1) above, the most vulnerable borrowers have debts that are large relative to both their incomes and the value of their assets.
"Only 1% of the value of new mortgages is to borrowers with both DTI [debt-to-income] ratios above six and LVRs [loan-to-value ratios] above 80% (figure 2.2 below), but over a third of borrowers look vulnerable on at least one of these metrics."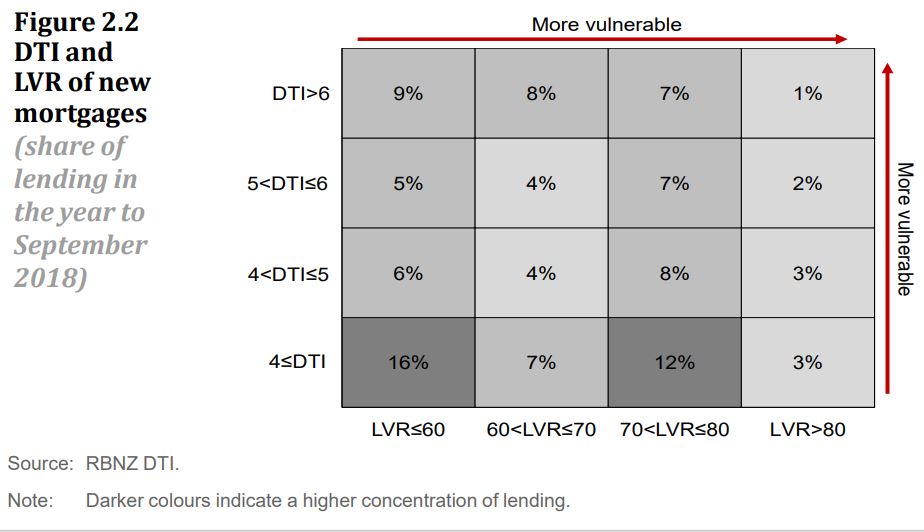 3) Household debt 'now growing at a more sustainable rate.'
The FSR says the Reserve Bank remains concerned about debt levels, but notes the annual growth rate of household debt has slowed from 9% in 2016 to 6% in September 2018. According to the Reserve Bank, household debt is now growing at a more sustainable rate, broadly matching the pace of household income growth.
"There are signs that households that borrowed in recent months are in a better financial position than those that borrowed in previous years (figure 2.3 below). Borrowers are tending to borrow less relative to their incomes, and the proportion of new mortgages that are not being repaid over time – those on 'interest-only' terms – has steadily declined. The share of loans going to investors is below the level seen in 2016. Investors typically pose a higher risk to the financial system than owner-occupiers, partly because they have a greater incentive to default strategically when house prices fall. Investors can also amplify undesirable swings in house prices by buying and selling as conditions change," the FSR says.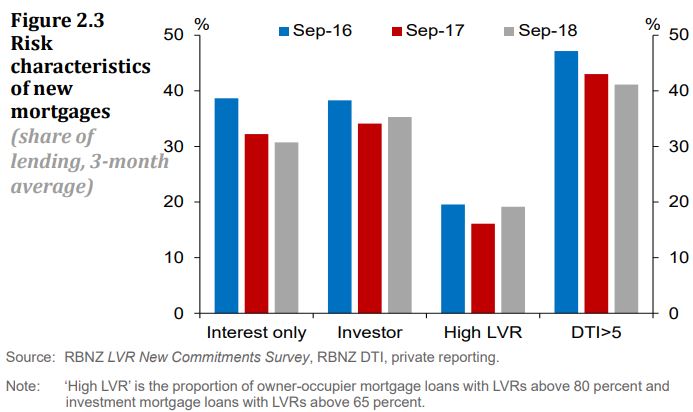 4) Banks prepared to lend less to the same set of borrowers, relative to their incomes, than they were four years ago.
The FSR notes banks have gradually strengthened their loan serviceability policies over the past two years and are now assessing households' ability to make loan payments against higher living costs and interest rates.  
"In a recent exercise conducted by the Reserve Bank, banks estimated the amount they would be willing to lend to a range of hypothetical borrowers. The results suggest that banks are willing to lend less to the same set of borrowers, relative to their incomes, than they were in 2014 (figure 2.4 below)."
"Despite the easing of LVR restrictions at the beginning of 2018, banks have tended to maintain or tighten their serviceability standards. Banks are expected to maintain their serviceability standards, but household sector risks, and banks' exposure to those risks, could quickly resurge if serviceability standards were to ease," the FSR says.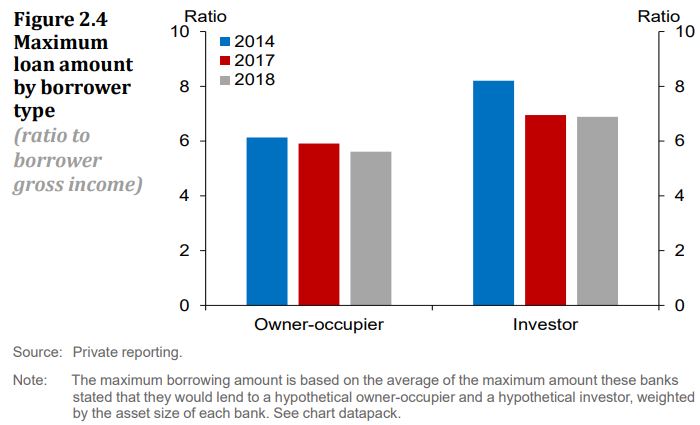 5) 15% annual growth in horticulture lending being monitored.
The agriculture sector accounts for around 14% of banks' total lending exposures, which amounts to $61.9 billion. Some two-thirds of this lending, or $41.5 billion, is to the dairy sector. Dairy farming became "highly indebted" after a period of strong investment, a run-up in land prices, and two significant milk price downturns in the last decade, the FSR notes.
Additionally debt in the dairy sector is concentrated, with some farms carrying disproportionately large debts. The sector remains vulnerable to another price downturn.
Thus banks have been diversifying their agriculture lending portfolios. They have $14.1 billion of lending to the sheep and beef sector, and $6.3 billion to other agriculture. This last segment - highlighted by horticulture - has been growing, as demonstrated in the chart below.
"Lending growth to the horticulture sector has been particularly high at around 15% in the year to September, while lending to the dairy sector has only grown slightly. Although diversification can help to reduce risk overall, most agriculture sectors are at risk of swings in commodity prices, and prices for agriculture commodities often move together. This may lessen the benefits of diversification. In addition, rapid growth into smaller sectors can carry risks of its own. The Reserve Bank will continue to monitor growth in lending to these sectors," the FSR says.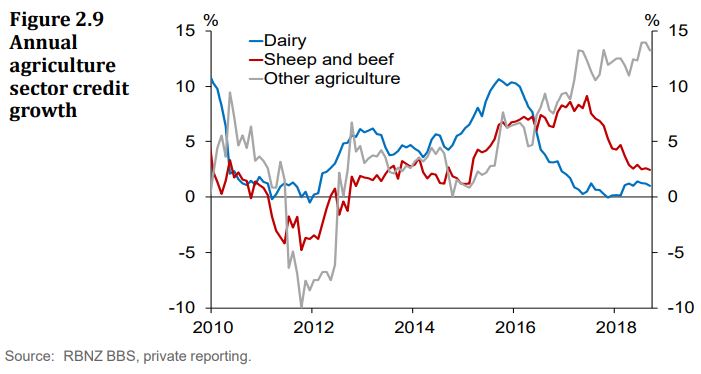 6) Reliance on offshore funding drops.
New Zealand banks' reliance on offshore funding has, fortunately, decreased since the Global Financial Crisis. According to the FSR, our banks currently source 22% of their funding from abroad, down from 31% in 2009. Additionally, the average maturity of banks' market funding has increased, reducing the proportion that would need to be replaced during a market disruption.
"Banks have also improved their resilience to short-term disruptions in funding markets by increasing the average maturity of their market funding. The share of banks' outstanding debt with maturities under a year declined from 49% to 37% in the two years to September, while the proportion with maturities greater than three years increased, from 24% to 31%," the FSR says.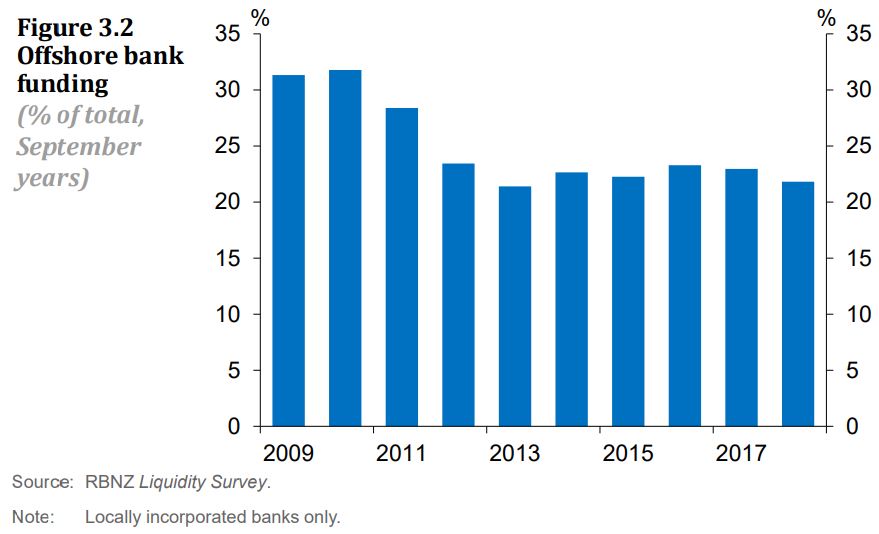 7) Our banking system is big relative to the economy's size in comparison to other OECD countries.
"The financial system improves the investment and consumption opportunities available to households and firms by intermediating funds between savers and borrowers. In New Zealand, this role is dominated by the banking system, which is larger relative to the size of the economy than in most other OECD countries (figure 4.1). New Zealand's banking penetration is high, with over 99% of adults having bank accounts," the FSR says.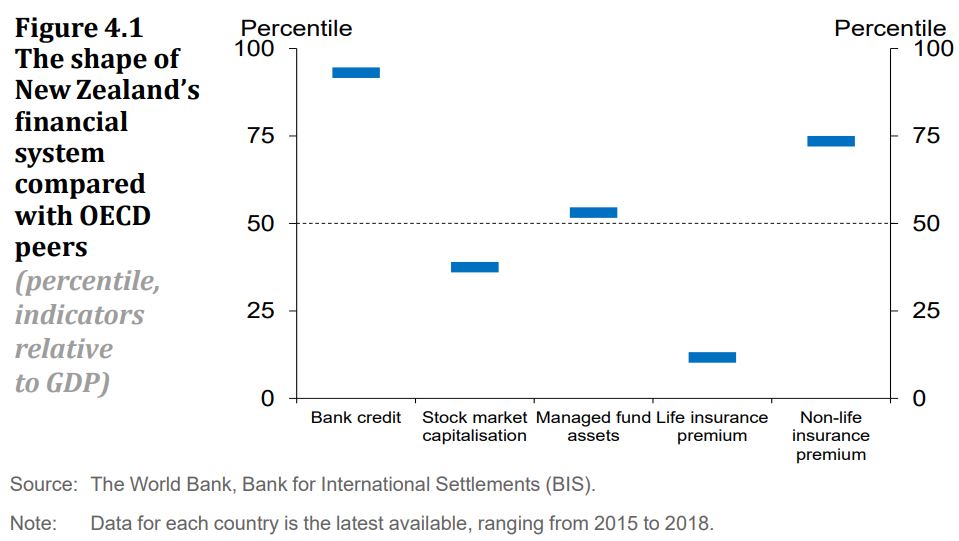 8) Key metrics for New Zealand's banking system.
The FSR notes banks have increased their total capital over the past two years, from 13% to 14% of risk-weighted assets.
"This trend has been evident across both smaller and larger banks. The smaller banks tend to have higher levels of common equity Tier 1 (CET1) capital, which is the highest-quality form of capital, whereas larger banks tend to make more use of additional Tier 1 (AT1) and Tier 2 capital. A well-capitalised banking system is critical for the overall soundness of the financial system. The Reserve Bank is reviewing its capital requirements for banks," the FSR says.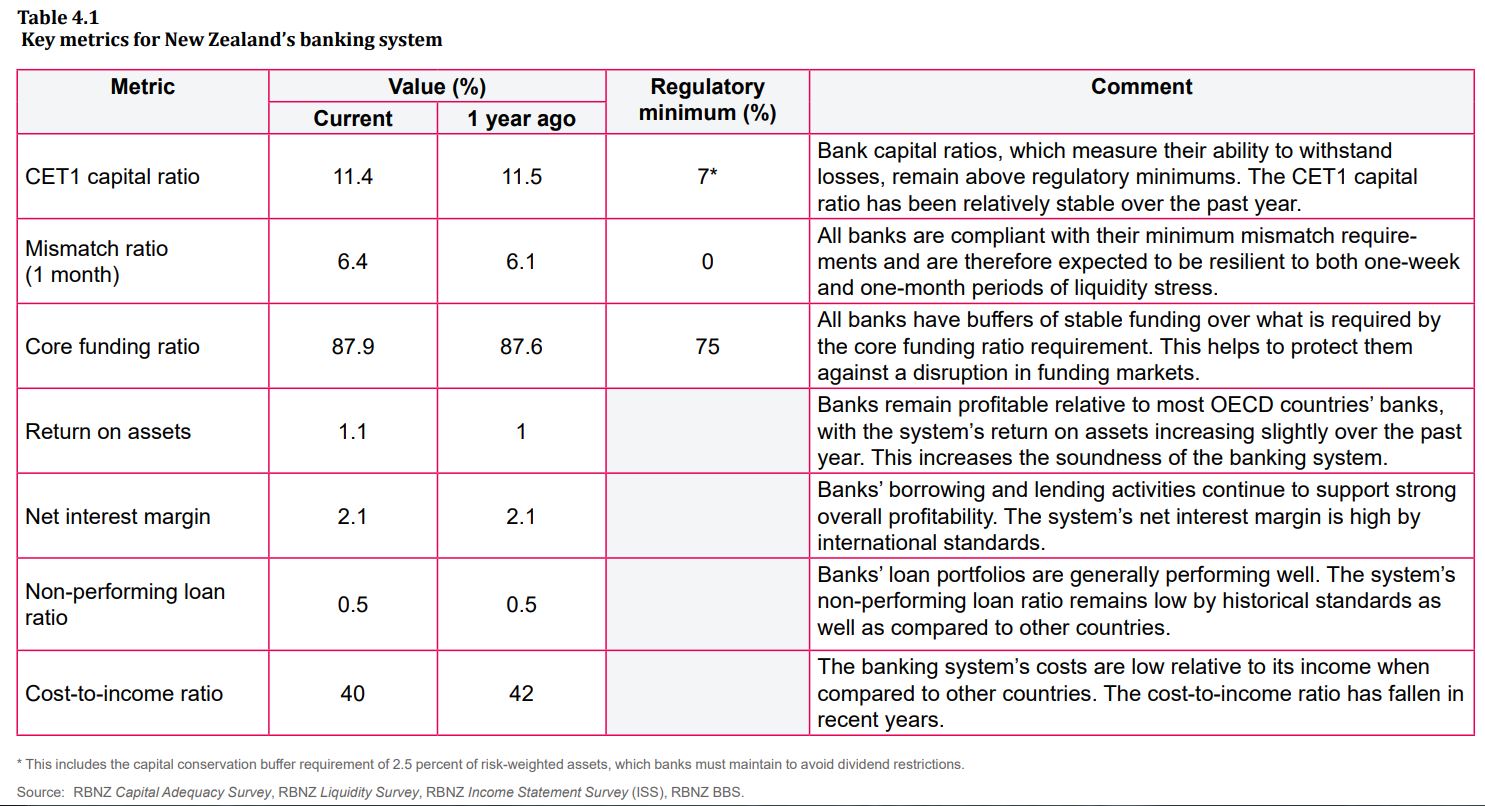 9) Key metrics for New Zealand's insurance sector.
The Reserve Bank says a prerequisite for a sound insurance sector is that insurers are strongly capitalised to withstand a range of possible loss events. On the whole, it says NZ's insurance sector is profitable and almost all insurers are meeting their minimum solvency requirements. 
"However solvency ratios have fallen across the main classes of insurer, indicating a reduction in the sector's capital strength. Furthermore, the distribution of solvency ratios raises concerns about the ability of some insurers to comfortably meet minimum requirements in the event of an adverse shock. As at March 2018, 12 out of 59 insurers had solvency ratios below 120%, and seven had solvency ratios below 110%. Given that solvency ratios have been volatile in the past, these insurers' buffers above the minimum requirements are small," says the FSR.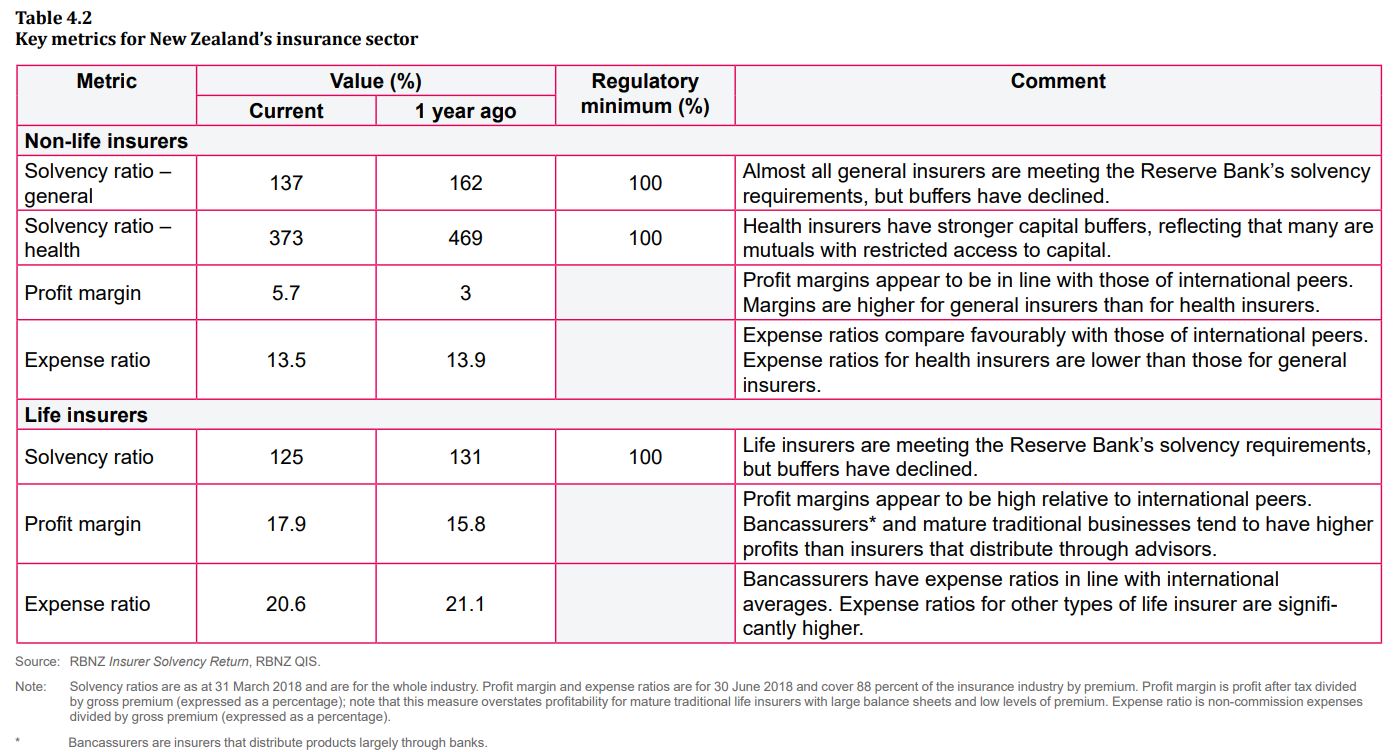 10) New Zealand life insurers pay high commissions to advisors.
The Reserve Bank says the life insurance sector appears to have been slow to adapt to new technologies and changing consumer preferences towards online product distribution. Rather it has continued to rely on the traditional advisor sales channel, where life insurers pay high commissions to advisors. Commissions in the New Zealand market are very high when compared with those in other countries, according to figure 4.13 below.
"Insurance advisors have an important role in helping buyers select insurance products that meet their needs. However, the high level of commissions and other incentives that life insurers pay to advisors can create conduct risk. In some cases, advisors could be incentivised to encourage policyholders to switch to different insurance policies even if the changes do not benefit the policyholders. Such activities can compromise the efficiency of the sector, because policyholders may not be matched with the best policies, and ultimately end up funding high commissions through high premiums," the FSR says.
The Financial Markets Authority and Reserve Bank are currently reviewing the conduct and culture of life insurers. Onsite visits began in August and finished in November. A report is expected to be published in late January 2019.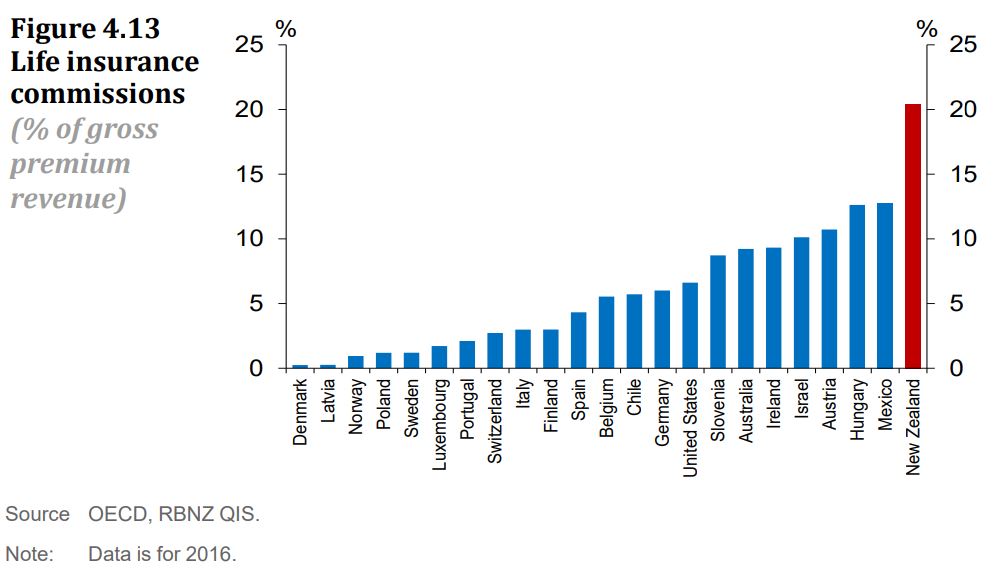 *This article was first published in our email for paying subscribers early on Thursday morning. See here for more details and how to subscribe.