RBNZ flags astronomical life insurance commissions as it indicates its conduct and culture review on the industry will be more scathing than the one it did on banks; However the sharpness of regulators' teeth remain in question
The Reserve Bank (RBNZ) has given life insurers a taste of what's to come in January when it releases the findings of its conduct and culture review – and it's not looking great for the industry.
Governor Adrian Orr has conceded life insurers should brace themselves for a verdict that's worse than the one the RBNZ and Financial Markets Authority (FMA) dished out to banks earlier this month.
Speaking at a press conference on the RBNZ's latest Financial Stability Report on Wednesday, he said the industry would be "foolish to be surprised" by this.
He pointed out that while banks are large, well-capitalised institutions that have had some practice answering to their regulator, the insurance sector is smaller, has more complex capital requirements, and is more varied across different types of insurance.
Commissions worth 20% of life insurers' premium revenue
While sales incentives were at the heart of the banking conduct and culture review, Orr likewise noted problems with the way life insurance is largely sold through brokers and advisers, where "there are agents working on behalf of agents".
"Do the insurance companies know how those agents are behaving on their behalf with their products?" he questioned.
The Financial Stability Report went on to explain: "The [life insurance] sector appears to have been slow to adapt to new technologies and changing consumer preferences towards online product distribution.
"Instead it has relied largely on the traditional advisor sales channel, where life insurers pay high commissions to advisors."
In fact, the RBNZ specifically pointed out that life insurers in New Zealand pay commissions worth 20% of their gross premium revenue – double that in Australia and more than double most other countries included in its graph.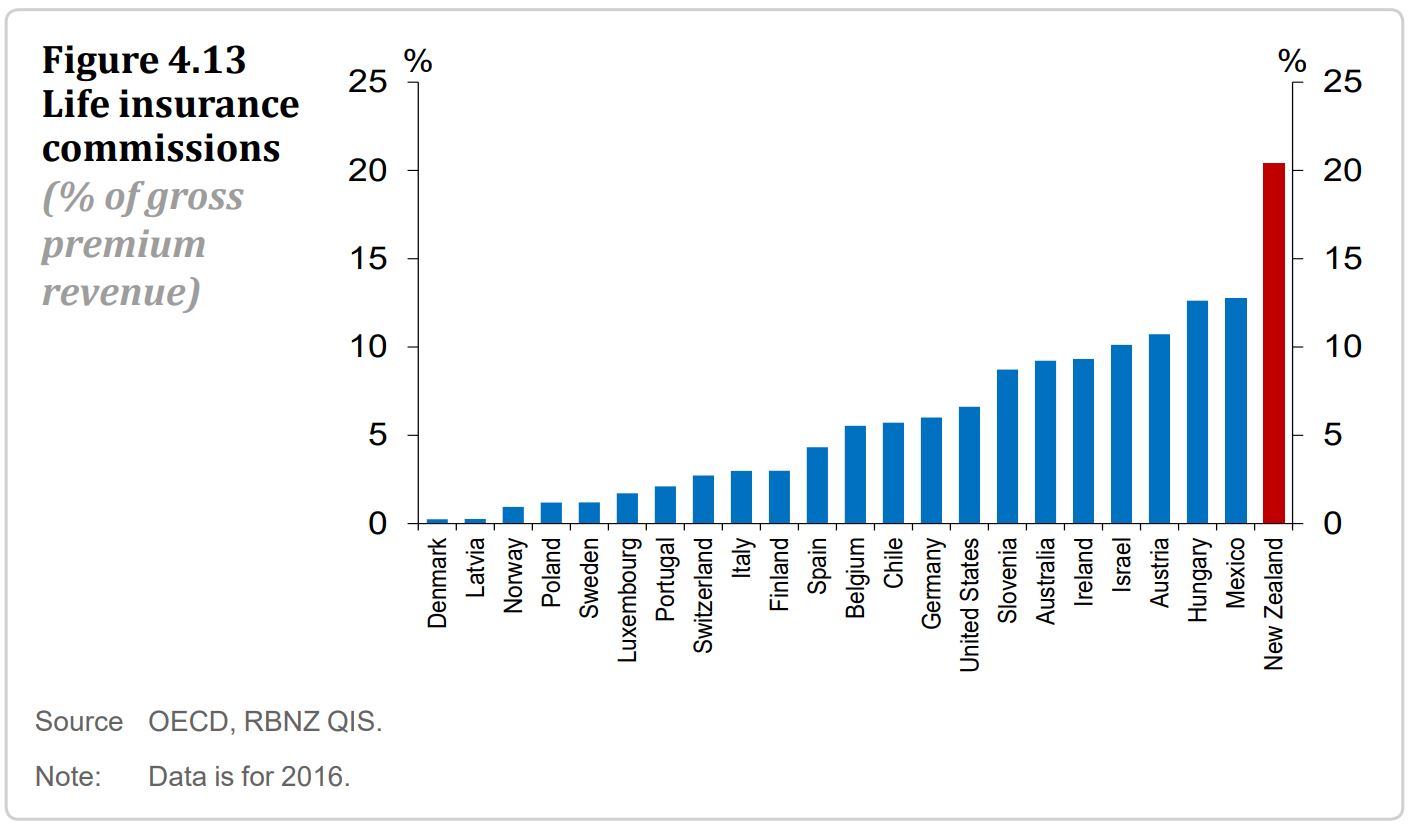 The RBNZ acknowledged advisers are key to helping people buy the right insurance products, but: "In some cases, advisors could be incentivised to encourage policyholders to switch to different insurance policies even if the changes do not benefit the policyholders.
"Such activities can compromise the efficiency of the sector, because policyholders may not be matched with the best policies, and ultimately end up funding high commissions through high premiums."
Orr recognised the FMA has for some years been warning life insurers about this issue of churn and commissions.
A review the FMA concluded in July, for example, found three big financial institutions, which it didn't name but interest.co.nz had a crack at identifying, were potentially selling insurance unlawfully.
Life insurers, including AMP and more recently AIA/Sovereign, have committed to ditching some types of commissions.
The issue is now on the RBNZ's radar, as it acknowledges the "conduct risk" it could create. And if conduct risk, which the FMA to some extent oversees, is high enough, this could turn into prudential risk. In other words, affect the stability of the economy.
Aired but not regulated
The elephant in the room on the issue of commissions is that the Coalition Government is in the process of pushing a huge piece of legislation through Parliament (that the National-led Government's did most the work on) to refresh the country's financial advice regime.
During this process both governments have been given the opportunity to ban or cap commissions, as has been done in Australia and the UK, but they have refused to do so.
They've been of the view that banning or capping commissions would mean people would have to pay for financial advice, which would put it out of their reach.  
Rather, the Financial Services Legislation Amendment Bill is introducing a more robust disclosure regime, where more advisers will have to go into more detail around how they're paid.
The gist of the Bill, which is due to have its third reading in Parliament, is to get financial institutions to be proactive in putting customers first.
So when Orr said: "Sunlight is a wonderful hygienic sanitation method" and "we can't micromanage this industry, but it has some real significant issues that need to be aired" – that is exactly what he meant. The issues will be aired, but not specifically regulated.
Furthermore, in the same way the RBNZ and FMA's conduct and culture review on banks pointed out that bank conduct isn't specially regulated – insurers' conduct also falls into a regulatory gap.
However an insurance contracts law review that Commerce and Consumer Affairs Minister Kris Faafoi first announced he'd undertake in an interest.co.nz interview a year ago, is looking at plugging this void.
Coming back to the RBNZ's Financial Stability Report, it said life insurers were meeting their solvency requirements, but buffers had declined.
Profit margins also appeared to be high relative to international peers, with both insurers that distribute their products through banks and "mature traditional businesses" tending to have higher profits than insurers that distribute through advisers.