Auckland Council report suggests 66% of the city's future urban zoned land is on elite or prime soils as the government works on a national policy statement for highly productive land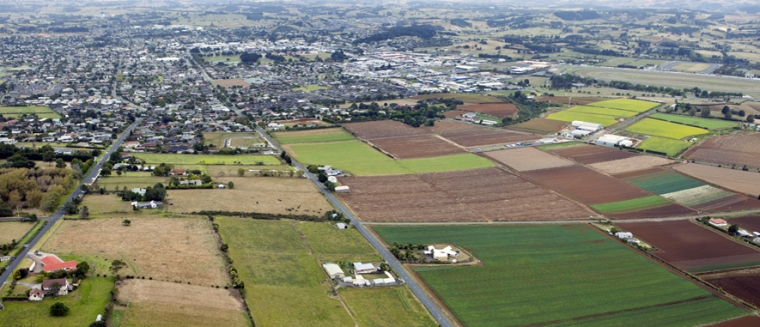 The threat of Auckland's rapid growth to highly productive land in areas like Pukekohe is back on the Auckland Council's agenda, with a new report saying approximately 66% of the city's future urban zoned land is on elite or prime soils.
The report to the council's Rural Advisory Panel was authored by council planner Ryan Bradley. It comes as the Ministry for the Environment (MfE) and the Ministry for Primary Industry (MPI) are already developing a national policy statement on highly productive land.
A report by MfE and Statistics NZ released in April last year titled Our land, found a 10% increase in the total size of towns and cities between 1996 and 2012, and a 7% decrease in the amount of land being used for agricultural production between 2002 and 2016.  
Council's input
The council is now expected to decide whether to proceed with a submission on the Government's national policy statement. According to the committee report it has been working closely with the MPI on it.
"Over the past year Auckland Council (along with other stakeholders) has been involved in early consultation on this matter through workshops, correspondence with MPI, and supplying information around development on highly productive land in Auckland."
It says the city's future urban zone within the Rural Urban Boundary covers some 10,095 hectares, and around 66% of the future urban zoned land is on elite or prime soils. The main areas affected are in Whenuapai, Kumeu-Huapai, Drury-Opaheke, Takanini and Pukekohe/Paerata.
Urban sprawl
The report says information it has provided to MPI shows that since 2012 there have been 1,302 residential sections created (118ha) around the existing town of Pukekohe. While a further 308 sites (33ha) have been granted resource consents but have not yet had titles created.
"The vast majority of these new residential sites are located on elite or prime soils."
It says MfE has advised council that the proposed national policy statement will provide councils with greater clarity on how highly productive land should be considered in Resource Management Act decision-making.
"The national policy statement intends to address the gradual reduction in availability of this resource for primary production, as well as to manage fragmentation and reverse sensitivity effects."
Deputy Mayor disputes figure
But council Rural Advisory Panel chairman and Deputy Mayor Bill Cashmore disputes that 66% of future urban zoned land in the city is on elite or prime soils.
"I would question that. I don't believe that's the case, there's no way it would be 66%. I would dispute that 66% of the future urban zoned development will be on horticultural quality land."
He says in the case of Pukekohe some of the land use issues in the area are the result of historical decisions by the now defunct Franklin District Council, as well as Auckland Council's Unitary Plan which came into effect in 2016.
"There is some legacy stuff which we can't stop. But all the highly productive land in Franklin is now protected under the Unitary Plan."
Cashmore says the council has sought to restrict the impact of development on the area's elite soils.
But he says he supports the intent of the council report and the need to restrict the development of rurally productive land. 
Government's concerns
In a media statement after the release of the Our land report in April last year, Environment Minister David Parker highlighted the loss of prime market gardening land in and around Pukekohe as a particular concern.
"I was particularly troubled by how much of our urban growth is occurring in our irreplaceable highly productive land," Parker said. "Even in a country as lucky as New Zealand we only have limited quantities of these high-class soils. I have asked officials to start work on a National Policy Statement for versatile land and high class soils. We have to ensure we have enough land to build the houses people need, but we must protect our most productive areas too."
The ongoing importance of Pukekohe and the need to preserve it was highlighted in the Auckland Council's recently released Climate Action Framework which is open for public consultation until September 6 and states:
"The Pukekohe hub comprises 4,359 hectares of some of New Zealand's most fertile and productive soils. Fruit and vegetable production contribute $1.2 billion to Auckland's economy. The hub generates $327 million, which is 26% of NZ's total domestic value of vegetable production.
"From 2002 to 2016, vegetable-growing land across the country was reduced by 30%. Land like the hub faces increasing threats like urban sprawl. The future of the hub is important for Auckland. With a forgiving and temperate climate and proximity to essential transport routes, the hub is well-positioned to supply year-round vegetables to help feed Auckland's growing demand for fresh food."
Council growth plans for Pukekohe
The horticultural value of the area seems to be in direct contrast with the Auckland Council's wider plans for the area, which sees Pukekohe's growth as part of the solution to the city's burgeoning population.
Its Draft Pukekohe-Paerata Structure Plan released in April says that Auckland's population could grow by another 720,000 people to reach 2.4 million people over the next 30 years. The Auckland Council has identified Pukekohe as a "satellite town" with the potential to accommodate up to 14,000 additional dwellings, which would see its population grow from 23,600 people to over 50,000 people by 2040.
But this will require massive upgrades to the area's water, wastewater, stormwater and transport infrastructure.
The Auckland Council's Rural Advisory Panel, chaired by Cashmore, includes a wide range of representatives from a range of organisations from the NZ Forest Owners Association and Federated Farmers to Fonterra, Beef and Lamb NZ and Dairy NZ.