'Less certain and more expensive' - Treasury's take on a complex model to levy landowners to pay for infrastructure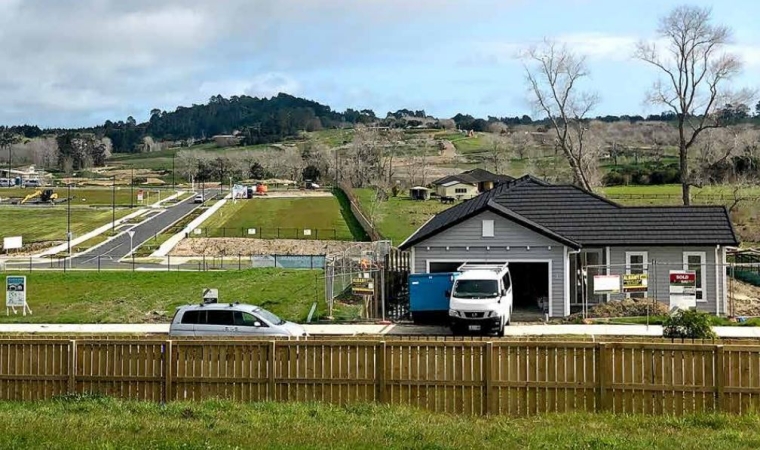 Treasury has warned of the costs of a user pays infrastructure financing model, being used in northern Auckland and planned to be duplicated in other high-growth areas.  
The Crown-owned entity, Crown Infrastructure Partners (CIP), has set up a stand-alone company or special purpose vehicle (SPV), which has taken out a loan from the Accident Compensation Corporation (ACC) to pay for roading and wastewater infrastructure to service parts of Wainui.
The loan will be repaid using levies imposed on those who buy sections at Fulton Hogan's Milldale development at Wainui.
Buyers of nearly 4000 mostly residential sections will be levied every year for 30 years. The first-year cost will be $1000 in most cases, with this increasing by 2.5% a year.
The ACC loan of up to $60 million, secured at the end of 2018, has a fixed interest rate of 5.37% and a 35-year term.
This is a long term by New Zealand standards, reflecting the long-term nature of infrastructure investment.
The rate is accordingly much higher than that of New Zealand Government bonds issued in late-2018, which have rates of around 3%.
Interest.co.nz in November flagged concerns over the cost of the set-up, describing it as a money-go-round between Crown entities, designed to keep debt off local/central governments' books.  
"Less certain and more expensive"
Indeed, documents released to interest.co.nz under the Official Information Act show Treasury in September 2018 told government ministers "CIP's ability to secure financing for the infrastructure investment is less certain and more expensive" than the status quo.
Treasury told the finance, urban development and state-owned enterprises ministers that financiers will be mindful of the fact CIP's SPV's revenue stream is inconsistent over the long-term, coming solely from levies charged to property owners.
It said financiers will also question CIP's ability to ensure property owners pay their levies (which aren't targeted rates but are collected by Auckland Council). 
Furthermore, neither CIP nor the Crown will fully underwrite or guarantee the SPV.
So if the levies aren't sufficient to pay back the loan, the SPV will be in default and could ultimately be wound up.
ACC is therefore essentially charging a premium for these risks.
Low default risk
However, Treasury said in another report that the CIP Board thought there was a low risk of default, because the levies will be secured by "first-ranking encumbrance over the land title" - meaning the SPV could enforce payment by forcing a homeowner to sell their house.
Plus, the risk will be diversified over a number of property owners, and the council rates the levies will be invoiced alongside are usually always paid.  
As for the interest rate on the ACC loan, Treasury said in a March 2019 summary of a "lessons learnt from Milldale" session run by CIP that the ACC loan was "efficient and met the agreed objectives". But in the future, "a shorter debt amortisation period may create an even more competitive environment".
Despite the costs, Treasury believed the user pays Milldale model was successful in providing an alternative infrastructure funding mechanism.
"The general response from all stakeholders to the Project has been positive, and the lessons learnt therefore largely focus on potential refinements for future projects rather than any fundamental issues," it said in its March 2019 briefing.
A Bill aimed at making it easier for other public or private entities to set up SPVs to replicate the Milldale model is currently before Parliament's Transport and Infrastructure Committee.
It proposes enabling levies to be applied to existing landowners - not just those who know what they're signing up to when they buy property in a new development, as is the case in Milldale.
Submissions on the Infrastructure Funding and Financing Bill, which Urban Development Minister Phil Twyford is in charge of, are open until March 5.