Government and National support Bill enabling government-approved infrastructure projects to be paid for using levies imposed on landowners - even those who didn't know they'd be levied when they bought their property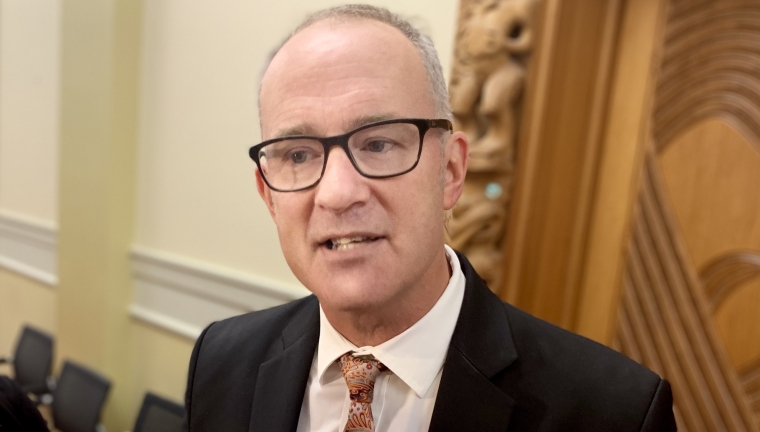 A Bill, which will enable the government to levy landowners to fund new infrastructure in their areas, has passed its first reading in Parliament.
Under the Infrastructure Funding and Financing Bill, government-approved infrastructure projects will be able to be ring-fenced, so the debt doesn't appear on local or central governments' books.
This debt will then be able to be repaid using revenue raised by levies imposed on the landowners who benefit from the infrastructure.
A web of contractual arrangements has enabled Crown Infrastructure Partners (a Crown-owned company) to fund infrastructure to service parts of Wainui, northern Auckland, using revenue raised from levies imposed on those who buy new sections at the Milldale development. Fulton Hogan is the developer.
Buyers of nearly 4000 mostly residential sections at Milldale will be levied every year for 30 years. The first-year cost will be $1000 in most cases, with this increasing by 2.5% a year.
The Bill aims to make it easier for this model to be replicated elsewhere.
However, it goes further by enabling levies to be applied to existing landowners - not just those who know what they're signing up to when they buy property in a new development, as is the case in Milldale.
Under the proposed law, someone who's owned a property for say 10 years, could one day be told they have to pay $1000 a year to cover the cost of upgrading the wastewater system they use.
Concept riskier when landowners don't opt-in
Treasury, in a report it gave government ministers in April, warned there were risks associated with imposing levies on landowners who don't choose to opt-in to a "project area".
Landowners, particularly those on fixed incomes, might not be able to afford the levy. Landowners may also wilfully not pay, prompting "costly recovery actions".
Treasury suggested the burden on existing landowners could be eased by phasing in the levy, or making it payable after a certain period of time or event, like the sale of a property.
Speaking to interest.co.nz, Urban Development Minister Phil Twyford made the same point.
He added: "It's the Government's clear intention, particularly in the early years, to use it in greenfield scenarios, which are less complicated when you have few existing landowners."
Asked why he only intended to use the power in more established areas further down the track, he said it was a matter of bedding in something new and different, so people get used to it.
Twyford compared the targeted levy proposal to councils' targeted rates, which can also be phased in or paid at a later date.  
Furthermore, he said councils have the tools to model the benefits of a particular piece of infrastructure on a landowner.
Twyford said the Bill was drafted for "maximum flexibility so it can be used in a number of different scenarios".
National broadly supportive
National supports the Bill, with the Milldale development beginning when it was in government.
On the issue of the legislation enabling levies to be imposed on existing landowners, National's housing spokesperson Judith Collins said, "That's much harder…
"We'll look at that, but I'm far more comfortable with people knowing what they're buying, getting what they're buying and then paying for it."
Exactly how it would all work
Looking at the Bill more broadly, it stipulates the following process would need to be worked through for landowners to be levied:
- A developer or local council identifies an infrastructure project they believe could be funded using a levy. This could include water and transport projects, like roads, cycleways and public transport infrastructure, as well as community amenities such as parks, and environmental resilience infrastructure like flood protection.
- They seek approval from the local council, which will eventually collect the levy on their behalf.
- They seek approval from central government, which will enable a separate entity known as a Special Purpose Vehicle (SPV) to be created. Central government will also need to agree to a support package that could cover certain tail risks that can't be managed by either the SPV or local authority.
- The SPV is established. It's monitored by central government and has to make certain disclosures.
- The SPV borrows money to finance the infrastructure and uses the levy payments to repay the debt.
- The SPV oversees the construction of the infrastructure.
- The SPV transfers ownership of the completed asset to the appropriate public entity - usually a council.
Twyford said: "This tool will complement rather than replace existing normal council planning and decision-making processes...
"The first project funded through the new tool could start in late 2021.
"In the meantime, our Government is developing a pipeline of possible projects to use this tool, and is exploring other ways to give councils greater flexibility in funding and financing infrastructure."
Twyford in November told interest.co.nz developments at Rotokauri in Hamilton and Tauriko in Tauranga could be well-suited.
In a separate piece, interest.co.nz's Jenée Tibshraeny looked at the costs associated with the Milldale set-up. She wrote an opinion piece, questioning the rationale of an SPV taking out a long-term loan with an interest rate of 5.37%, when the government could raise debt by issuing bonds at a much lower rate if it was willing to put this on its balance sheet.