Government takes stock before implementing $350 million plan to underwrite housing developments, as credit crunch fears dissipate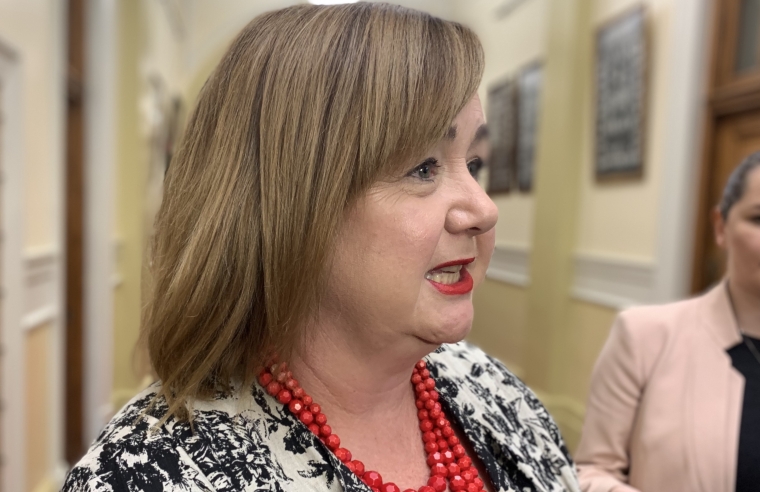 The government maintains there's less urgency for it to help housing developers secure finance than there was a few months ago when there were fears of a credit crunch.
It's delaying, by an undetermined length of time, implementing a pre-election plan to underwrite "stalled or at-risk" housing developments. 
"We're not putting it on hold. What we're doing is continuing to work through to make sure the criteria fit the current circumstances that we're facing," Housing Minister Megan Woods told interest.co.nz.
In August Woods announced developers would be able to apply for a government underwrite or direct investment to help get their projects off the ground. She was worried Covid-19 would see banks become risk-averse and become a roadblock to getting houses built.  
A 'Residential Development Response Fund' was to be set up using $250 million of funding redirected from KiwiBuild and $100 million from the Covid-19 Response and Recovery Fund.
Woods expected Kāinga Ora would start receiving applications from developers in the first half of November.
Asked on Tuesday how things were progressing and when eligibility criteria would be released, Woods said: "That is a piece of work that we're continuing to work through with the sector. When we first announced it, we thought it was going to have to be used a whole lot sooner than it looks like it will be.
"There were concerns, in the immediate Covid lockdown period, that we'd see what happened post-GFC [2008 Global Financial Crisis], where we saw a collapse of construction - particularly construction of affordable housing."
Lending for residential property development down 18% 
Woods indicated the situation was better than previously thought. She noted the uptick in the number of building consents being issued:
But she didn't acknowledge the decline in bank lending for residential property development. The value of these loans fell by 18% in the year to October, according to the Reserve Bank (RBNZ):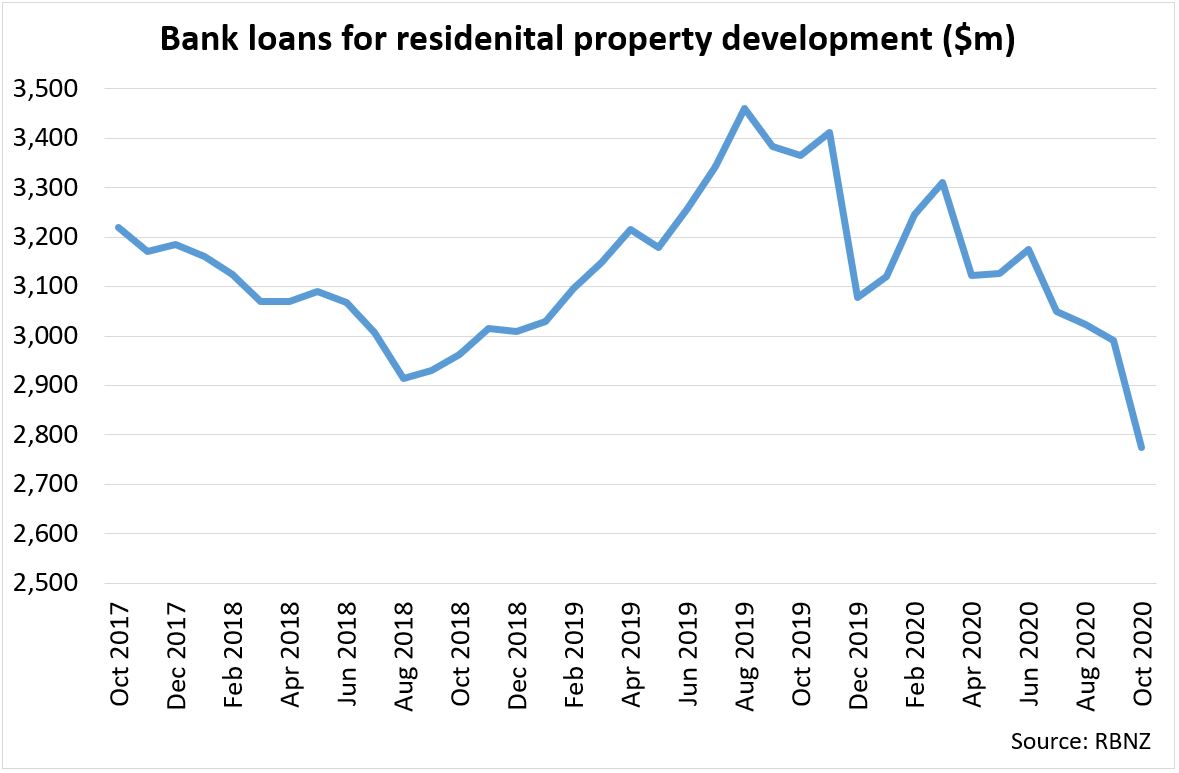 Meanwhile bank lending for commercial property development increased by 9% over this time and the value of bank lending against housing (investor and owner-occupier) increased by 7% from October 2019 to October 2020.
Banks have the cash... 
It's worth noting the RBNZ has provided retail banks with ample liquidity through various channels since the onset of Covid-19.
The amount of settlement cash held by the RBNZ is sitting at $26.1 billion. To contextualise this level of liquidity, the highest amount of settlement cash held pre-Covid was $11.1 billion - a level hit in November 2008.
Banks have only needed to draw $1.3 billion from the Term Auction Facility made available by the RBNZ in March.
They have, since Monday, also been able to access up to $28 billion of funding priced at the Official Cash Rate via the RBNZ's Funding for Lending Programme. 
Making criteria fit for purpose
Woods reiterated: "We're continuing to monitor the situation and make sure that any [underwrite] criteria we put together are fit for purpose and are going to be what we need for the construction sector in 2021…
"We're making sure that any scheme that we put in place is timed right to even out any downturn that we might see in the construction sector and to make sure that we are having a smoothing effect, which was always the purpose."
Woods has previously said she would want affordable housing to be part of supported developments. 
She wouldn't commit to making the underwrite available for developers building co-operative housing or using alternate tenures, but said she was talking to the sector.
The Salvation Army has written to Woods, suggesting: "Your Government should use its KiwiBuild, Progressive Ownership and Residential Development Response Fund to encourage private sector alternative tenure initiatives."
While KiwiBuild sees the government underwrite houses that meet a set criterion, the aim of the Fund is to assist in the development of a broader range of housing types.
National's housing spokesperson, Nicola Willis, was interested in seeing the eligibility criteria for the Residential Development Response Fund.
"My concern with these schemes is always - how do you ensure it's fair, so you're not subsidising one property developer at the expense of another?" Willis said.