Why Labour believes the government needs to underwrite housing developments, and how it plans to 'stabilise' house price growth when it's up against the RBNZ cutting interest rates
Labour continues to believe government can help increase the supply of housing by underwriting residential housing developments.
The Government is already underwriting houses that meet the KiwiBuild criteria; committing to buying them if the developer can't sell them. 
Now, it's designing criteria for a new underwrite it will provide across a broader range of housing types and price points, on top of KiwiBuild.
The aim of the scheme, which will be funded from a $350 million recyclable 'Residential Development Response Fund', is to make it easier for developers to secure finance at a time Covid-19 is seeing banks be cautious with their lending.
Speaking to interest.co.nz, Labour's housing spokesperson, Megan Woods, said she didn't want to see house building activity stall like it did after the 2008 Global Financial Crisis.
"What we heard very clearly from developers after lockdown was that banks became very risk-averse - looking for up to 100% presales on some developments - which just meant we were not going to get those housing developments underway," she said.
"This allows developers to get on with it, because they can go to the bank and say, 'We do have a government underwrite that effectively means 100% presale'."
'We are not going to lose money on housing'
Woods, who unveiled the fund as Housing Minister in August, assured it wouldn't leave taxpayers out of pocket.
"We are not going to lose money on housing," she said, stressing that should the government need to buy a property, there was high enough demand to give her confidence it would be on-sold.
"What we know is that these houses will sell. It may take a little bit longer than a developer needs to get on with building their next development… but they will sell," she said.
According to the latest available data, the Government had bought a total of 244 KiwiBuild and formerly KiwiBuild houses as at the end of August. It had managed to on-sell 124 of these, so had 120 unsold houses on its books.
Taxpayers step in as risk-averse banks back away
Woods believed it was unfair to suggest the new scheme would see the Government underwrite "dodgy" developments that banks are too scared to lend against.
She said banks' nervousness typically related to the type of housing - townhouses and apartments being deemed riskier than houses built on large plots of land, which are likely to appreciate in value.
Woods wouldn't drop any hints as to what the criteria for the underwrite would look like, other than to reiterate she would want affordable housing to be part of the development.
The new Crown entity, Kāinga Ora - Homes and Communities, is expected to be ready to start receiving applications from developers in the first half of November. 
House price 'stabilisation' the goal
Woods said she wanted to increase the supply of affordable housing "without radically readjusting house prices so that people are losing equity in their homes".
"What we want to see is some stabilisation of prices," Woods said.
"The kind of growth we're seeing; I think everybody would agree is a huge impediment to people getting into the market."
RBNZ the elephant in the room
Asked whether Woods, who's been dubbed the "fix it" minister, could realistically do anything about house price inflation when the Reserve Bank is to a great extent trying to stimulate the economy via the housing market, Woods said the effect of low interest rates on housing affordability was only one piece of the puzzle.
Asked when was the last time she was briefed by the Reserve Bank on the impact its monetary policy was having on her portfolio, Woods said: "I don't get regular briefings from the Reserve Bank.
"Obviously, that gets worked through by my housing officials. I get briefings from them around how things like interest rates are impacting housing."
602 KiwiBuild homes built
Turning to KiwiBuild, Woods didn't have plans to adjust the criteria, further to changes made to increase demand and reduce the Government's exposure to risk.
As at the end of August, there were 602 KiwiBuild homes built, 712 sold (including off the plans), 927 under construction and 325 on the market.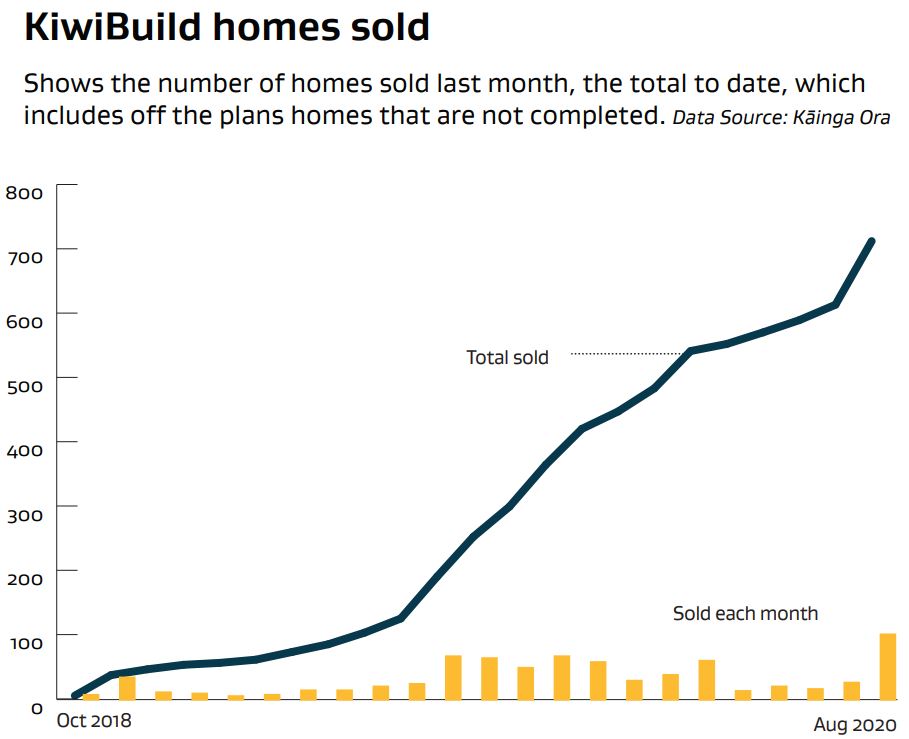 In addition, 65 homes, initially earmarked as "KiwiBuild", had been sold on the open market to people who don't qualify under the KiwiBuild criteria. An additional 31 were available for sale on the open market.
Labour campaigned, at the 2017 election, on building 100,000 affordable homes in 10 years under KiwiBuild.
Nonetheless, the market is starting to deliver more high-density housing, as the number of building consents issued also increases. 
Public housing waitlist nears 20,000
As for public housing, the waitlist has soared to nearly 20,000 under the Coalition Government, despite it increasing the supply of public housing.
Woods said the Government had added 5670 properties to the public housing stock in this term, and had allocated funding in the 2020 Budget for 6000 public houses and 2000 transitional homes to be added to the stock by 2024.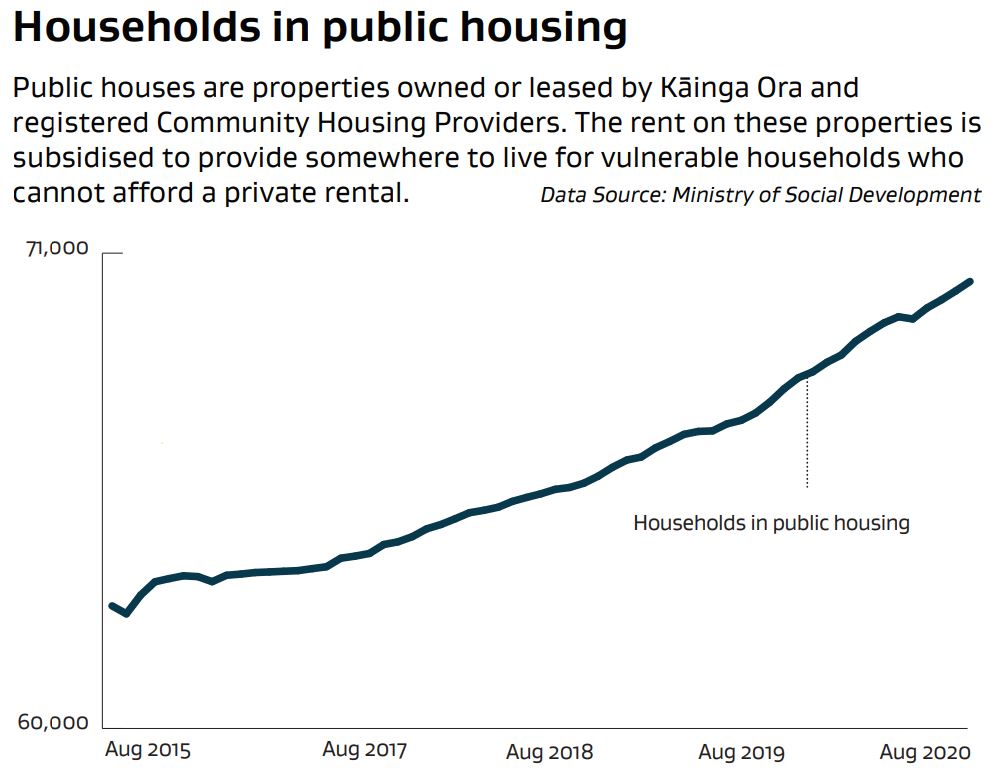 She believed the balance between addressing the needs of those requiring public housing and those wanting to buy a first home was about right.
Woods defends progress on progressive home ownership
On the latter, Woods said the Government had moved "swiftly" to get a progressive home ownership scheme off the ground, despite it only in July allocating its first $23 million to two community organisations to scale up their existing offerings by 103 houses.
Woods said the first families would start moving into their homes in November.  
Work is underway to establish an initiative within Kāinga Ora for households with an annual income of under $130,000 to receive shared ownership support directly from the Government. This is expected to be available in early 2021.
National is campaigning on enabling state housing tenants to buy the properties they rent from the state via a progressive ownership scheme.
Twyford's big piece of urban development legislation not registering with Woods
Woods didn't know whether any housing projects had been earmarked to go through a new streamlined consenting process outlined in a major piece of legislation championed by Urban Development Minister Phil Twyford.
The Urban Development Bill, which was passed in August, gave Kāinga Ora all its powers, including to acquire land and override provisions in RMA plans or policy statements.
Enshrined in the law is an entirely new process aimed at streamlining the consenting of large-scale public or private housing developments.
Asked why the Government hadn't been lining up projects to use the new process, so it could hit the ground running once the legislation had been passed, Woods confused the process with a piece of legislation passed in response to Covid-19 to fast-track infrastructure projects.
Twyford's office later confirmed: "There are currently no projects identified to start the initial stages of the Specified Development Project process."
*This article was first published in our email for paying subscribers. See here for more details and how to subscribe.